Russia State TV Says Eliminating U.S. Military Is Ultimate Goal
A Russian political scientist said on state television that the "denazification and demilitarization" of the U.S. is Russia's ultimate goal.
Speaking on the Russia 1 channel, Yevgeny Satanovsky, president of the Middle East Institute in Moscow, called for the "de-Americanization of Eurasia," including the withdrawal of military assets from NATO members close to the Russian border.
The remarks come as Russian artillery continues to pound Ukrainian infrastructure and the two nations approach the one-year mark of the conflict. Russian propaganda has consistently portrayed what the Kremlin describes as a "special military operation" as a fight between Russia and the West—perhaps in a bid to explain its inability to make any decisive gains in the first 12 months of the conflict.
After entering Ukraine on February 24, 2022, the Russian military was pushed into a series of retreats, before digging in for the winter along defensive lines in the south and the eastern Donbas region. Ukrainian President Volodymyr Zelensky has repeatedly pledged to retake all the land occupied by Russia, including Crimea, which it annexed in 2014.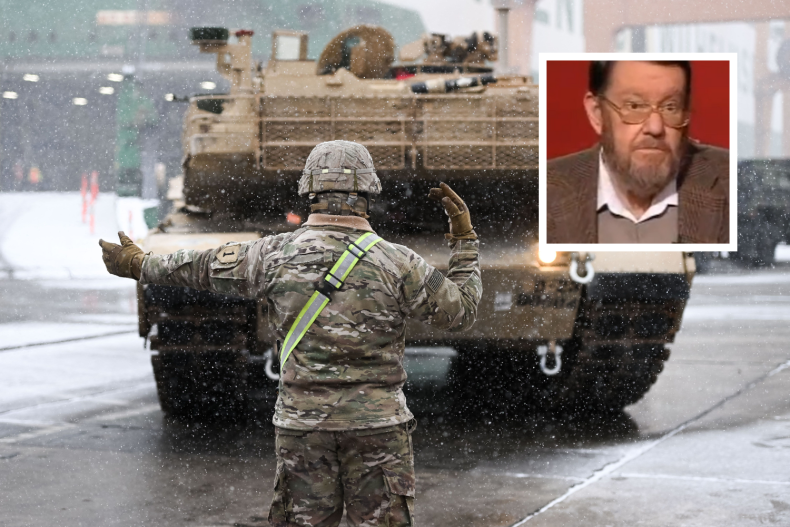 "I once talked about the de-Americanization of Eurasia," Satanovsky said, according to a translation provided by The Kremlin Yap, which provides clips of Russian propaganda, on February 9. "The withdrawal to that security border—the NATO borders of 1997—about which was talked at the end of the year before last [2021], before the [special military operation] began."
He added: "No, this is no longer Russia's security. Today it is not security at all. Security is the absence of American military bases and nuclear weapons from Lisbon to Tokyo, to Okinawa."
Russia has claimed that a 1997 agreement between Russia and NATO prohibited the establishment of military bases in ex-Soviet nations, but analysts say this is a myth perpetuated by Kremlin propaganda. Since then, 14 nations have joined NATO, including many Baltic states that were formerly under communist rule.
Instead of deterring NATO enlargement, Russia's incursion into Ukraine has had the opposite effect—in 2022, Sweden and Finland applied to join—their membership has been ratified by all other members bar Hungary and Turkey—and five other nations have declared an aspiration to join, including Ukraine.
Satanovsky continued, saying America "shouldn't be in Eurasia, and those bases shouldn't be there too. There shouldn't be a single point where these guys can start concentrating troops and creep up on our borders, concentrating nukes and bringing them to our borders. There shouldn't be any. That's the first goal."
As of 2021, it's estimated that around 100 U.S. nuclear warheads are located in military bases in Belgium, Germany, Italy, the Netherlands and Turkey, as part of a NATO agreement. Since the war in Ukraine began, NATO forces have built up on the alliance's eastern front in Europe in a bid to deter further Russian aggression.
Russian propaganda has used the Western defensive arming of Ukraine as justification for its claim that the battle was ultimately with NATO and the West. However, NATO has explicitly stated that claims it's at war with Russia are a "myth," including that NATO poses an aggressive threat to Moscow.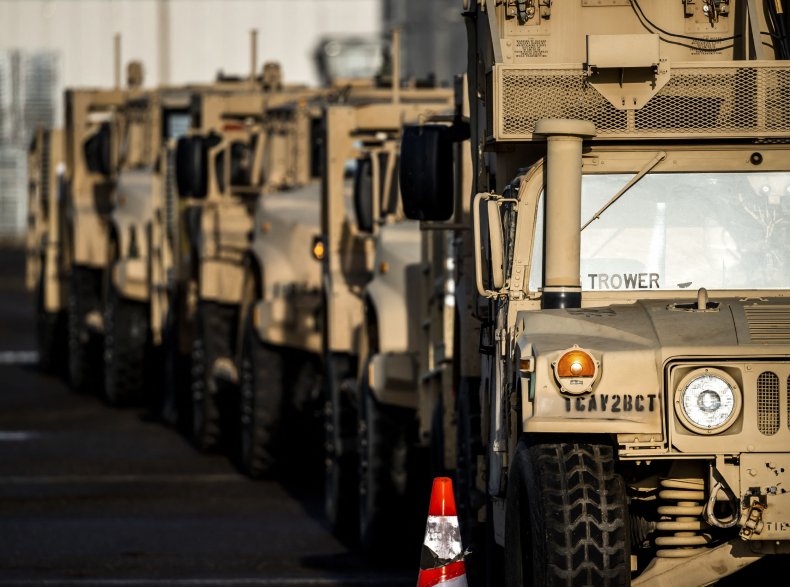 However, Satanovsky said that the removal of American arms from Europe and Asia was just one goal of the Russian state.
"Right now, I'm not talking about the denazification and demilitarization of the United States," he said. "But generally speaking, this is also a goal because the de-Americanization of world politics is an important task."
Newsweek has contacted the U.S. Department of Defense for comment.
According to its website, the Middle East Institute was known prior to 2005 as the Institute of Israeli and the Middle Eastern Studies, and was established in 1993 to study "such problems as the [Israeli] State itself and the organized Jewish Diaspora."