Russian State TV Discusses Why They Didn't 'Waste Biden' During Kyiv Trip
Russian operatives "could have whacked" President Joe Biden during his visit to Ukraine, but chose not to because he "has some constraints," according to a guest on Russian state TV.
Biden arrived on an unannounced trip to Ukraine's capital, Kyiv, just days ahead of the first anniversary of the outbreak of full-scale war in the country.
He is believed to have left Washington in the early hours of Sunday morning, arriving in the capital on Monday around 8 a.m. local time.
In a statement, Biden said he met with Ukrainian President, Volodymyr Zelensky in Kyiv to "reaffirm our unwavering and unflagging commitment to Ukraine's democracy, sovereignty, and territorial integrity."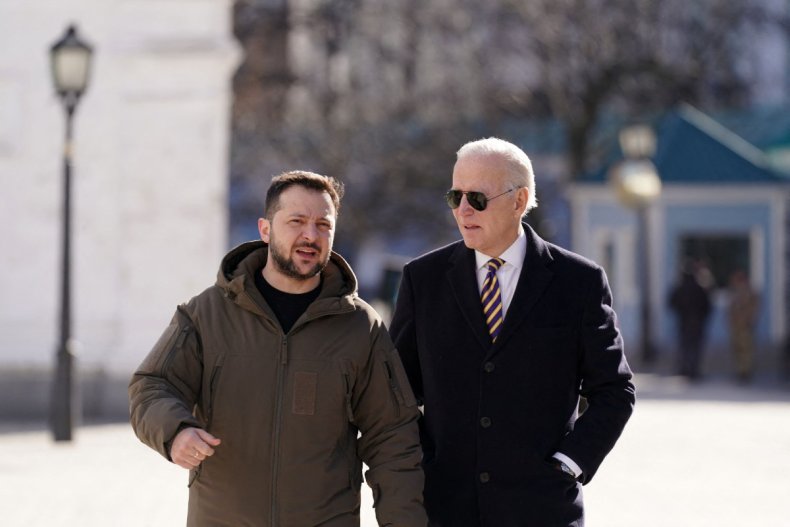 The White House also announced another batch of aid for Ukraine, including artillery ammunition, air surveillance radars and anti-armor systems.
The visit quickly became a topic of discussion on Russian state media television channels, highlighted in a clip posted by journalist Julia Davis on Monday.
In the clip from channel Rossiya-1, Evgeny Buzhinsky, cited as a military expert, can be seen speaking with host Olga Skabeyeva, who questioned whether "someone" gave security guarantees over the Biden visit.
"Perhaps we could have whacked Biden, but it would have been too much," Buzhinsky said. He then said to the assembled panel: "If we were to waste Biden, who will replace him?"
"Biden can think and has some constraints," he said, but Vice-President Kamala Harris "has no constraints whatsoever."
"She would do whatever [Secretary of State Antony] Blinken and [national security advisor Jake] Sullivan say," he said. "She has no opinion of her own."
But Biden "certainly does," Buzhinsky continued, before adding: "I'm convinced that guarantees were given by our side."
On Monday, former Russian president and prime minister, Dmitry Medvedev, said Biden had received security guarantees ahead of his arrival in Kyiv.
Writing on Telegram, the current deputy chairman of Russia's security council said that Biden, "having previously received security guarantees, finally went to Kyiv."
He went on to criticize the supply of Western weapons to Ukraine and what he called U.S. "allegiance" to Kyiv.
"We did notify the Russians that President Biden will be traveling to Kyiv," Sullivan said following the visit. "We did so some hours before his departure for de-confliction purposes.
"Because of the sensitive nature of those communications I won't get into how they responded or what the precise nature of our message was, but I can confirm that we provided that notice."
"Freedom is priceless," Biden's official presidential account tweeted following the visit. It is "worth fighting for," he added, "for as long as it takes."