Russia State TV Promotes Benefits of Losing Son in War: 'A Nice New Car'
A report that was broadcast on Russian state television Sunday highlighted how a Russian couple was able to buy "a nice new car" using money they received after their son was killed in the Ukraine war.
A clip of the state television report and an English translation were shared on Twitter Monday morning by BBC journalist Francis Scarr, who said that it focused on the unforeseen "benefits" of losing a son in the conflict. The Russian couple is first shown inside their home with a picture of a man who is presumably their son.
"Like his grandfathers and great-grandfathers he fought against fascism," a narrator is heard saying, according to Scarr's translation.
The father is then shown standing next to a white car from the Russian brand Lada inside a garage.
"In memory of our son, we bought a nice new car," the father says.
While the father is shown pulling the car out of his driveway and driving to a cemetery, the narrator explains that the vehicle "was bought with what people call 'coffin money,' but what's officially a 'lump sum allowance for the family of the deceased.'"
"His father says that Alexei dreamt of having a white car, just like this one," the narrator said. "Its first trip is to the cemetery."
Russia has not provided any troop loss estimates since late March, when Moscow told state media that 1,351 soldiers had died, but Ukraine's defense ministry reported Monday that the Russian death toll had reached about 38,450. Last month, Russian President Vladimir Putin signed a decree that would provide a payment of $81,500, equivalent to 5 million Russian rubles, to the families of members of Russia's National Guard who died in Ukraine or Syria, Reuters reported.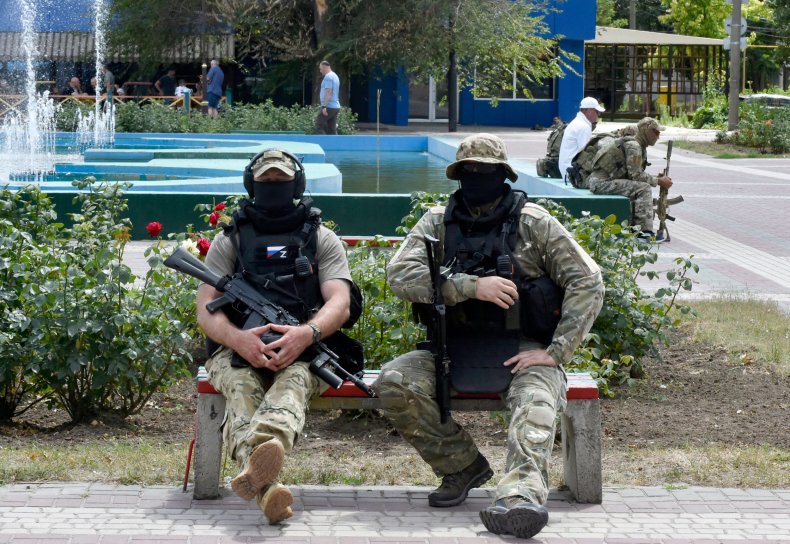 The brief Russian state television clip shared by Scarr does not mention the last name of the soldier referred to as Alexei, how and when he died or any other information about the deceased soldier. It also did not identify the parents by name, though those details may have been provided in the full report.
Anton Gerashchenko, an adviser to Ukraine's minister of internal affairs, shared another version of the state television clip without English subtitles on Twitter on Monday as well.
"A Russian soldier was killed in Ukraine. His family used the 'casket money' to buy a new car," Gerashchenko tweeted. "Russian TV filmed a story about it, showing them driving to the cemetery for the first time. They highlighted the car, not caring about the dead person."
Newsweek reached out to the Kremlin for comment.