Video Shows Ukraine Blowing Up 3 Russian Tanks in Series of Strikes
A series of strikes by Ukraine took out three of Russia's T-72 tanks, a radar station and other equipment, the Territorial Defense Forces (TDF) of the Armed Forces of Ukraine said Wednesday.
The TDF shared a video on Twitter that first pinpointed the various targets of the strikes from above. The video briefly circles each spot in red, but most of the equipment appears to be concealed among trees and other foliage.
The video then switches to another perspective that shows a wide swath of land in the distance. Plumes of smoke begin rising from the ground during a rapid string of consecutive blasts. More than a dozen points are shown being struck in the video.
The video switches back to an overhead view closer to the area, which was attacked in a joint operation by the TDF and several other units from Ukraine's army. Several figures, presumably Russians, are seen running to get into a truck as one of the points that was blasted continues to smoke.
Though Russia recently gained control of the city of Severodonetsk and the Luhansk region amid the monthslong war, Ukrainian strikes in recent days have reportedly taken out nearly every deputy commander in one Russian division, killed a Russian general with U.S.-supplied missiles and destroyed a Russian reconnaissance group in the Donetsk region. There have also been indications that Russia is facing tens of thousands of troop losses.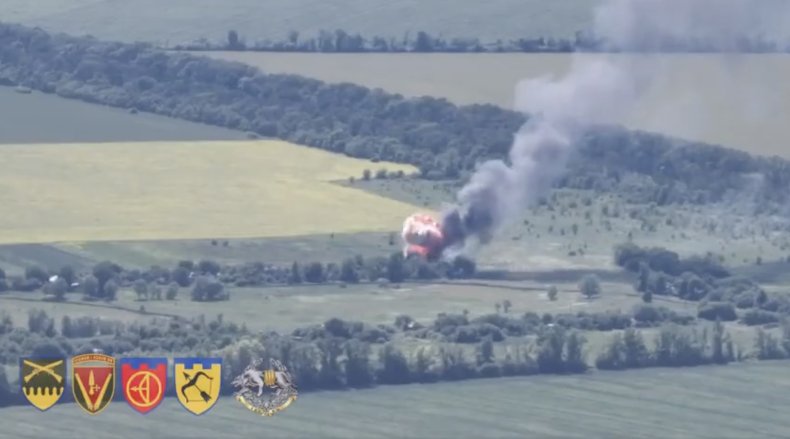 Ukraine's armed forces recently said more than 37,000 Russian soldiers had been killed since the start of the war, though Russia has not provided any estimates of its losses since late March, when Moscow told state media that 1,351 soldiers had died. Ukraine, in comparison, has not provided an official soldier death toll, the BBC reported.
In June, Mykhailo Podolyak, an adviser to Ukrainian President Volodymyr Zelensky, told the BBC that up to 200 Ukrainian soldiers were dying every day.
The TDF said Wednesday that in addition to the destroyed tanks and radar station, 23 Russians were "demilitarized," presumably meaning that they had been killed, and 50 others had been wounded. The operation also took out three of Russia's self-propelled guns, an armored personnel carrier, an infantry fighting vehicle and a KAMAZ truck, according to the tweet accompanying the video.
The TDF did not specify which weapons it used to carry out the strikes or where the joint operation took place. It also did not say how it confirmed the number of Russians purportedly left dead or wounded. Newsweek reached out to Russia's defense ministry for confirmation on the equipment and personnel losses and to Ukraine's defense ministry for further comment.