Russia Tests 'New Year's Gift' Weapon That Could Deliver Nuclear Strike 20 Times Speed of Sound
Russia has announced that a recent test of a state-of-the-art, nuclear-capable weapon said to be to able to travel up to 20 times the speed of sound was successful.
In a readout of Russian President Vladimir Putin's visit to the National Defense Management Center in Moscow, the Kremlin said Wednesday that the country's Strategic Missile Troops had launched the Avangard hypersonic glide vehicle at the Dombarovsky missile site in the southern Orenburg province toward a target at the Kura Missile Test Range, some 3,760 miles away on the far eastern Kamchatka peninsula. The statement said that the weapon "performed vertical and horizontal maneuvers and hit the hypothetical target on time within the range's combat field."
"The new Avangard system is invulnerable to today's and prospective air defense and missile defense systems of a potential enemy. This is a great success and a great victory!" Putin said alongside top officials, including Russian Defense Minister Sergei Shoigu. "Next year, the Avangard system will be put into service. A regiment will be formed, which will start combat duty."
"We will continue to work according to plans, both in this system and in other promising weapon systems for equipping the army and navy," he added. "This is a wonderful, great gift to the country for the New Year!"
The Avangard was officially announced as part of Putin's State of the Nation address in March, when the Russian leader unveiled the development of a number of advanced weapons he claimed would prove invincible against existing and even upcoming defense systems. Putin said that the weapons would come in response to certain nations not taking his country seriously and attempting to undermine its rising global influence.
"No, nobody really wanted to talk to us about the core of the problem, and nobody wanted to listen to us, so now, you will listen to us," Putin said at the time, as he introduced a video simulation of the Avangard. "Unlike existing types of combat equipment, this system is capable of intercontinental flight at supersonic speeds in excess of Mach 20."
"As I said in 2004, in moving to its target, the missile's gliding cruise bloc engages in intensive maneuvering —both lateral (by several thousand km) and vertical," he added. "This is what makes it absolutely invulnerable to any air or missile defense system. The use of new composite materials has made it possible to enable the gliding cruise bloc to make a long-distance guided flight practically in conditions of plasma formation. It flies to its target like a meteorite, like a ball of fire. The temperature on its surface reaches 1,600–2,000 degrees Celsius but the cruise bloc is reliably guided."
The Avangard is capable of carrying the RS-28 Sarmat intercontinental ballistic missile, dubbed "Satan 2" in the West, and also officially announced as part of Putin's presentation in March. Less than two weeks later, then-Russian Deputy Defense Minister Yuri Borisov assured media that the new weapons were "no bluff" and that the Avangard was "well-tested." Citing U.S. intelligence officials, CNBC reported in May that the weapon was tested twice in 2016 and would be ready for service by 2020.
Following the latest Avangard test, Moscow's embassy in Washington tweeted Friday that "Russia has a new, powerful weapon that can guarantee the security of our country for decades to come," alongside a video of Thursday's meeting.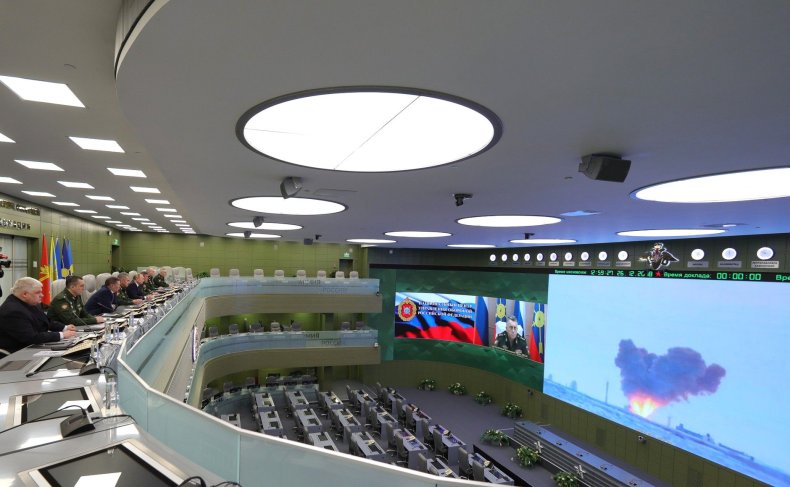 In addition to the Avangard and RS-28 Sarmat, Russia has tested other new nuclear-capable weapons mentioned in Putin's address, such as the Kinzhal hypersonic missile and the Poseidon underwater drone. The Peresvet laser complex has reportedly already entered service with Russian ground forces.
The U.S. has expressed concern over Russia's growing military might, especially its investment in hypersonic weapons, against which "there are no existing countermeasures," as the Government Accountability Office stated in its report earlier this month. Though the Pentagon maintains a major advantage in terms of military superiority against its Russian counterpart, Moscow's modernization of its strategic arsenal has threatened to narrow this gap.
Broken ties and mistrust between the two leading military powers have also threatened to break down historic arms control agreements that restrain the proliferation of nuclear warheads and delivery systems. The White House has vowed to quit the Intermediate-range Nuclear Forces treaty restricting the deployment of missile systems with ranges from 310 to 3,400 miles, while the State Department has reportedly not denied Russia's requests to begin negotiations for the renewal of the New Strategic Arms Reduction Treaty that limits their nuclear arsenals.
This article has been updated to include a tweet posted Friday by the Russian embassy in the United States.