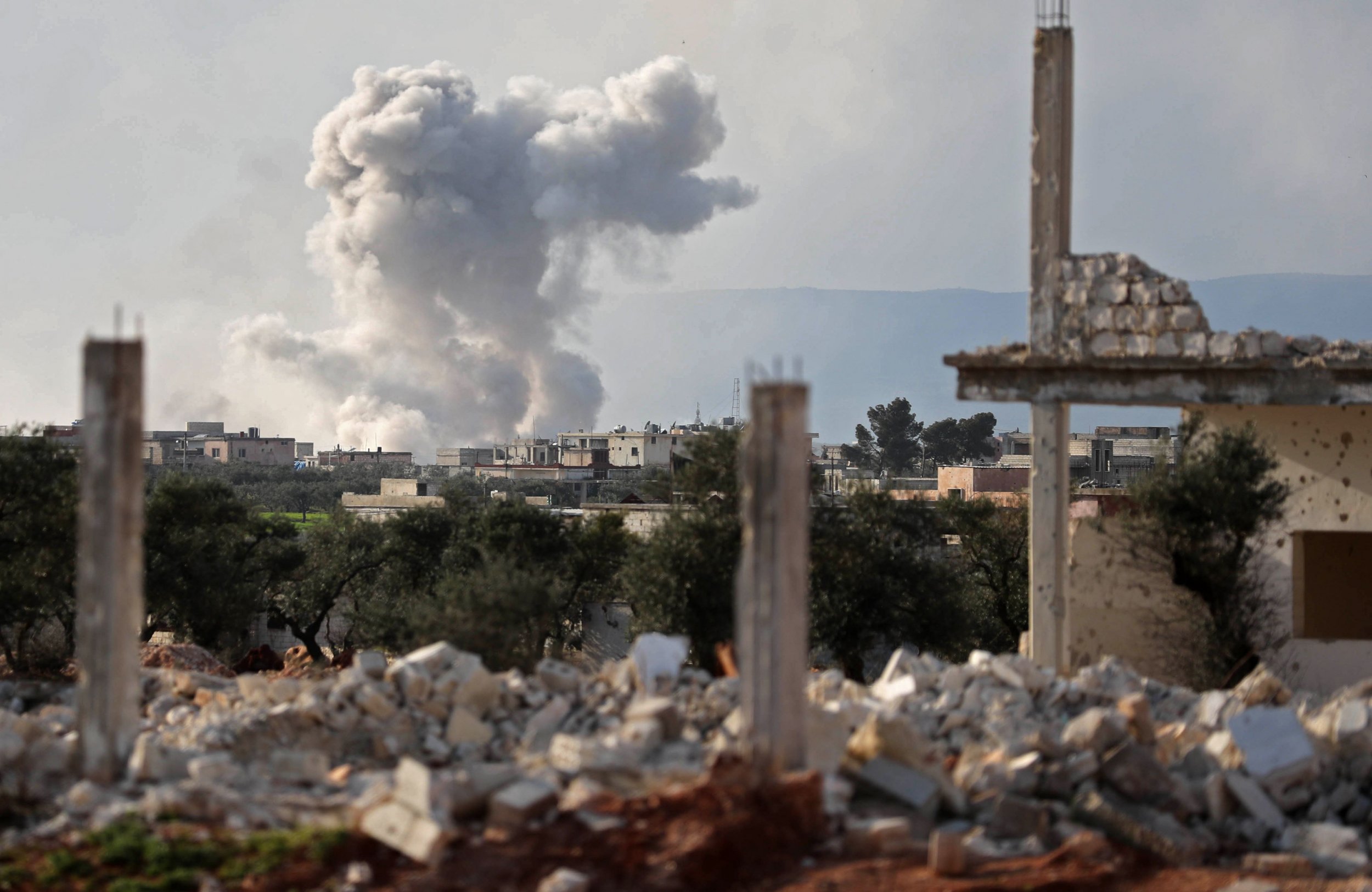 Russia warned this week that it was growing impatient with the persistent presence of jihadis in the last Syrian province to be held by insurgents as it sat down with Turkey and Iran for talks.
Vladimir Safronkov, Moscow's permanent Russian representative to the United Nations, warned a Security Council session Wednesday that militant groups such as Hayat Tahrir al-Sham—formerly Al-Qaeda's Nusra Front—remained active in Syria's northwestern province of Idlib despite Turkish assurances that they would be removed. The promises came as part of a cease-fire deal reached last year in an effort to halt an offensive by the Syrian military, but attacks have continued from both sides.
"The situation in Idlib remains volatile. Militants from Hayat Tahrir al-Sham do not cease to attack the governmental forces. They strike indiscriminately, including against civil infrastructure. Peaceful people die," Safronkov said, blaming the West-backed Syrian civil rescue group—known as the White Helmets—for plotting "new provocations" via chemical attacks to draw international action against the Syrian government.
"We see what is happening," he added. "We cannot say for how long this status quo in Idlib can last. It is not viable at all, on the contrary: it is dangerous for Syria and the region."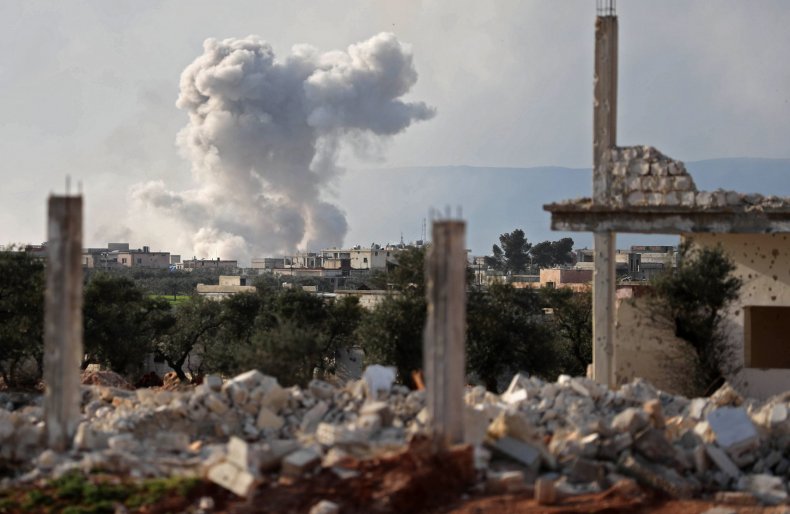 Safronkov's remarks came a day before officials from Russia, Iran and Turkey gathered in the Kazakh capital of Nursultan—formerly known as Astana before being renamed after politician Nursultan Nazarbayev, the country's first president, who stepped down this year after nearly three decades as leader.
The three powers have emerged in recent years as the leading international forces in Syria—with Moscow and Tehran backing Syrian President Bashar al-Assad and Ankara sponsoring the remnants of the opposition that took arms against the government in 2011.
The rebel and jihadi uprising that took place eight years ago enjoyed the support of the U.S., Israel, Qatar and Saudi Arabia as well, but these forces have since largely cut ties with what became an increasingly Islamist-led insurgency against Assad. Since 2014, the Pentagon has focused on battling the Islamic State militant group (ISIS) via the Syrian Democratic Forces, a mostly Kurdish formation including militias considered terrorist organizations by Turkey.
In separate offensives backed by rival foreign forces, the Syrian military and the Syrian Democratic Forces largely eradicated ISIS presence throughout the nation, while the former also ousted rebels and other militants across the country. As the Syrian armed forces moved in on Idlib and the outskirts of neighboring Aleppo province, Russian President Vladimir Putin and Turkish President Recep Tayyip Erdogan agreed to establish a 9- to 15-mile safe zone free of heavy weapons and militant groups such as Hayat Tahrir al-Sham, Turkistan Islamic Party, Haras al-Din and Ansar al-Din.
Violence has continued, however, with both sides blaming one another for violating the peace. The official Syrian Arab News Agency reported Wednesday that the Syrian army used rockets to destroy Hayat Tahrir al-Sham launch positions in Qalaat al-Madiq, Tel Hawash, Shahrenaz and Al-Hweiz in the northwestern countryside of Hama Province and weapons and munitions sites in southern Idlib's Khan al-Sabil, Al-Khwein, Al-Breisah, Umm al-Khalakhil and al-Msheirfa.
The Syrian Observatory for Human Rights, a U.K.-based monitor that supports the opposition, reported Thursday that Syria and its allies stepped up their shelling in the Khan Sheikhun region of southern Idlib. The activists also noted that Turkish forces posted in Aleppo's Afrin district just north of Idlib had begun building a separation wall and that residents displaced by joint Turkish-Syrian rebel operations against Kurdish fighters in Afrin had formed a delegation to petition Russian personnel in the area to intervene against Turkey's entrenchment.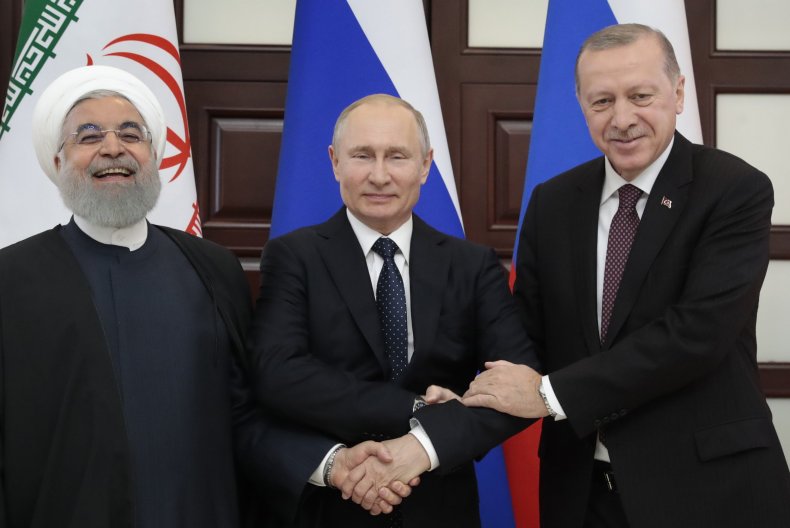 Safronkov told the Security Council on Wednesday that Russian officials "continue to cooperate with our partners from Turkey to develop a sustainable solution to the problem of Idlib" and that such discussions would continue in the Kazakh capital.
Alexander Lavrenteiv, Russia's special representative to Syria, said at the sidelines of talks on Thursday that discussions "dealt with the situation in Syria in general, and in Idlib in particular where the terrorist organization of Nusra Front controls the majority of the area," according to the Syrian Arab News Agency. He said that all three countries involved in the process had "positive attitudes and do everything possible to facilitate moving forward on the path of such a complicated issue as the settlement of the Syrian conflict."
Lavrenteiv warned, however, that Russia would continue delivering airstrikes as needed, arguing that "strikes in Idlib are delivered strictly with the aim to eliminate underground terrorist groups holed up in there" and that "these military operations are planned and held in such a way as not to harm civilians," according to the state-run Tass Russian News Agency.
Washington has rejected the so-called Astana process conducted by Moscow, Tehran and Ankara, calling instead for negotiations to remain within a parallel, largely sidelined peace effort led by the U.N. in Geneva. The U.S., which maintained a military presence across the nearly one-fourth of the country under Syrian Democratic Forces control despite protests by the Syrian government and its allies, has also refused to endorse Assad's rule, accusing him of war crimes and has demanded Iran to immediately withdraw all forces suspected of being under its command in Syria.
The Syrian government and the Syrian Democratic Forces have alternately allied and opposed one another throughout the war and have entered into their own discussions in hopes of avoiding a new conflict, though these talks often stalled. Assad and his officials have warned they would regain control of the country in its entirety, by diplomacy or force.