Russian Soldier Vents Anger Over Lack of Training: 'We Are Expendable'
Videos shared on social media have shown the latest complaints by Russians drafted for Vladimir Putin's invasion of Ukraine about not getting enough training and being treated poorly.
Russian troops are said to be suffering from low morale, especially after Putin announced a partial mobilization in September. Widely seen as botched, there were numerous anecdotes of infirm and older recruits being called up in error and having to buy their own equipment.
A number of videos have emerged recently of forlorn soldiers complaining that they are being sent in to fight with no clear purpose and without the proper equipment or preparation.
One such clip appeared on the Telegram channels of Russian language outlets "Attention News" and "Astra," also reported on by the independent Russian newspaper Novaya Gazeta.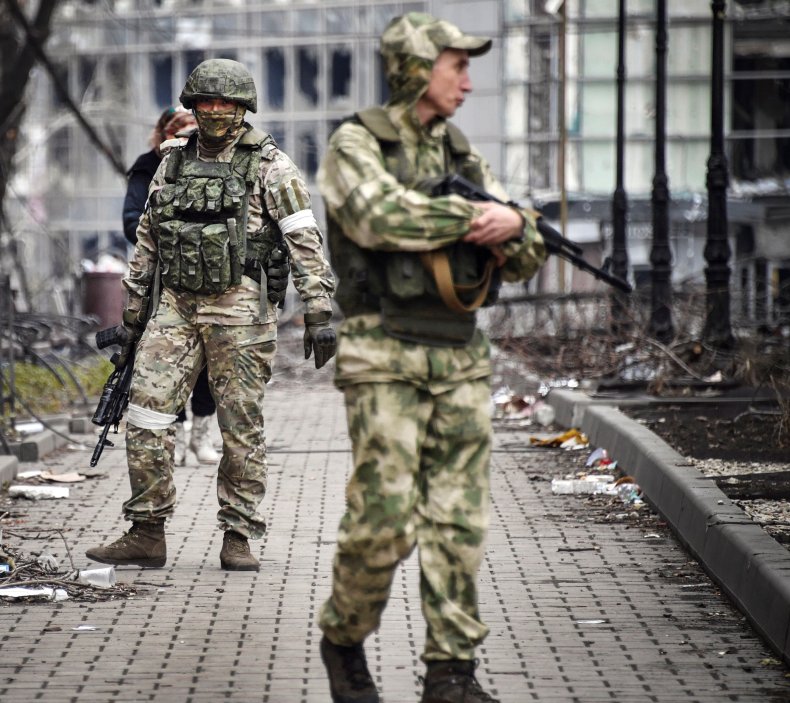 In it, a man standing in a front of his uniformed comrades in a dimly lit room addresses the camera and said that they had been drafted into the Belgorod region territorial defense brigade.
Having been stationed in Shebekino, a town in the Russian region that borders Ukraine, he said they were transferred to the self-proclaimed Donetsk People's Republic (DPR) in Ukraine. There, they were told to "storm villages," although seemingly "without orders or explanations."
The soldier also complained about the lack of equipment, communications, intelligence and maps of the area. He refused to carry out the assigned tasks because of the heavy losses. His fellow soldiers want to continue serving but only as part of Russia's armed forces.
"Personnel is dying," he said. "This is all that's left of my platoon."
It follows a separate video that emerged on Saturday showing draftees from Russia's Orenburg region complaining that the militia of the DPR had been sending them to the frontlines as cannon fodder.
In the clip addressed to Putin, one of the men said they were told they would be involved in territorial defense but instead were sent to Donetsk and handed over to local commanders.
The unnamed man said his colleagues did not have the skills to take part in assaults and had poor artillery, communications and reconnaissance support, and demanded they be returned to Russian command.
"We are in a hopeless situation, as we are considered expendable, and the command is indifferent to our lives," he said, noting how many had been killed and wounded and how the command replenished units once a month with more mobilized troops.
"We are not given information about what is really happening at the front, why the units suffer losses every day," he said.
Meanwhile, a video went viral this week of a group of men, purportedly from Russia's 5th Motorized Brigade, also appealing to Putin about a lack of effective command. One man said they had to use equipment from the 1940s, and that "people die for nothing," adding: "we are not meat."
It comes amid high reported Russian casualties in Ukraine as a fierce battle for the Donetsk city of Bakhmut continues to rage, although experts have said that Kyiv's forces have also suffered large losses.
Newsweek reached out to the Russian defense ministry via email for comment.