The Battle for Bakhmut Is Wearing Russia Down
High losses suffered by Wagner Group mercenaries in the battle for the Ukrainian city of Bakhmut will undermine Russia's ability to stage further offensives in its invasion, according to the Institute for the Study of War (ISW).
There was speculation over whether Kyiv would withdraw from the fight for the Donetsk city that Wagner forces have been heavily involved in, but Ukrainian President Volodymyr Zelensky insisted on Monday that his troops would stay.
One unnamed NATO official told CNN that for every Ukrainian soldier killed defending the city, Russian forces lose at least five. The ISW said on Monday that such high losses had deteriorated Russia's capacity for additional offensives and would give Ukraine a chance to seize the initiative.
The battle for Bakhmut will "severely degrade the Wagner Group's best forces, depriving Russia of some of its most effective and most difficult-to-replace shock troops," the think tank said.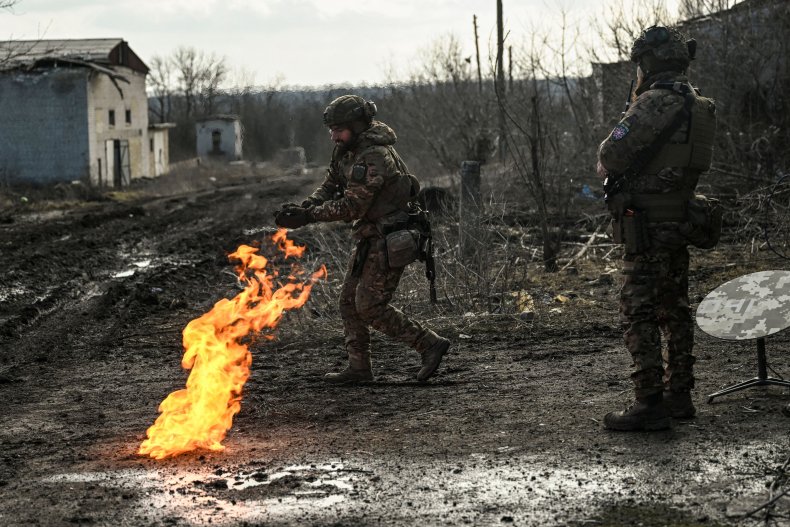 Attacks on Bakhmut by the Wagner Group—whose financier Yevgeny Prigozhin last week claimed the city was surrounded—had already "culminated", or could go no further, once, causing Moscow to commit elite airborne troops to the fight.
"It may well culminate again before taking the city," the ISW said, which would again force the Russian military "to choose between abandoning the effort or throwing more high-quality troops into the battle."
It added that Kyiv will be keen to capitalize on the chance to damage Wagner's elite elements and other elite Russian units that are forced to fight in defensive urban warfare that favors Ukraine's forces.
The ISW said that Prigozhin "apparently fears" that his forces are being expended and exposed "to destruction" by the Russian Defense Ministry, amid the businessman's repeated pleas for ammunition, which he said has still not arrived.
Although some analysts suggested that the battle was coming to a head, Zelensky said in his nightly address on Monday that he and his commanders had decided to reinforce troops defending the city and would continue their fight.
American officials have said that the continued defense of Bakhmut carried more "symbolic" than "strategic" value for Kyiv but Zelensky said that the city "has yielded and is yielding one of the greatest results during this war, during the entire battle for Donbas."
"The longer Ukrainian forces hold out, the more internal damage is done to the cohesion of the Russian state," Zev Faintuch, senior intelligence analyst at security firm Global Guardian, told Newsweek.
But he said "this calculus could soon start to change, should Ukrainian forces become enveloped, which would necessitate a fighting retreat."
Newsweek has contacted the Russian Defense Ministry for comment.