Infighting Among Putin Allies Reaches Fever Pitch
Wagner Group financier, Yevgeny Prigozhin, has hit back at criticism from Russian military blogger Igor Girkin amid their deepening spat over how Moscow's forces are fighting in Ukraine.
The pair are high-profile Russian voices on Vladimir Putin's invasion and are in an increasingly bitter public dispute over how the war is being fought.
Girkin is a former Federal Security Service (FSB) officer, and ex-commander who led Russian-backed forces in the separatist Donetsk region in 2014. Also known as Igor Strelkov, he wrote on Sunday that Prigozhin's presence as head of the mercenary group was harming Moscow's campaign to take Bakhmut.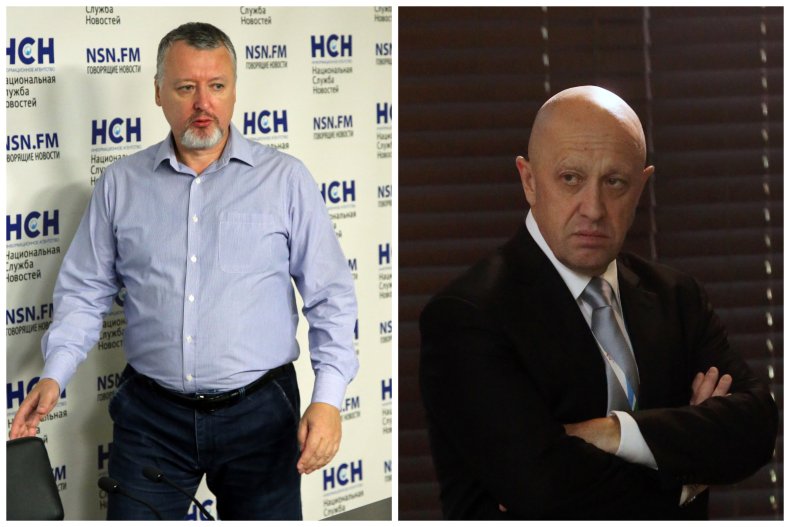 In a Telegram social-media post, Girkin had condemned the political ambitions and actions of Prigozhin. He said these were driven by "psychopathy" and were detrimental to the "common cause of victory over Ukraine."
Girkin's post also called for the ousting of Russian Minister of Defence Sergei Shoigu. He said that Russian and Wagner troops should be withdrawn from the frontlines to be replenished and reorganized.
But when Prigozhin was asked on his Telegram channel about Girkin's criticism, the Wagner founder responded on Monday that "it is simply indecent to discuss Strelkov," using Girkin's nom de guerre.
Prigozhin's statement also said that Girkin had received offers to join Wagner and go to the front to take a more direct role in the war. Instead, the milblogger had chosen to "sit around and throw faeces."
"So why should I comment? I don't offend girls," Prigozhin added. In a follow-up post, he said that ammunition promised for his troops had not yet arrived.
In February, Prigozhin had thanked members of the public for pressuring the Russian defense ministry into providing ammunition for his troops that he had long called for.
However, on Monday, Prigozhin wrote that there had been an ammunition order on February 23, but most of the ammunition has not been shipped. Prigozhin added that, so far, it was not clear whether the reasons were down to "ordinary bureaucracy or betrayal."
A months-long battle for Bakhmut has been the focus for Prigozhin's troops. The Wagner leader claimed that Russian forces had surrounded the Donetsk city, although this has been denied by Kyiv.
The Institute for the Study of War said it is too soon to tell whether Ukrainian forces will completely withdraw.
The Washington think tank had previously pointed to satellite imagery that showed the destruction of a destroyed railway bridge to the northeast of the city. The ISW said this showed that Ukrainian forces would retreat from the eastern bank of the Bakhmutka River.
However, the ISW added that Ukrainian troops were likely to be taking part in a "limited tactical withdrawal" from the city's eastern part. Its continued defense of the city was strategic because it would further deplete Russian troop numbers and equipment.
Michael Kofman, director of the Russia Studies Program at the Center for Naval Analyses in Arlington County, Virginia, has just visited Bakhmut. He tweeted on Monday that ammunition shortages, contested lines of communication, and an attritional battle on unfavorable terrain "doesn't play to Ukraine's advantages as a force."
Kofman added that Ukraine's forces have "achieved a great deal" in expending Russian manpower and ammunition. "But strategies can reach points of diminishing returns," he wrote. Given Ukraine wants to husband resources for an offensive, "it could impede the success of a more important operation."
Newsweek has contacted the Russian and Ukrainian defense ministries for comment.