Russia Planning False Flag Attack on Ally to Drag It Into War: Ukraine
Russia is planning false flag attacks on infrastructure in Belarus to try to drag Minsk into Vladimir Putin's war, according to Ukrainian intelligence.
However, the U.S. think tank the Institute for the Study of War (ISW) has said that this attempt to involve Putin ally and Belarusian President Alexander Lukashenko in the invasion in Ukraine is likely to fail.
The ISW was responding to a report by the Ukrainian Main Military Intelligence Directorate (GUR) on Sunday that claimed Russian special services were seeking to conduct false flag operations—attacks to create the appearance of hostile action by an adversary.
The GUR said that Russia would target "critical infrastructure facilities" in Belarus, in particular in the Grodno and Brest regions and at the Ostrovets nuclear power plant, in a false flag operation.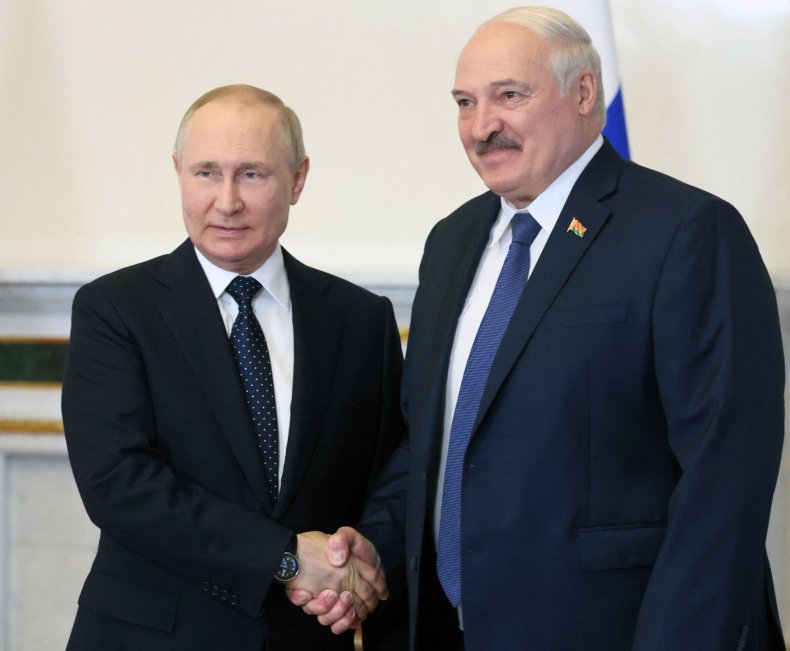 Ukrainian intelligence said that this would spur Minsk's involvement in the war and turn the tide of public opinion in Belarus in favor of the Kremlin.
Belarus has been used as a springboard for Russia's invasion of Ukraine and was where Russian forces started their unsuccessful march towards Kyiv at the start of the war.
But Minsk hasn't been directly involved in the war, even though it has provided logistical support for Russian troops. The ISW said that potential false flag attacks "remain unlikely to change the domestic factors" that are keeping Lukashenko from entering the war "on Russia's behalf."
The think tank referred to an assessment it made in October that Belarus was unlikely to enter the war due to the "heavy domestic risk that involvement would pose to the survival" of Lukashenko's regime.
It said that Moscow and Minsk will highlight their defense cooperation "to perpetuate an ongoing information operation that the Belarusian military will enter the war."
Newsweek has contacted the Belarusian foreign ministry for comment.
A survey earlier this year in Belarus by the Chatham House think tank showed that less than a 10th of Belarus' population supported sending troops to participate in the war.
Experts have said that Lukashenko taking a more direct role in the war in Ukraine would pose a risk for his regime, despite the Belarusian leader's announcement in October of forming a joint force with Russia.
The Belarus' opposition has expressed alarm at the growing presence in the country of Russian weapons, aircraft, troops and missiles, such as Iskanders, which could be used to attack Ukraine from Belarusian territory.
Franak Viačorka, chief political adviser to exiled Belarusian opposition leader Sviatlana Tsikhanouskaya, told Newsweek earlier this month that the presence of Russian troops in Belarus plays a "political role" for Minsk.
"Lukashenko is comfortable with it because when you have Russian troops in Belarusian territory, protests are highly unlikely," Viačorka said. "So it's like a guarantee of survival for Lukashenko."
"I don't think Putin is interested in sending Belarus troops to Russia," he said, but rather creating the opportunity "to create pressure and noise around it."
"Lukashenko and Putin are symbiotic," he said, "They need each other. Lukashenko gives Putin everything he needs—territory, facilities and infrastructure. Putin gives [Lukashenko] everything else," such as military help, which keeps him in power.