Russia Accidentally Shoots Down Its Own Helicopter, Ukraine Military Claims
Russian military forces reportedly shot down one of its own combat helicopters in a friendly fire incident, according to Ukrainian officials.
The General Staff of Ukraine's Armed Forces said that three Russian Ka-52 "Alligator" helicopters had been flying in the Kherson region in the south of the country with the intention of attacking Ukrainian units but "struck their own" instead.
"Russian air defense has never been distinguished by accuracy, so the invaders shot down...one of their Ka-52s," a statement posted on Facebook Tuesday said, according to a translation.
Other outlets reporting the incident said that it took place after the Russian helicopters mistakenly fired on Russian positions on the ground.
Ukraine's forces mocked the incident, describing it as a "gesture of goodwill" and a "pity" and underneath the post, Facebook users expressed their glee.
"This happens when you don't have brains, and you have two left hands," wrote one user, while another said, "hope our boys had their popcorn."
Believed to be one of Russia's most powerful helicopters, the Ka-52 provides direct support for troops on the battlefield and is capable of detecting and attacking any targets. In 2020, Russia had 127 of the helicopters, each of which cost around $16 million, according to Military Today.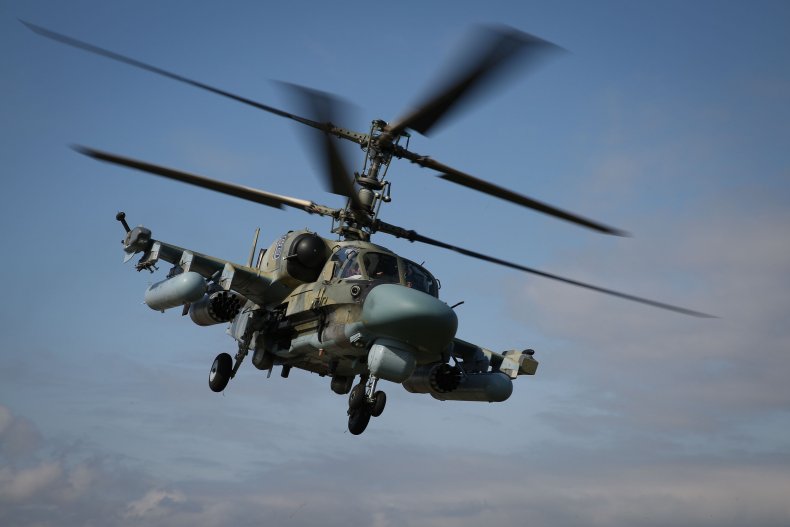 On Monday, Ukraine's armed forces said that it had shot down the same type of helicopter using the "Igla Man-Portable Air Defense System" (MANPADS) although officials did not specify where the alleged incident took place.
Ukraine's updates of Russian losses appear to have reflected these latest two reported incidents. It said on Sunday that Russia had lost 188 helicopters while on Wednesday, this figure was 190, seemingly referring to the two other aircraft it said had been shot down since then.
The incidents have not been verified and Newsweek has reached out to the Russian defense ministry for comment.
Footage released last month purportedly showed a Ukrainian paratrooper shooting down the same model of helicopter from a British-made Starstreak rocket launcher.
While Ukraine's estimates of ever-increasing Russian troop losses and equipment have not been independently verified, they are at least indicators of the obstacles facing Vladimir Putin's campaign.
Amid reports that Russia needs to replenish its forces due to high troop losses, Putin has avoided calling for general mobilization. However, there have been a number of reports pointing to an increased recruitment drive in Russia's military via other means.
These include advertisements for military personnel on civilian job search sites and reports on social media about contacting potential recruits directly and tasking villages with finding volunteers.