Russian TV Pundits Try To Make Sense of Losses in Ukraine
Russian propagandists are trying to make sense of Ukraine's gains, but one TV anchor has warned against Russians making armchair assessments of their losses while a top media figure said Moscow must "incapacitate this enemy nation."
Ukrainian President Volodomyr Zelensky has said that his forces have so far seized back more than 2,300 square miles of territory from Russian control in the country's east and south during a September counteroffensive that has seen key cities retaken in Kharkiv region.
While Moscow has said it has withdrawn troops as part of a "regrouping" that will help it focus on the Luhansk and Donetsk regions, military experts have said the lightning gains made by Kyiv could be a possible breakthrough in the war.
Artyom Sheynin, an anchor of the Channel One program Vremya Pokazhet (Time will tell) described the last few days as "difficult for all of us," but said that Russians should not react to military setbacks in the same way as they would the shortcomings of their national soccer team.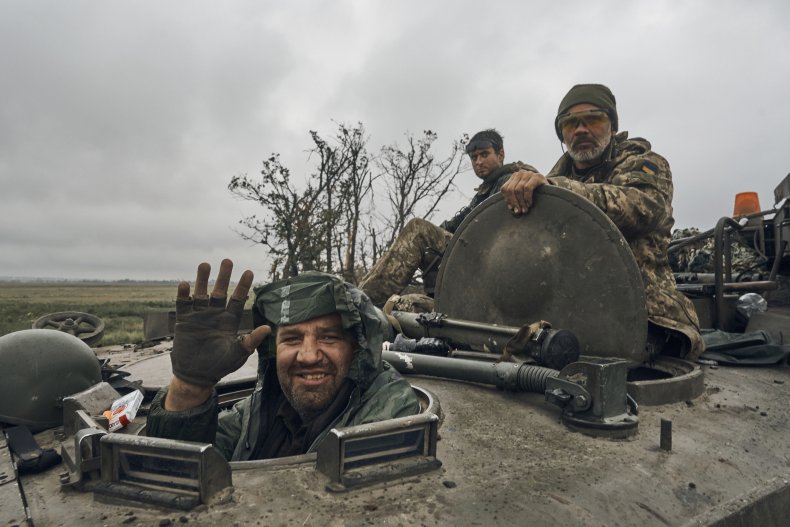 "I remember how when our national team wins or plays well, everyone says 'well done guys, onwards Russia, we are with you,'" he said on Monday.
"But if something goes wrong for the team, straight away everyone's saying that soccer in this country is gone—but that's soccer, it's allowed there. Everyone's an expert when they are on the sofa with a beer.
"In a situation when there's a very difficult conflict, you can't behave like a fan."
The clip was tweeted by Francis Scarr of BBC Monitoring who wrote that the comments raised the question of how Russians can support the war effort when they are losing.
In an exchange on another Kremlin-backed channel, Russia 1, editor-in-chief of the Russian state-controlled media organization RT, Margarita Simonyan, said that Russia should strike against civilian infrastructure on Ukrainian territory "which has not been liberated."
She said that striking "power stations, nuclear power plants…could incapacitate this enemy nation, what's left of it. It could be done fast and easy."
"It would impact them for a long time and distract them from everything else. Myself and others are constantly being asked, 'Why aren't we doing that?' There is no answer."
"It's either time for harsh measures or answers that would satisfy our society," she told the show, Evening with Vladimir Solovyev.
Military expert Alexey Lenkov said that while Russia could get "hysterical and demand a blackout," he asked how that would "make us friends" in Ukraine where Russian "compatriots" are living.
However, Dmity Kulikov, a political scientist said that most people in Ukraine "are on the side of the United States," and as such, should not be considered to be "part of the Ukrainian people whom we believe to be one people with us."
Journalist and Russia watcher Julia Davis tweeted the exchange, writing how "top propagandists urge a total blackout of Ukraine" and saying they consider "their people can be fed and warmed up later."
Guests on 60 Minutes have constantly railed at Western support for Ukraine's forces in a theme also visited by the journalist Alexander Kots, who has been reporting from the Russian frontline for the mass circulation tabloid Komsomolskaya Pravda.
In a piece published on Monday, he said strikes by U.S. supplied High Mobility Artillery Rocket Systems HIMARS had been "coordinated with Washington" in a piece headlined "Battles towards Kharkiv, It was not Ukraine, but a NATO team that attacked Izyum."
Russia's military has admitted that its troops had to leave the key cities of Balakliya, Izyum and Kupiansk in the Kharkiv region, a small eastern part of which it still controls.
Western support has been essential for Ukraine's fight against Russia and Ukrainians have proven capable of using modern Western-supplied equipment, like precision artillery and drones, to great effect.
"Now, the war enters a new stage where the ability to move forces under fire and exploit weaknesses in Russian lines are of utmost importance—artillery and infantry weapons alone will not suffice," said Rafael Loss, Coordinator for Pan-European Data Projects, European Council on Foreign Relations.
"Battle tanks and other armored vehicles would allow Ukraine's armed forces to build on the successes of the past days and replicate them to liberate other parts of their country," he told Newsweek in an emailed statement.
He said that building a European coalition to back Ukraine would be part of a continent-wide effort to stand up to Russian aggression.
"There are growing indications that Washington would support such an initiative," Loss said.
Newsweek has contacted the Russian defense ministry for comment.