Russia Secretly Mobilizing Military as Kremlin Fears Conscription Backlash
Authorities in Russia are engaged in a covert mobilization campaign, after speculation that President Vladimir Putin would use Victory Day celebrations last week to announce mass mobilization came to nothing.
The Russian leader did not, as had been anticipated, use the patriotic fervor of World War II celebrations on May 9 to declare war, which would give him the justification for widespread conscription to help shore up troop losses in his invasion of Ukraine.
By maintaining that the war is a "special military operation" in Kremlin parlance, Russia is not technically at war and so volunteer soldiers can resign and conscripts in theory cannot be sent to Ukraine.
However, there have been growing reports of concerted efforts to get Russians to enroll with the military, whose forces have sustained considerable losses since the start of the war on February 24.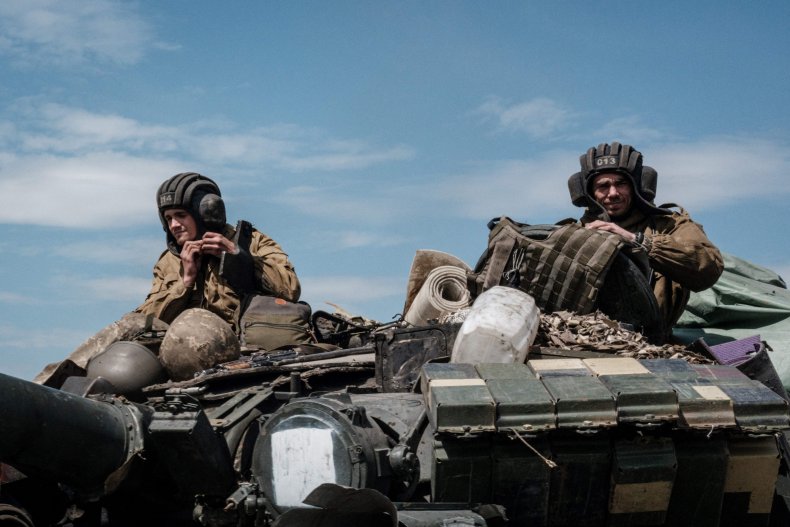 On May 13, BBC Russian reported that over the last few weeks, military registration and enlistment offices have been sending men "subpoenas." The outlet spoke to at least three men who tore these requests, featured in the article and headline which said "covert mobilization has begun in Russia."
Last month, BBC Russian also reported that since the start of March, thousands of vacancies for contracted military personnel have been posted on civilian job search sites HeadHunter and SuperJob.
As previously reported by Newsweek, Russian government institutions across the country are recruiting staff for "wartime mobilization specialists." One advert for the Department of Internal Affairs in the north-western district of Moscow, posted on April 29, calls for candidates to carry out a range of tasks.
These included developing and adjusting "mobilization planning documents," and implementing "special decisions of federal executive bodies in terms of mobilization readiness and mobilization training."
While the Kremlin has repeatedly denied plans for mass mobilization, experts have pointed to a manpower shortage which threatens Putin's campaign, which has shifted its focus on the eastern Donbas region.
Rob Lee, a military analyst tweeted Monday that Putin realizes that mobilization or de-escalation would be "very unpopular," and that Russia can continue the current operation for the time being, "but it can't do this forever."
However, any move to declare war and mobilize could pose other problems for Putin. Evgenia Albats, editor of the independent Russian publication The New Times, told Newsweek before Victory Day that Putin "understands that for Russians this whole idea of a war of choice is very difficult to comprehend.
"We lost 27 million people in World War II, so for Russians it can be a war of defense not a war of conquest," she said. "Mobilization is a deadly step for Putin so I really doubt that he is going to do this."
Meanwhile, Glen Grant, a senior defense expert at the Baltic Security Foundation think tank who advised Ukraine on its military reform, said Putin needs more manpower but has to mobilize without it.
"It is silent mobilization at the moment. They are mobilizing, but they are not saying they are mobilizing," he told Newsweek.
"My feeling is that they are going to mobilize fully because everything will collapse. They don't have the capacity to train people. They are going to do it quietly at the rate that they can afford. Let's be blunt about it, they can afford to do it at this rate for a long time."
"It will be a conveyor belt," he said, "not everybody will be coming in at one go."
Last month, Reuters reported that military conscripts in the Russian-backed Donbas region were sent into front-line combat against Ukrainian troops with no training, little food and water, and inadequate weapons.
Grant said, "as they can get vehicles ready and find instructors, they will bring people in and send them to the front," and that support for Putin will not be affected as long as "it doesn't become seriously public."
However, Michael Kofman, the director of Russia studies at CNA, a research institute in Arlington County, Virginia told the War on the Rocks podcast last week that the Russian military "is not set up for general mobilization" in the way that the Soviet army had been in years gone by.
"It does not have the training components or the empty units to take in large numbers of manpower," he said.
Newsweek has contacted the Russian defense ministry for comment.