U.S. Demands Russia Explain Military Build-Up Near Ukraine After Sending Hardware to Kyiv
The U.S. has reportedly delivered three military cargoes to Ukraine in the last fortnight amid growing international demands for Russia to explain its troop build-up on the border with its neighbor.
Moscow has sparked alarm by sending armed forces to Ukraine's northern and eastern borders as well as to Crimea, which Russia annexed in 2014.
Amid fears that the Kremlin wants to escalate the simmering seven-year conflict between the countries, The Insider investigative news website reported that there were the highest number of Russian troops on the border since the eastern Ukraine conflict started seven years ago.
NATO Secretary-General Jens Stoltenberg tweeted on Tuesday that he had contacted President Volodymyr Zelenskiy of Ukraine "to express serious concern" about Russian military activities in and around the country, as well as "ongoing ceasefire violations."
Zelenskiy in turn used the tensions to call on NATO to back a membership action plan for Ukraine, saying this step would be "a real signal for Russia."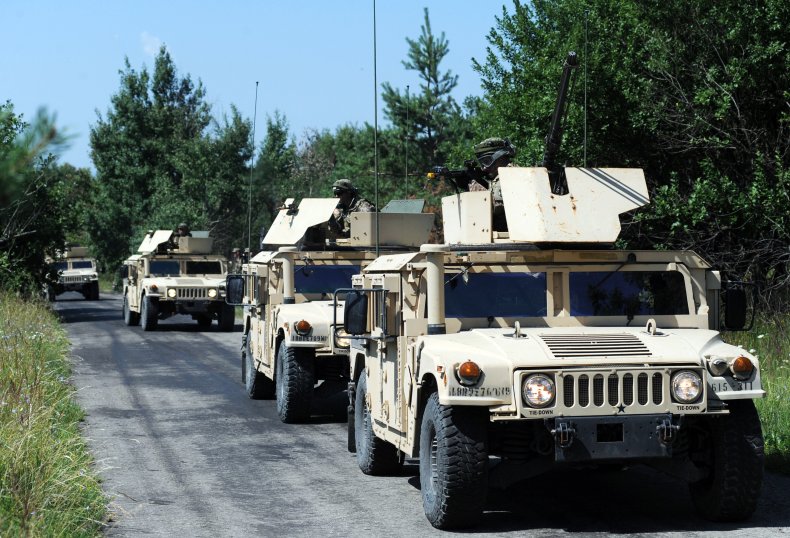 Pentagon spokesman John Kirby said Moscow should have announced if it was conducting military exercises, as it usually did. "We call on Russia to make their intentions more clear as to what they're doing with this array of forces along the border," he said.
Over the last fortnight, U.S. military equipment has arrived in Ukraine. On March 25, 350 tonnes of cargo were delivered to Odessa by the ship Ocean Glory. The shipment included 35 Humvee SUVs, the agency Ukrinform reported.
Local news outlets have reported further deliveries. On April 2, a U.S. Air Force C-17A Globemaster III military transport aircraft flew to Kyiv from the U.S. base in Ramstein, Germany, according to the Odessa newspaper Dumskaya.
Two days later, another C-17A Globemaster III, which can carry 102 troops and 77 tons of cargo, landed in the western city of Lviv, the newspaper reported.
At the beginning of March, the Department of Defense announced that the U.S. would give $125 million of military aid to Kyiv in the 2021 fiscal year to help preserve its territorial integrity, work better with NATO and "more effectively defend itself against Russian aggression."
A further $150 million will be provided this fiscal year depending on the effectiveness of Ukraine's defense reforms, which are required by the National Defense Authorization Act.
The funding comes as Ukraine's armed forces announced that they would undertake military drills with at least five NATO countries this year in an operation called Cossack Mace. Other drills involving the U.S., called Rapid Trident and Sea Breeze, are planned, Unian reported.
When contacted for comment, the Department of Defense referred Newsweek to its initial announcement on March 1 about the U.S. provision of military aid.
Some observers have said Russia's military build-up is a plot to intimidate Zelenskiy and test the resolve of the Biden administration.
The Atlantic Council think tank added that a military campaign could boost support for President Vladimir Putin, whose popularity has slumped ahead of Russian parliamentary elections in September.
The think tank also pointed to a stepping-up of propaganda attacks on Kyiv by Kremlin-controlled media, in which they accuse the Ukrainian government of planning its own offensive.
"It is now time for Washington to provide additional leadership by announcing conditional sanctions that would be levied on Russia if it escalates in Ukraine," said John Herbst, director of the Atlantic Council's Eurasia Center.
This story has been updated to include a response to Newsweek from the Department of Defense.