Russians Ask Putin to Fix Bomb Shelters as Citizens Fear the Worst
Residents in a Russian city near the border with Ukraine issued a video plea to Vladimir Putin to restore a bomb shelter amid fears of spillover effects of the war the president started.
The clip shows an unnamed man describing the concerns of residents in a northern district of Oryol and asking Putin to task regional authorities to restore the bomb shelter of a former factory.
The man standing in front of a group said that Ukrainian forces were "constantly shelling" the nearby Kursk and Belgorod oblasts and that as residents of a multistory building, they felt particularly vulnerable. He described how a drone hit an oil depot in his region.
"We cannot hide in our basements," he said, because they were not suitable for such an emergency, but in his view, a bomb shelter at a nearby factory was in good condition and could be adapted for use.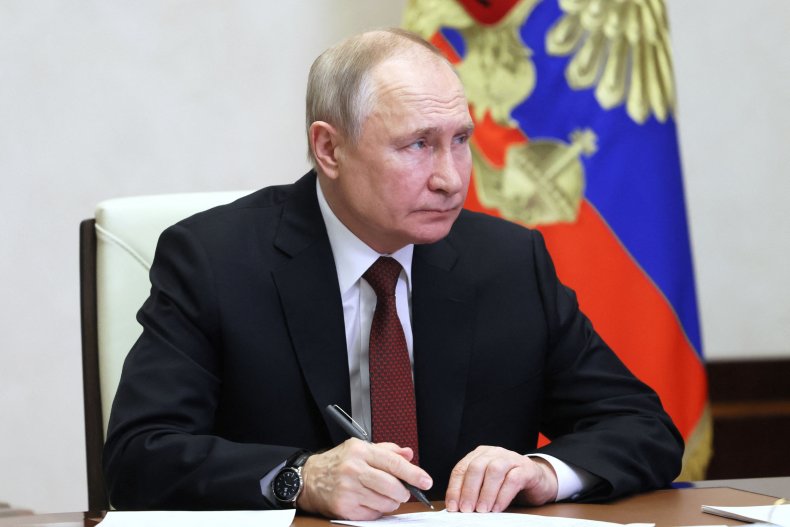 "The building exists and is in good condition. All you need to do is put in a little effort," he said.
Addressing the president with the polite "Vladimir Vladimirovich" and expressing support for what Moscow calls "the special military operation," he called on Putin to influence regional authorities so that the governor can allocate funds for the bomb shelter to be repaired.
The video was shared on Telegram and Twitter and reported by the local online newspaper Oryol Times, which noted that local authorities had requested the shelter be repaired in the city, which is about 220 miles southwest of Moscow. Newsweek reached out to the Kremlin for comment.
The plea follows a report that the Kremlin ordered shelters and bunkers across the country to be inspected and repaired amid a threat that Russian cities could become targets for strikes during the war with Ukraine.
Since the war started on February 24, 2022, Russian regions close to the border have been hit by unexplained strikes. Explosions have been reported in the Kursk, Bryansk and Belgorod regions, with fuel depots and ammunitions among that that have been targeted. Ukraine has not directly claimed responsibility.
The Kremlin issued a decree in October for regions in western Russia to prepare for the possibility of strikes, although The Moscow Times, an independent publication in Amsterdam, said that open-source data showed bomb shelters were being readied throughout the country.
Authorities in regions throughout the country have made a considerable investment in bomb shelters following from orders from Moscow, according to the publication, which reported that invitations for bids to repair the sites were found on an official online portal.
Last month, air defense systems were reportedly installed on top of buildings in Moscow.