Russian State TV Guest Clashes With Host Over Costly Ukraine Advances
A heated exchange among Kremlin propagandists on Russian television about Moscow's faltering war effort in Ukraine has gone viral.
Aleksey Zhuravlyov, leader of the nationalist party Rodina (Motherland), lamented the disconnect between how the war was being portrayed in Russian media and the reality that the Kremlin's forces were making little apparent progress on the ground.
Ukraine said on Saturday that more than 1,000 Russian troops had been killed in the previous 24 hours, the third time this month that the reported daily death toll has reached four figures amid a fierce battle for Bakhmut in the Donetsk region.
"Why aren't we in Kyiv if everyone is fighting just fine?" Zhuravlyov told the program 60 Minutes. "Maybe I don't understand something, or will we be celebrating another street seizure with the whole country?"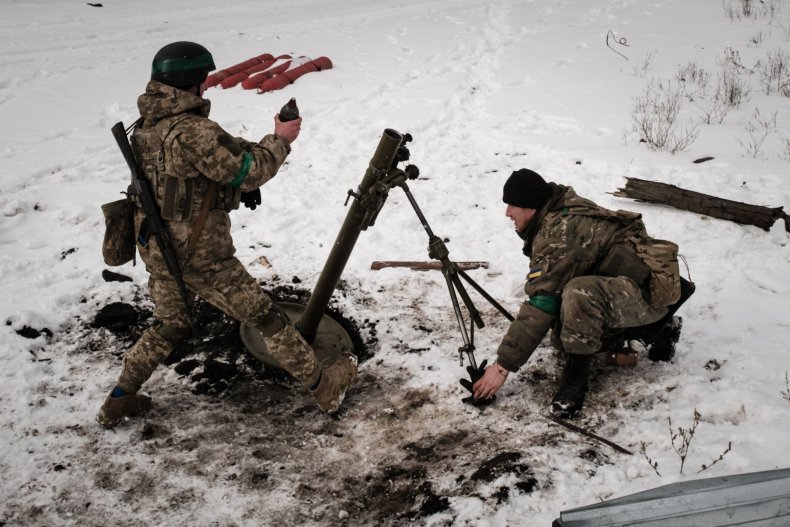 He questioned the value of touting Moscow taking "another trench in the village with seven of our own people. What good is that?"
But the anchor on the Russia 1 channel, Olga Skabeyeva, took aim at criticizing Russia's war effort from the comfort of a TV studio and said that "disparaging" Moscow's progress was "inappropriate" considering "how much blood is being shed for these streets."
After saying he had been in Ukraine "last week" and would return there again, Zhuravlyov asked Skabeyeva "why have you decided that it is disparaging?" to criticize slow progress as he suggested it was his duty to call the war how he saw it.
He insisted he was not saying that Russian troops were fighting badly, rather, "we're fighting perfectly well in the conditions that we have today" but that "I would like those conditions to be changed."
He then asked why delivery points for the impending arrival of U.S.-supplied Abrams tanks had not been destroyed yet. "I want us to move much further," Zhuravlyov said, so that Ukraine's forces "would not have the logistics of delivery."
As of Saturday, the clip tweeted by Ukrainian internal affairs adviser Anton Gerashchenko had been viewed more than 180,000 times.
"One Russian propagandist points out that Russian army doesn't have any great successes at the frontlines," Gerashchenko wrote. "Skabeyeva gets offended and says he should go fight then."
What the West can supply Ukraine with is a key question being discussed at the Munich Security Conference where Polish Prime Minister Mateusz Morawiecki said Warsaw is not open to providing F-16 fighter jets to Ukraine because it had "very few" in its arsenal. However, he said Poland was open to cooperating with other NATO members to provide other jets.
Meanwhile, European Commission President Ursula von der Leyen said on Saturday that EU members would work with the defense industry of members to increase ammunition supplies to Ukraine, suggesting that its delivery of the COVID vaccine was a model of how to increase production.