Russia Warns of New U.S. Moves Against Venezuela, Where Military Goes on High Alert
Russia has warned of new U.S. moves against the government of Venezuela, where the military has been placed on high alert in response to recent actions by the country's neighboring Washington-backed rival.
During a press conference on Wednesday, Russian Foreign Ministry spokesperson Maria Zakharova criticized Venezuela's opposition-controlled National Assembly head Juan Guaidó's attempts to further solidify his self-proclaimed government as a "dangerous attempt to legitimize dual power, create a pseudo-legal reality leading to further polarization of Venezuelan society and delay the search for a compromise solution that Venezuela so needs to improve the humanitarian situation and return to the path of progressive development."
Guaidó declared himself leader in January, challenging Venezuelan President Nicolás Maduro, who retains the recognition of Russia, China, Iran, Turkey and a number of other world powers. The U.S. and many of its allies, especially in Europe and Latin America, have backed Guaidó and Zakharova said "there is no doubt who orchestrated" his latest push for power.
"Apparently, the United States, having become convinced of the failure of displacing the legitimate Venezuelan authority by force, is trying to put together a new strategy to 'restore democracy' in this state," Zakharova added. "Now this slogan is being used to justify the creation of a parallel government in violation of all the norms of a law-based state."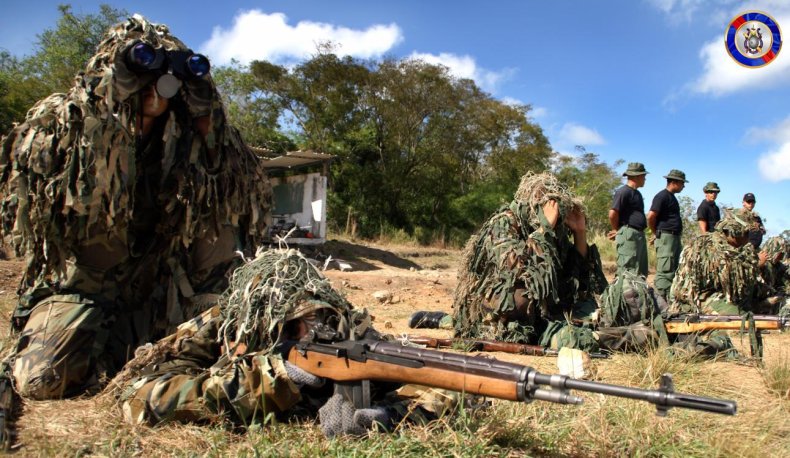 Venezuela's economy peaked during late President Hugo Chávez's final days in office in 2013, but quickly began a decline later exacerbated by U.S. sanctions under Maduro. Amid dire hyperinflation and allegations of government corruption, Guaidó's campaign has been championed by supporters as a fight for democracy, but reviled by critics as an extension of a long history of U.S.-led efforts to combat leftist Latin American forces, including an attempted coup against Chávez in 2002.
Zakharova on Wednesday argued that a number of Guaidó's ministerial picks "have long been working for organizations sponsored by American NGOs," though she did not specify who had worked for which groups. Appointees such as Leopoldo López—who has taken refuge in the Spanish ambassador's residence—and Julio Borges—who lives in exile in Colombia—have been previously been accused by the government of plots against Maduro.
President Donald Trump's administration has increasingly applied political and economic pressure on Maduro, announcing its strictest set of sanctions yet last month. Last week, the State Department announced the creation of a Venezuela Affairs Unit tasked with "the restoration of democracy and the constitutional order in that country, and the security and well-being of the Venezuelan people" from its headquarters in Colombia.
Zakharova dismissed this as "political propaganda." She said "we have seen how under such fine pretexts for the restoration of democracy, —which have nothing to do with the interests of countries and peoples in other regions—intervened in the internal affairs of sovereign states, used force and illegal unilateral sanctions to circumvent the U.N. Security Council."
Despite having officially cut ties with one another, both Trump and Maduro last month confirmed they have held secret talks with one another's administrations as Maduro and Guaidó held separate negotiations. Even with this dialogue, however, tensions have remained high, especially as Maduro raised the military threat level Tuesday to "Orange Alert" as he suspected a new conspiracy to commit "aggression from the Colombian territory against Venezuela."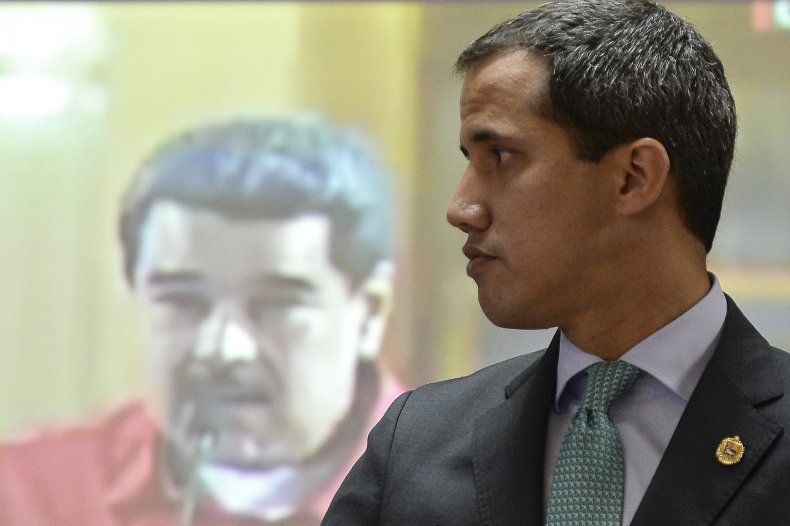 Maduro's remarks, which were accompanied by an announcement of the "Sovereignty and Peace" exercises to be held at near the Colombian border next week, followed Vice President Jorge Rodríguez's allegations of a Bogotá-sponsored plan to attack Caracas. Rodríguez, who heads Venezuela's communications sector, laid out the alleged plot at a press conference over the weekend.
Rodríguez said that the country's intelligence bodies were able to thwart a plan to attack the country's Palace of Justice with explosives and showed satellite aerial images of what was purported to be three paramilitary training camps near the northern Colombian cities of Maicao, Riohacha and Santa Marta. He implicated Borges, Guaidó's choice for top diplomat, among other opposition figures in the alleged scheme and suggested right-wing Colombian President Iván Duque may also be involved.
Guaidó publicly pledged Tuesday to help Duque track down active members of the Revolutionary Armed Forces of Colombia (FARC), a left-wing guerrilla movement suspected of receiving support from Venezuela. The organization struck a peace deal with Bogotá in 2016, but some dissidents have continued their activities and former commander Iván Márquez announced last week the group would resume its armed struggle against the Colombian government.
In response, Duque announced Friday that Colombian special forces killed nine FARC rebels in an operation. He dismissed the remnants of the insurgent group as "narcoterrorist criminals," while Venezuelan Foreign Minister Jorge Arreaza expressed "deep concern" over the recent developments in Colombia, blaming Duque's "planned dismantling of the peace process" there and calling for restraint on both sides of the decades-long conflict.