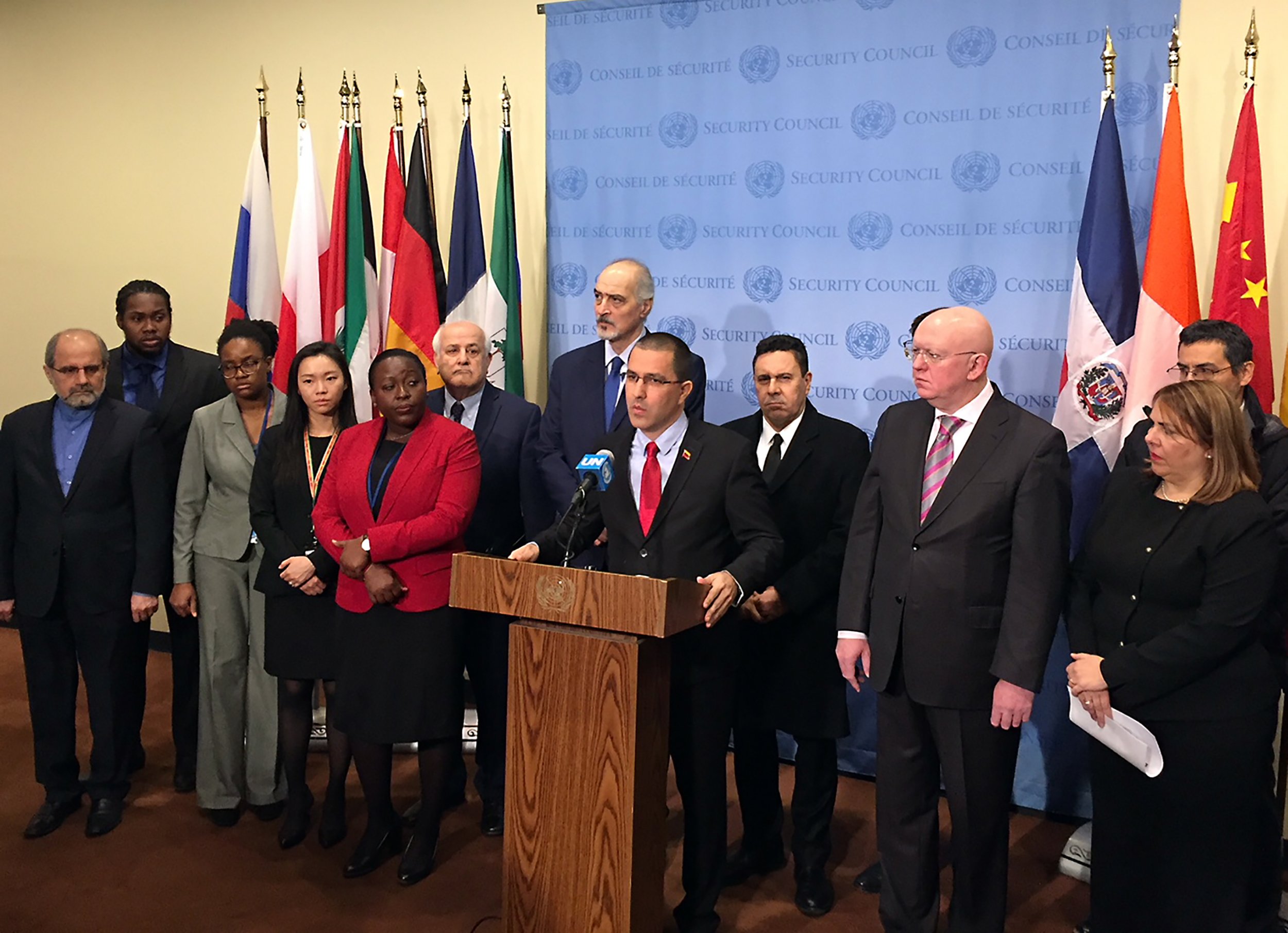 Russia has vowed to rally nations opposed to U.S.-backed regime change in Venezuela, where a political standoff recently escalated to violence.
Speaking to the state-run Tass Russian News Agency on Thursday, Russian Foreign Minister Sergey Lavrov summed up statements by United States officials calling for Venezuela's opposition-controlled parliament speaker Juan Guaidó to replace President Nicolás Maduro as "wrong." Washington has challenged Maduro's mandate, accusing him of rigging last year's election and warning "all options" were available in ensuring he was overthrown, while Moscow maintained that he was the country's legitimate, democratically-chosen leader.
Lavrov described his response to the U.S. position as "very simple," explaining that "we will mobilize a group of states that, like us, respect the U.N. Charter to counter such schemes."
"This group is being formed in the U.N., and I hope that it will receive serious support in the organization," he added. "Because the issue is about a very simple thing which can hardly be distorted: the protection of the basic norms and principles of international law, the way they are enshrined in the U.N. Charter."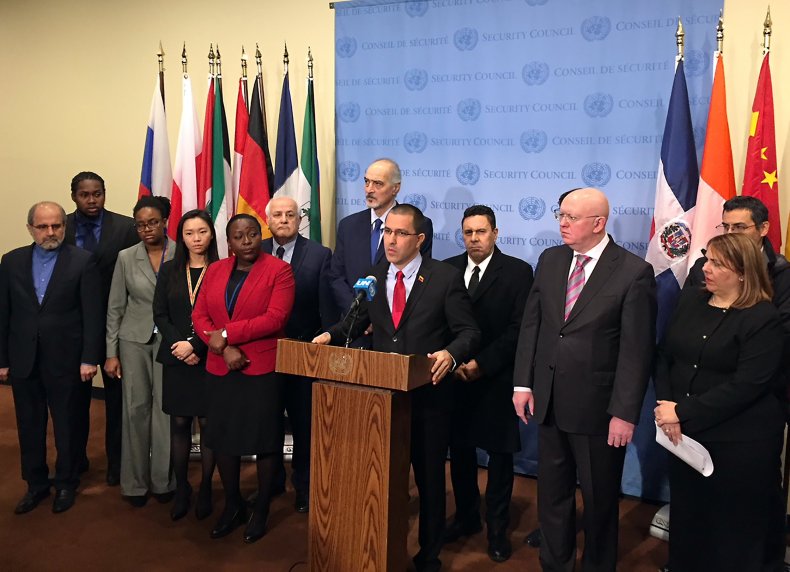 President Donald Trump's administration swiftly backed Guaidó's self-proclaimed bid for the presidency in January, shortly after Maduro was sworn into his second term. The challenge came amid an unprecedented economic crisis blamed on internal mismanagement and mounting U.S. sanctions designed to oust the ruling United Socialist Party.
The left-wing organization's founder, the late Hugo Chávez, survived a 2002 coup attempt also reportedly linked to the U.S., which has a long history of intervening against socialist and communist forces across Latin America. Washington justified this strategy throughout the Cold War by citing the 19th-century Monroe Doctrine, designed to keep foreign powers—in this case, Moscow's sphere of influence—out of the Western Hemisphere.
Decades later, White House national security adviser John Bolton has resurfaced the controversial policy that Lavrov said Thursday "means disrespect not just for Venezuela, but for the Latin American peoples in general." Moscow has sent personnel to Caracas for joint drills and to support "military-technical" contracts between the two governments, but Secretary of State Mike Pompeo claimed Tuesday that Russia's involvement went so far as to convince Maduro to stay as he was allegedly preparing to flee to Cuba.
The Russian Foreign Ministry rejected this account as part of an "information war" and cited Lavrov as warning his U.S. counterpart that "the continuation of aggressive steps would be fraught with the most serious consequences" during a call between the two. A State Department readout said Pompeo "stressed that the intervention by Russia and Cuba is destabilizing for Venezuela and for the U.S.-Russia bilateral relationship."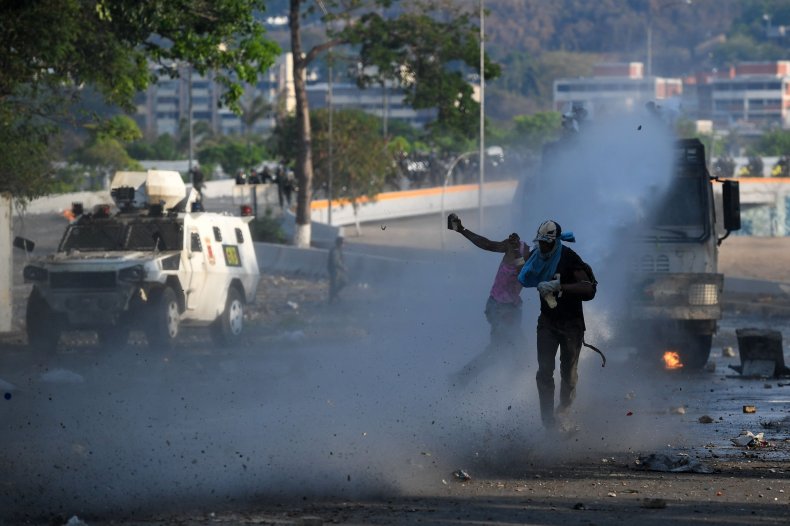 At a time when ties between Washington and Moscow were already deteriorating over competing global interests and failing arms control treaties, the two powers have attempted to summon rival groupings on the situation in Venezuela. In its effort to kick Maduro out of office, the U.S. has managed to secure the backing of much of Latin America, along with the EU, Albania, Australia, Canada, Georgia, Israel, Japan, South Korea and Ukraine, among others.
Russia was not alone in Venezuela, however. Maduro's government has received Chinese and Iranian officials there as well in recent months, reportedly to accept humanitarian assistance. Also recognizing Maduro were the likes of Belarus, Bolivia, Cambodia, Lebanon, Mexico, Nicaragua, North Korea, the Palestinian National Authority, Serbia, South Africa, Syria, Turkey and Uruguay.
The United Nations, too, has retained its recognition of Maduro amid protests from the U.S. In February, Venezuelan Foreign Minister Jorge Arreaza previously gathered a group of nations opposing the U.S.-led campaign against Maduro, arguing, "We all have the right to live without the threat of use of force, and without the application of illegal coercive unilateral measures."