Russia Asks Why It Should Leave Venezuela When U.S. Military Bases Cover 'the Whole World'
Russia scoffed at President Donald Trump's calls for Moscow to cut defense ties with the Venezuelan government pointing out the United States' unparalleled international military presence.
In remarks published Wednesday by local newspaper Moskovskij Komsomolets, Russian Foreign Minister Sergei Lavrov responded to repeated threats from U.S. officials, such as White House national security adviser John Bolton, who last week warned "actors external to the Western Hemisphere against deploying military assets to Venezuela, or elsewhere in the Hemisphere, with the intent of establishing or expanding military operations." Moscow's top diplomat called the comments "arrogant."
"It has already been said that the next in line are Nicaragua and Cuba," Lavrov said in reference to other left-wing Latin American countries threatened by the Trump administration, "therefore any other country, regime or government the United States does not like."
"What do they mean by such insolent remarks that the countries external the Western Hemisphere are not allowed to have any interests there? So what is the United States doing? Take a look at the map of the U.S. military bases—the whole world is dotted with red spots and each of them poses rather serious risks," he added.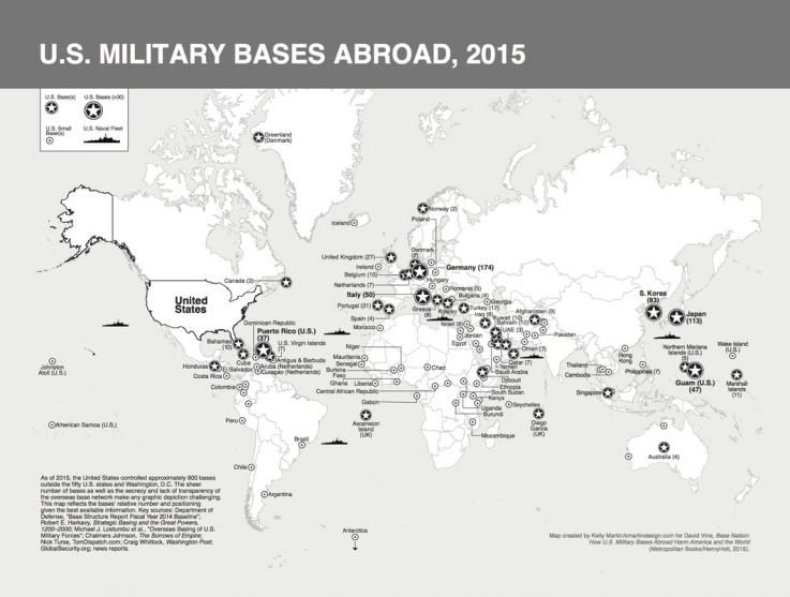 Reports emerged late last month of Russian military personnel in Venezuela, the latest such deployment since joint drills in the Caribbean in December and the first since the White House severed ties with President Nicolás Maduro in favor of recognizing a political challenge by parliament speaker Juan Guaidó amid a worsening socioeconomic crisis. The State Department said last week that the Russian delegation appeared to be helping to prepare the Russia-built S-300 surface-to-air defense system for combat.
Trump warned that "Russia has to get out" of Venezuela and that "all options are open" in forcing them to do so, while his envoy to the self-declared Guaidó government, Elliot Abrams, cautioned that "the Russians will pay a price" for their actions. Russian Foreign Ministry spokesperson Maria Zakharova claimed Saturday that it appeared the U.S. had become "nervous" because its "planned rapid change of power in Caracas failed."
She also questioned the presence of U.S. military advisers in Colombia, where the U.S. maintained at least five of its estimated 800 bases across the globe—likely more than every other country in the world combined.
Russia defended its presence in Venezuela as part of a "military-technical cooperation" signed between Moscow and Caracas under Maduro's predecessor, the late Hugo Chávez, who survived a 2002 coup attempt reportedly orchestrated with help from Washington officials such as Abrams. Moscow has joined Maduro in connecting the Trump administration's latest efforts to a decades-long history of U.S. intervention against leftists in Latin America, but Washington and its allies deemed it a humanitarian intervention as the country was hit by historic hyperinflation, shortages and power outages made worse by U.S. sanctions.
Both Russia and China have sent humanitarian assistance to Venezuela and, while Beijing denied sending military advisers to Caracas, the Moscow-based, state-run Rostec conglomerate announced on Tuesday the opening of a center for training Venezuelan pilots how to fly modernized, Russian military helicopters. Lavrov denied that Russia planned to intervene as it did against a U.S.-backed insurgency and jihadi groups in Syria—where Moscow maintained two out of only a handful of bases abroad—but the diplomat said Wednesday that his country would continue to back Maduro.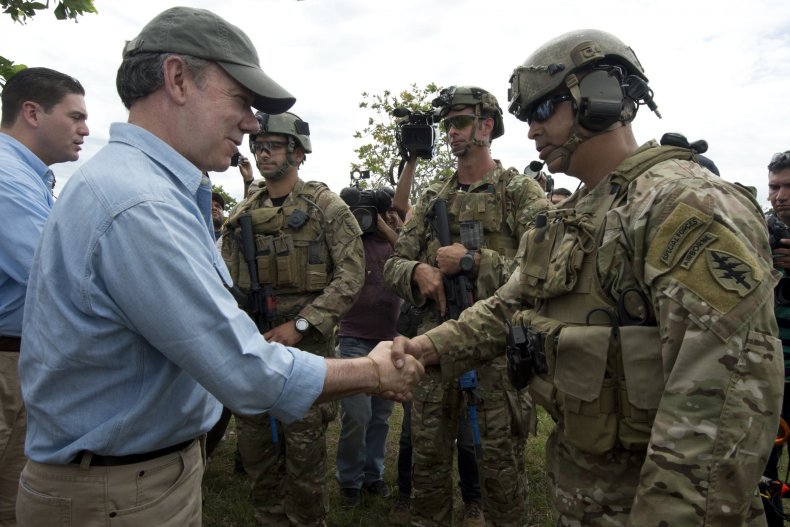 The U.S. was joined in recognizing Guaidó's leadership by most Latin American nations, with the exception of Bolivia, Cuba, El Salvador, Mexico, Nicaragua and Uruguay, as well as abroad by the EU, Albania, Australia, Georgia, Israel, Japan, South Korea and Ukraine, among others. In addition to Russia and China, Maduro remained in charge in the eyes of others including Belarus, Cambodia, Iran, North Korea, the Palestinian National Authority, Turkey, Serbia, South Africa and Syria.
As Lavrov noted, threats from Washington officials have also extended to Cuba and Nicaragua, both led by revolutionary governments that the U.S. has attempted to overthrow in the past. Vice President Mike Pence said Tuesday that the White House was considering "strong action not only to isolate Venezuela but also we're looking at strong action against Cuba."
"The Venezuelan people defend the sovereignty and peace with dignity in the face of the ongoing electricity coup," Cuban President Miguel Díaz-Canel tweeted Wednesday, referencing accusations that the U.S. and its allies were responsible for blackouts plaguing Venezuela. "Bolivarian revolutionaries and patriots defend peace in every corner, parish, municipality, avenue, community and neighborhood."
The current dispute has evoked memories of the 1962 Cuban Missile Crisis, especially since the White House decided in February to suspend the 1987 Intermediate-range Nuclear Forces (INF) that banned the kind of missiles central to the plot of the Cold War-era standoff. During Wednesday's interview, Lavrov said that such a crisis would "not be repeated now."
"I guarantee that, if there is an attempted military intervention, the overwhelming majority of Latin American countries will be adamantly opposed to that and reject that policy," Lavrov told Moskovskij Komsomolets, later adding that Washington did not seek peace in Venezuela, but rather "their protege to rule there, who will do everything they say to him, primarily with regard to oil."