Mike Pence Threatens 'Strong Action' Against Cuba, Vows to Keep Pressure On Venezuela's Maduro
Vice President Mike Pence issued a stern warning to Cuba on Tuesday, accusing the Caribbean nation of providing support to the government of Venezuela's President Nicolás Maduro.
The White House will take "strong action not only to isolate Venezuela but also we're looking at strong action against Cuba," Pence said Tuesday, according to Bloomberg's Jennifer Jacobs. Cuba "continues to provide personnel and support to the dictatorship in Venezuela," the vice president alleged. He added that President Donald Trump is considering "a broad range of options."
Prior to his remarks on Cuba, Pence called for the release of six executives of Citgo Petroleum Corporation, who have been detained in Venezuela for more than a year. "They're being held illegally," he said, Bloomberg reported. "[Maduro's] regime should release all political prisoners."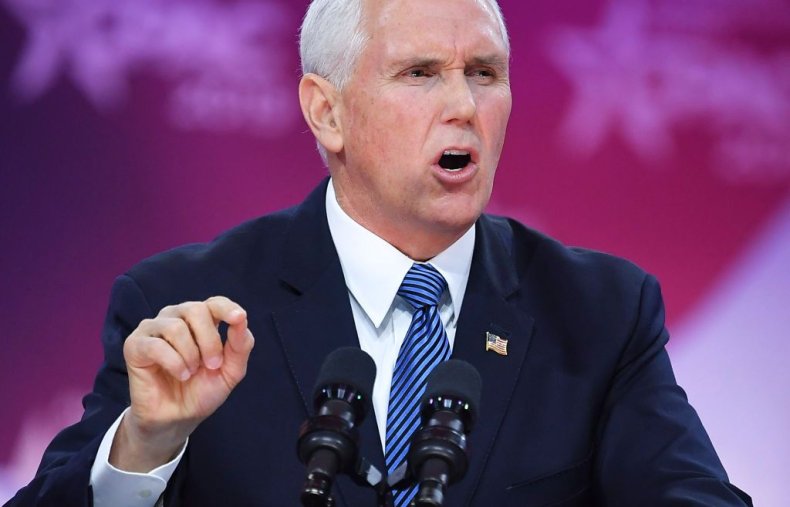 The Citgo executives were arrested in Venezuela just before Thanksgiving in 2017. Five of the six are American citizens, according to NBC News. They were initially called to fly to island nation for a corporate meeting with Venezuela's state oil giant PDVSA. However, during the conference they were arrested by Venezuelan authorities and Maduro's government accused them of embezzlement.
Pence's comments regarding Venezuela and Cuba came as he met with family members of the detained executives. "The vice president will reiterate the administration's deep concern for the welfare and safety of all wrongfully detained American citizens and he will call on Maduro to release all political prisoners immediately and unconditionally," a White House official told Reuters prior to the Tuesday meeting.
In Venezuela, the Trump administration has backed opposition leader Juan Guaidó, who has declared himself interim president. Although Maduro has dismissed the challenge as "coup" and accused the U.S. of trying to kill him, Guaidó, who heads Venezuela's National Assembly, claims that he is acting within provisions laid out by the constitution. Maduro won re-election last year in an election that was condemned by the opposition and many in the international community. A large number of Venezeulans boycotted the election all together and the opposition leveled accusations of voter fraud.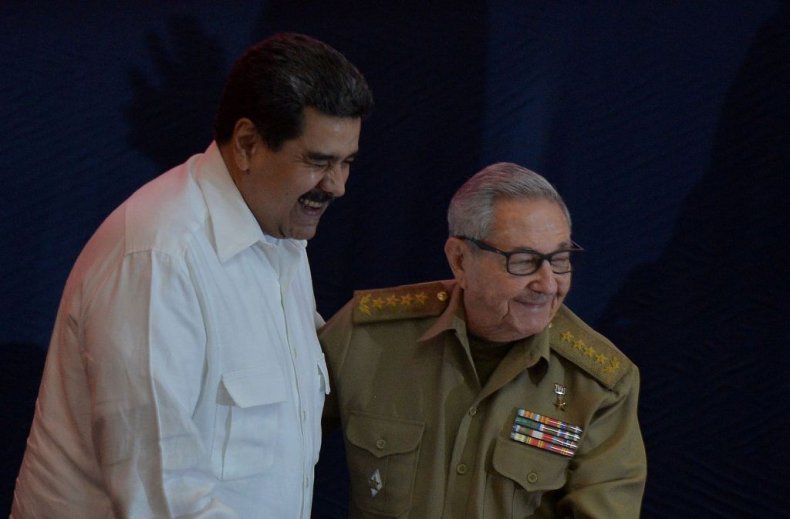 Trump administration officials have repeatedly signaled that the White House plans to increase pressure on the Latin American governments of Venezuela and Cuba, as well as Nicaragua. At the beginning of November, White House national security adviser John Bolton dubbed the three nations the "troika of tyranny," and referred to their leaders as the "Three Stooges" of socialism.
Secretary of State Mike Pompeo also took aim at the three countries after meeting with Brazil's newly inaugurated right-wing President Jair Bolsonaro in early January. "Look forward to working together [with Bolsonaro] to support those suffering in #Cuba, #Nicaragua, and #Venezuela under the weight of dictatorships [sic]," Pompeo wrote on Twitter.
But some lawmakers have raised concerns about the Trump administration's policies toward the Latin American nations. Representative Ilhan Omar, a progressive Democrat from Minnesota, has pointed to double standards in Washington's efforts to address human rights violations. In an editorial published by The Washington Post last month, Omar argued that "we do not have the credibility" to call out abuses by adversarial governments in Venezuela, Cuba and Nicaragua, when we "do not also support those fighting for human rights" in friendly Latin American nations such as Guatemala, Honduras and Brazil.