U.S. Has No 'Credibility' Criticizing Venezuela, Iran Without Holding Saudi Arabia, Brazil to 'Same Standards,' Ilhan Omar Says
Representative Ilhan Omar has argued for a shift in U.S. foreign policy, pointing to inconsistencies in how the government holds its adversaries and allies to account for human rights abuses.
"I believe in an inclusive foreign policy—one that centers on human rights, justice and peace as the pillars of America's engagement in the world, one that brings our troops home and truly makes military action a last resort," the Minnesota Democrat wrote in an op-ed for The Washington Post published Sunday. Omar drew on her own experience of coming to the U.S. as a refugee from war-torn Somalia.
"This is a vision that centers on the experiences of the people directly affected by conflict, that takes into account the long-term effects of U.S. engagement in war and that is sincere about our values regardless of short-term political convenience," she wrote.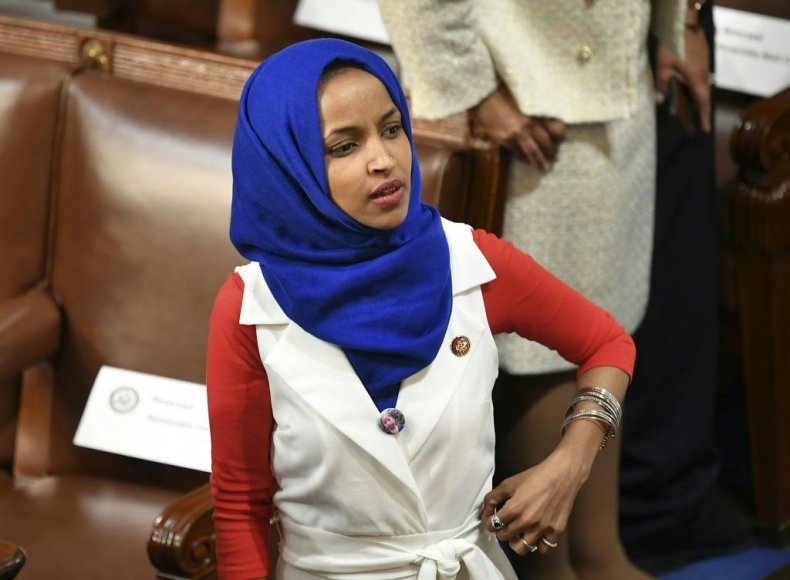 Omar, who sits on the House Foreign Affairs Committee, specifically called out the double standards of the U.S. government when it comes to allies in the Middle East and Latin America compared to less friendly countries. "Valuing human rights also means applying the same standards to our friends and our enemies," she wrote.
Omar pointed out that "we do not have the credibility" to call out abuses by adversarial governments in Venezuela, Cuba and Nicaragua, when we "do not also support those fighting for human rights" in friendly Latin American nations such as Guatemala, Honduras and Brazil.
She also addressed problem in the Middle East and Persian Gulf, where the U.S. had for decades taken a strong stance against Iran, while often disregarding the human rights abuses of Saudi Arabia, Bahrain, the United Arab Emirates, Egypt and Israel.
"We cannot continue to turn a blind eye to repression in Saudi Arabia—a country that is consistently ranked among the worst of the worst human rights offenders," she wrote, pointing to the oppression of dissidents and the Saudi-led war in Yemen. Regarding Israel, she called for "a two-state solution, with internationally recognized borders, which allows for both Israelis and Palestinians to have their own sanctuaries and self-determination."
Earlier in the op-ed, Omar pointed to the massive international military presence that the U.S. maintains. She explained that Washington spends more on the military than "the next seven countries combined," and that many national security experts believe "nearly 800 military bases" located outside the country is excessive.
Since taking office, the freshman congresswoman has been outspoken in her criticism of U.S. foreign policy and the government's support for countries that commit human rights abuses. Omar has also said that the problem goes beyond party lines and administrations. Although she harshly criticized President Donald Trump and his unwavering support for Saudi Arabia and other problematic regimes, she recently said that Barack Obama was part of the problem as well.
Calling out the former president for expanding U.S. drone strikes and overseeing problematic immigration policies, Omar said that his campaign slogans of "hope and change" were a mirage, Politico reported earlier this month.
"We can't be only upset with Trump," the politician said. "His policies are bad, but many of the people who came before him also had really bad policies. They just were more polished than he was," she continued. "And that's not what we should be looking for anymore. We don't want anybody to get away with murder because they are polished. We want to recognize the actual policies that are behind the pretty face and the smile."