Russia's 'Vile' Thermobaric Launcher More Destructive Than HIMARS
Ukraine on Wednesday destroyed a Russian rocket launcher perceived as one of the most dangerous weapons in existence.
A video shared by Belarusian news outlet Nexta on Telegram showed the destruction of a Russian TOS-1 or TOS-1A, also known as a thermobaric launcher, in the Donbas region.
The Critical Threats project said earlier this month that Russian forces had been using the artillery system on the Donetsk front lines, adding that its use in proximity to fighting in Vuhledar indicated Russian forces' "relative prioritization of this area."
Defense and military technology expert David Hambling told Newsweek that the TOS-1 causes an "extremely powerful shock wave which can shatter buildings."
The British defense ministry said in March 2022 that the weapon system causes "incendiary and blast effects" due to the oxygen required to create the explosion. An additional charge can have "devastating" impacts.
Rockets Fired From All Angles
The TOS-1A "Solntsepek" is an updated version of the original TOS-1 heavy flamethrower system, reports Military Today, and was adopted by the Russian Army in 2001 before being first utilized in Chechnya.
One TOS-1A rocket system can reportedly cost more than $6.5 million, including servicing, training and ammunition. It has been exported to Armenia, Azerbaijan, Iraq and Kazakhstan.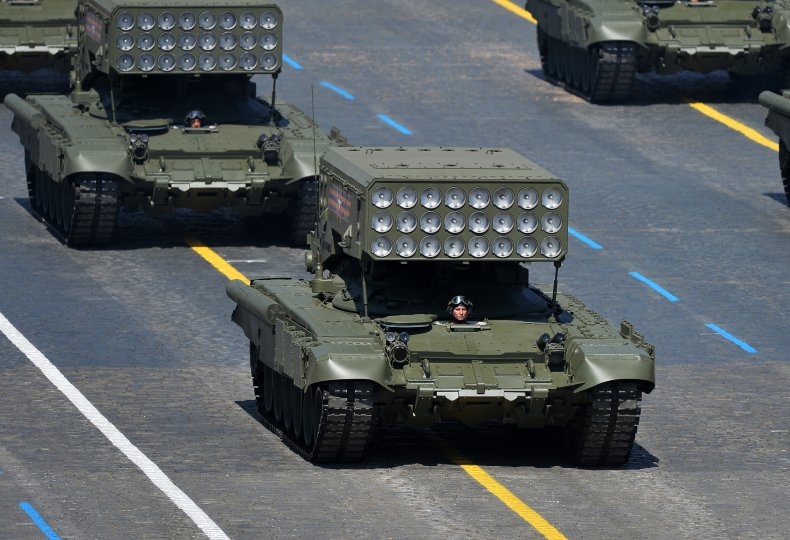 The TOS-1 is the first version of the vehicle with a total of 30 220-millimeter rocket tubes instead of 24 rockets for the TOS-1A, reports Army Recognition.
The rockets part of the TOS-1A armament have a length of 3,725 meters for launching unguided missiles, with the entire system mounted on the center of a tracked armored chassis. The platform can be rotated 360 degrees.
"Depending on the target, the firing could be conducted by single or double shots from two barrels," Army Recognition notes, adding that launching is fully automatic.
Four smoke grenade launchers, or two on each side, are also part of the hull with smoke emanating from the engine's exhaust.
It takes six seconds to launch rockets automatically, and 12 seconds when launched manually.
'Most Devastating and Vile Rockets in Existence'
Thermobaric weapons do not contain an oxidizer like most conventional explosives and only function by fuel and surrounding oxygen, said Jordan Cohen, policy analyst at the Cato Institute.
He told Newsweek that when the initial explosive detonates, the container opens and the fuel mixes with surrounding air to create a massive blast radius that not only can kill on impact but also kill individuals beyond the target point depending on the blast radius.
They are "some of the most devastating and vile rockets in existence," he added.
"Those outside of the initial ignition point are killed by effectively denying humans oxygen and rupturing the lungs while burning the skin...The blast wave is much longer than normal explosives, and often will also burn humans to death while inhaling the burning fuel," Cohen said. "For those that survive, they will almost certainly have unremarkable organ damage and third-degree burns across their skin."
He described it as "a terrifying death that ruptures the lungs."
The Conversation reported in August 2016 that the effect of thermobaric bombs, or vacuum bombs as also known, is akin to taking a deep breath prior to submerging one's self in water.
"Then imagine having all of the oxygen forced instantaneously from your body," they reported. "Try to inhale again. But instead of cold water filling your lungs, toxic, flammable particles start killing you from the inside out."
Cohen said Ukraine's arsenal consisting of high-mobility artillery rocket systems (HIMARS), as well as S-300s, are "incomparable" to the destruction that can be caused by thermobaric weapons.
"Destroying these launchers is a genuinely good thing, at least in my opinion," he said. "I am of the belief that there should be a norm against using them, and to be clear Russia is not the only country that uses these weapons. They cannot be countered once launched, so destroying the launchers ahead of time is the only real way to stop them.
"Given what has been happening in the Donetsk, destroying this launcher is generally good for human rights—no matter one's position on the war," he added.