Five Ways Biden-Putin Talks Were Very Different to Those Between Trump-Putin
The White House tweeted an image of the virtual discussion between Presidents Joe Biden and Vladimir Putin, in what was a marked departure from the relative secrecy that kept people guessing about the conversations between the Russian leader and Biden's predecessor, Donald Trump.
The image shared on Tuesday showed five people in the room, including Biden and Secretary of State Antony Blinken, with Putin on one main screen in the front and two smaller screens on the walls.
A subsequent press conference by National Security Adviser Jake Sullivan shed some light on the talks between the American and Russian leaders. Contrast that with Trump's five meetings with Putin, in which critics complained that little was known about what was said in their highest-profile face-to-face conversations.
Interpreter's Notes Not Confiscated
Putin congratulated Trump shortly after his 2016 election victory and the pair spoke by phone several times before meeting in person for the first time on July 7, 2017, in Hamburg, Germany, during the G-20 economic summit.
They spoke for more than two hours with then-Secretary of State Rex Tillerson and Russian Foreign Minister Sergei Lavrov in attendance.
However, after the meeting, Trump took his interpreter's notes and told the interpreter not to brief anyone, The New York Times reported.
There Were Witnesses
During a dinner for the leaders, Trump later spoke with Putin, with Putin's interpreter translating, in an encounter where there were no U.S. officials present, The Times reported.
The conversation was only confirmed by the White House 10 days later after it was reported.
It means that there is a gap in the public record, and that even classified files do not detail what went on between the leaders behind closed doors, The Washington Post reported.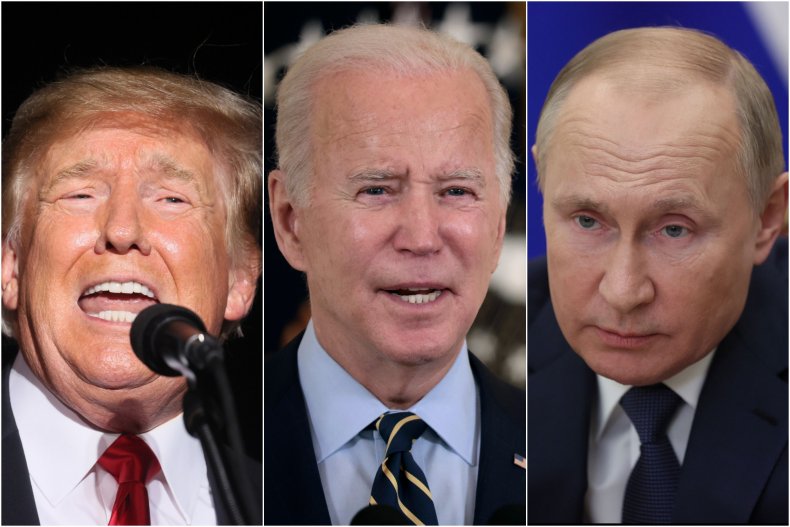 U.S. Officials Knew What Was Spoken About
Trump and Putin's highest-profile meeting took place on July 16, 2018 in Helsinki, after which Trump reiterated his support for Putin's claim that Moscow had not interfered in the 2016 U.S. election.
They spoke only with interpreters present. Despite such a high-level summit, American government officials did not know what was spoken about, The Times reported. U.S. intelligence agencies had to draw on surveillance of Russians who spoke about it afterwards to figure out the details of the meeting, according to the publication.
In contrast, when Putin met Biden in June in Geneva, in the pair's first in-person meeting as presidents, the U.S. leader was accompanied by Blinken during the first of two sessions and by aides in a longer second meeting, The Post reported.
Also, instead of a joint press conference, as took place after the Helsinki meeting, Biden and Putin addressed reporters separately after their talks.
Amid concerns over Russia's military buildup near Ukraine, a White House readout after their talks said that Biden called for de-escalation. They also discussed U.S.-Russia dialogue on strategic stability, ransomware, and work on regional issues such as Iran.
Change in Rhetoric
Relations have frayed not just since Trump's time as president, but also over the six months since Biden and Putin spoke in Geneva.
While the Trump administration imposed numerous sanctions against Russia, Trump often made flattering comments about Putin. Biden on the other hand has imposed new sanctions against Moscow for alleged cyberattacks and human rights abuses.
Biden has also joined the international clamor against the build-up of troops alongside Russia's border with Ukraine and threatened tougher sanctions against Moscow considering a similar move to their annexation of Crimea in 2014.
This change in mood was emphasized when Sullivan told reporters on Tuesday that Biden had told Putin "that things we did not do in 2014 we are prepared to do now."
Sullivan said that Biden told Putin "directly" that if Russia "further invades Ukraine," the U.S. would join with its European allies to "respond with strong economic measures," The Associated Press reported.
This would include restrictions on the Russian currency, Russian sovereign debt, and on its largest financial institutions, as well as cutting off Russia from the SWIFT international payment system, Bloomberg reported.
Kremlin Media Reacted Differently
After Trump's meeting with Putin in 2018, the Kremlin mouthpiece, newspaper Rossiskaya Gazyeta praised the Helsinki summit as a victory for Putin.
"The West's attempts to isolate Russia failed," said the headline. This time around, the publication which offers an insight into Kremlin thinking was more muted, focusing on the length of the summit.
"Talks between Russian and U.S. presidents last for two hours," was its headline on Wednesday morning. Meanwhile, the publication Izvestia had the headline "Tete a nyet," a play on the Russian word for no, and the expression, tête-à-tête.
As Moscow accuses NATO of encroaching on Russian borders, the Kremlin's account of the Putin-Biden talks was very different and called on a guarantee for the alliance not to expand to the east.
In its lengthier readout, the Kremlin said Putin had told Biden that the responsibility for increased tensions "should not be shifted onto the shoulders of Russia."
Russia also blamed the alliance for "making dangerous attempts to conquer Ukrainian territory and is building up its military potential at our borders."