Russia's Vladimir Putin Travels to the Balkans to Push Against NATO Membership, Slams U.S. Interference
Russian President Vladimir Putin is making a high-profile trip to the Balkans, where he appears poised to pressure local governments to turn their backs on the North Atlantic Treaty Organization (NATO) and embrace their relationship with Moscow.
On Tuesday, days ahead of his arrival in Serbia, Putin gave an exclusive interview to two Serbian media outlets claiming that the U.S. is attempting to destabilize the Balkans region.
"As far as the situation in the Balkans is concerned, the policy of the United States and some other Western nations aimed at asserting their dominant role remains a serious destabilizing factor here," Putin said, adding that Serbia's neighbor Montenegro had been "dragged" into NATO. The Kremlin later published the interview on its website.
Meanwhile, Serbia's President Aleksandar Vucic, who advocates for his country's membership in the European Union, appears to be playing along with Putin by inviting some of the most anti-NATO voices in the region to attend official meetings during the Russian leader's visit, experts note.
On Wednesday, the day before Putin's arrival in Serbia's capital Belgrade, local media reported that Vucic had invited the leaders of neighboring Montenegro's opposition party, the Democratic Front, to an official luncheon in honor of Putin.
Some analysts expressed surprise that an opposition group from a neighboring country would be invited to a meeting with a head of state. But Montenegro's Democratic Front is a pro-Russian party made up of groups that oppose the country's NATO membership. Officials in Montenegro have alleged that Russia attempted to orchestrate a coup in 2016 to install the Democratic Front in power, a move that would have prevented the small country from joining NATO.
The coup failed, and Montenegro joined the Western military alliance in June 2017, a fact that President Donald Trump later cited as one of the reasons he questions NATO's value. In an exclusive report published by Time in late December, journalists discovered Trump's embattled former campaign manager Paul Manafort had been in discussions about working for the Democratic Front after he left the Trump campaign in 2016. The conversations were allegedly part of Manafort's efforts to repay his debts to Russian oligarch and Kremlin ally Oleg Deripaska, who has worked in Montenegro for years.
The two Democratic Front leaders invited to Thursday's Belgrade luncheon with Putin, Andrija Mandic and Milan Knezevic, visited Moscow as recently as October 2018. Their party makes frequent statements in favor of a strong relationship with Moscow.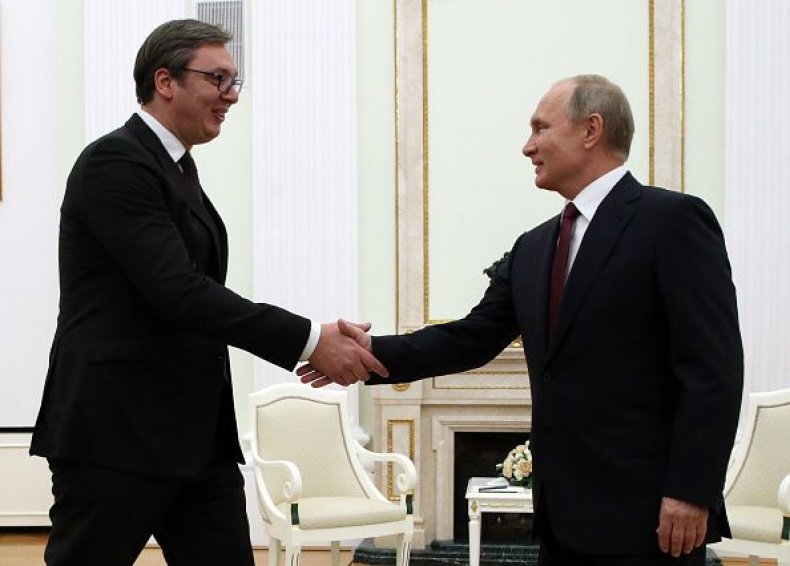 Experts note that, if the reports are true, the invitation would signal that Serbia's president Vucic is more beholden to Moscow than his allies in Western European countries would like to believe.
"It's incredibly disappointing that President Vucic, who espouses a pro-EU policy for Serbia, would invite political leaders from a vehemently anti-Western political party in Montenegro to visit with President Putin," Michael Carpenter, a former deputy assistant secretary of defense in charge of Russia, Ukraine, Eurasia and the Balkans, told Newsweek.
"Mandic and Knezevic are believed to have received covert Russian financing and may have even played a role in the attempted coup d'etat in Montenegro organized by the GRU [Russian military intelligence] in October 2016. Furthermore, they're not even Serbian politicians, so it's doubly bizarre that they would be invited to fete Putin in Belgrade. Unfortunately, what this likely demonstrates is that Vucic can't say no to Putin, since I can't imagine the impetus for this invitation came from Belgrade," Carpenter continued.
Mandic, Knezevic, and Serbian President Vucic did not immediately respond to requests for comment from Newsweek about the reports and the reason for the invitation.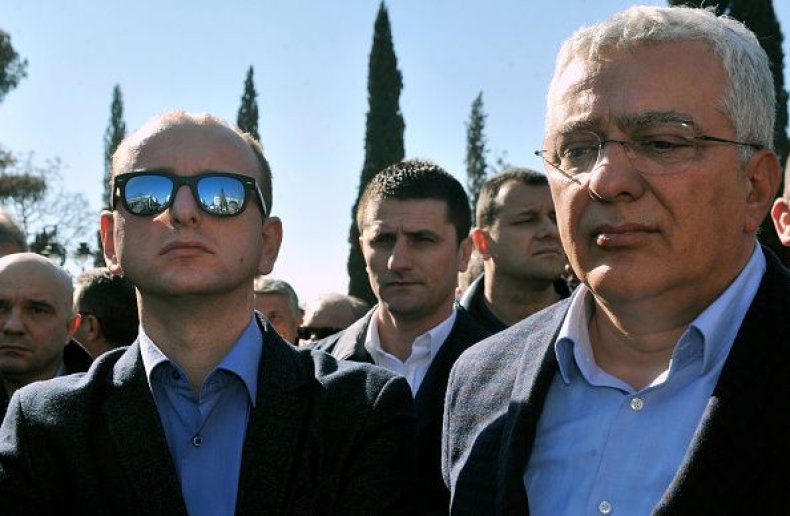 Meanwhile, Milorad Dodik, the leader of neighboring Bosnia and Herzegovina's ethnic Serbian region, Republika Srpska, will also travel to Belgrade to meet with Putin.
The U.S. Treasury Department sanctioned Dodik in 2017 for holding a referendum on whether to celebrate The Day of Republika Srpska, an annual event that U.S. officials argue is discriminatory and prevents the implementation of the 1995 Dayton Accords, which ended the war in Bosnia.
The sanctions, however, did not stop former Trump campaign aides from signing lucrative lobbying agreements with Dodik's political party.
Dodik has advocated for Republika Srpska to split from the remainder of the country, and reports demonstrate that he has been accepting military equipment from Russia. Moscow is allegedly backing Dodik's separatist ambitions because instability in Bosnia would prevent the country from integrating with the West.
"Milorand Dodik has emerged as, arguably, the most anti-NATO figure in the entire region, even more so than the Vucic government," Jasmin Mujanovic, author of the book Hunger & Fury: The Crisis of Democracy in the Balkans, told Newsweek.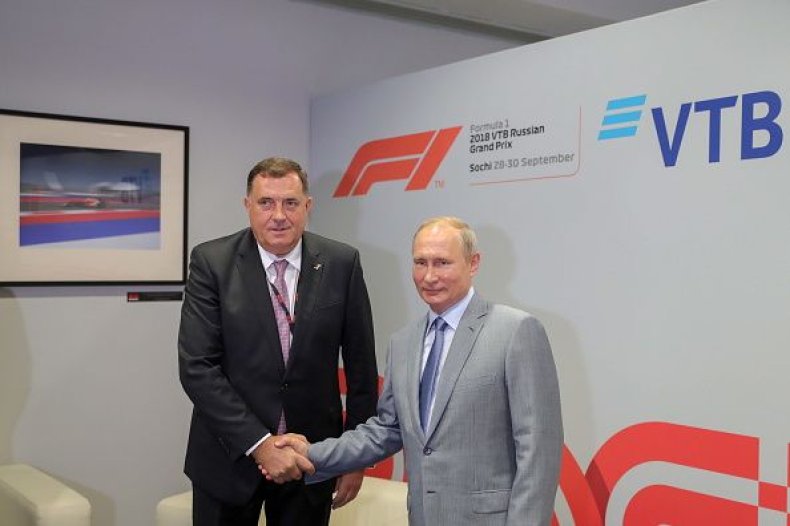 "Dodik is extremely keen for Russian patronage, because he believes it is his best long-term chance at political survival. It's why—since 2016 especially, but going back to at least 2014—his regime has so aggressively and flagrantly gone about creating parallel security structures in Bosnia: recruiting Russian-trained paramilitaries, signing a co-operation agreements with the breakaway government in Russian-occupied South Ossetia, and likewise inviting Russian security services to train the RS police," Mujanovic continued.
"Dodik's presence in Belgrade, along with the coup plotters from Montenegro, has turned this into, essentially, a regional anti-NATO summit sponsored by the Kremlin," Mujanovic added.
Russian officials made no attempt to hide their agenda for the Balkans. On Thursday, Russian Foreign Minister Sergei Lavrov told reporters that Russia would never agree to Bosnia joining NATO.
Putin's visit coincides with some of the largest anti-government protests in recent history in the streets of Belgrade. But observers note that many attending the protests have conflicting views on the country's relationship with Russia.
"There is no one view on the relationship with Russia. However, all of [the protesters] share the view that President Vucic is misusing the visit [of Putin] for his own political goals in order to boost his shaken reputation among the citizens," Milivoje Pantovic, an investigative reporter in Belgrade, told Newsweek.
Instead of making Vucic look more powerful, however, many say the presence of people like Dodik in Belgrade casts doubt on the sincerity of the Serbian president's previously stated policy positions.
"Given Vucic's heretofore precious balance, straddling between democratic Europe and Putin's Russia, this most recent move suggests he's unfurling the Serbian flag eastward," Richard Kraemer, an expert on the Balkans at the Foreign Policy Research Institute, told Newsweek.