Russia Vows 'Solidarity' with Syria, Conducts One of War's Deadliest Strikes
Russia has reiterated its unwavering support for Syria, where it launched one of what reports estimate to be one of the near-decade-long conflict's deadliest strikes, killing dozens of insurgents in the country's renegade northwest.
Russian Deputy Foreign Minister Mikhail Bogdanov met Monday with Syrian ambassador to Russia Riyad Haddad for a discussion in which the two "exchanged views on the current situation in and around Syria," according to a Russian Foreign Ministry readout.
Bogdanov, who serves as special presidential envoy for the Middle East and African countries, emphasized Russia's "unfailing solidarity with the Syrian people, support to its sovereignty, unity and territorial integrity, as well as its readiness to continue efficient cooperation in restoring the socio-economic infrastructure of the Syrian Arab Republic."
The official Syrian Arab News Agency reported that the two discussed ongoing efforts to defeat an insurgency holding parts of the country's northern border with Turkey, which sponsors a number of opposition fighters in the region, including the northwestern province of Idlib.
That same day, Russian aircraft bombed a camp belonging to the Turkey-backed Faylaq al-Sham group in Idlib's Jabal al-Duwailah region, killing up to 78 fighters and wounding 90, figures expected to rise, according to the Syrian Observatory for Human Rights, a U.K.-based monitor with ties to Syria's exiled political opposition.
Drone footage purporting to be of the strike was shared by the Abkhazian Network News Agency, a Russia-affiliated outlet from the separatist state of Abkhazia that is widely recognized as part of Georgia. It appeared to show the attack occurring as the fighters held a military parade, likelying contributing to the high number of casualties.
Graphic footage from the ground appeared to show scores of bodies wrapped in blood-soaked blankets in the aftermath of the raid. Hours later, mass funerals were held in the city of Idlib.
Faylaq al-Sham then launched a wave of heavy artillery attacks against positions of the Syrian government, which Russia supports, at Camp Gorin in the Al-Ghab plain of Hama's northwestern countryside as well as the city of Saraqib and Dar al-Kabeera, the monitor said.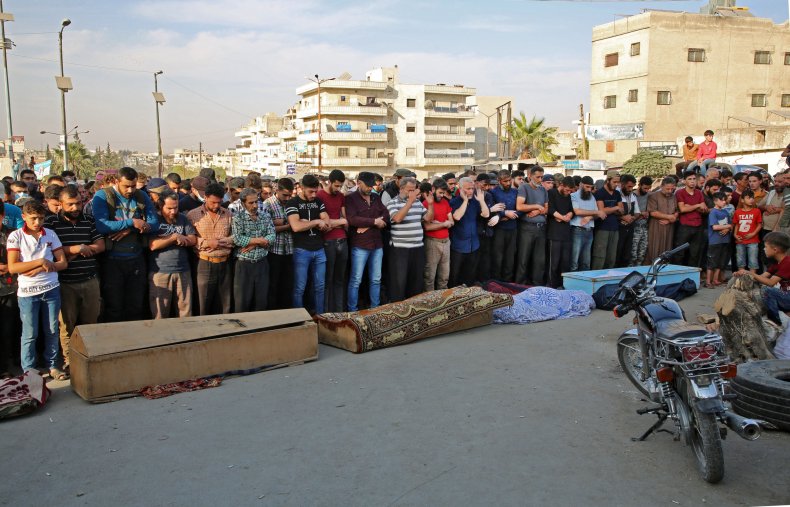 Both the Syrian government and rebels frequently accuse one another of violating the ceasefire, which was struck nearly exactly one year ago by Russian President Vladimir Putin and Turkish President Recep Tayyip Erdogan. A bloody escalation earlier this year was halted by a truce in March.
In recent days, however, the Russian Defense Ministry has consistently reported that "no attacks were registered by illegal armed groups controlled by Turkey."
Regular attacks have instead been attributed to Jabhat al-Nusra, also known as the Nusra Front, officially known as Hayat Tahrir al-Sham, an Islamist group considered by Moscow to be a terrorist organization.
"The Russian center for reconciliation calls on the commanders of illegal armed groups to abandon armed provocations and take the path of a peaceful settlement of the situation in the areas under their control," the ministry wrote in its latest bulletin posted Monday.
Support from Russia, as well as Iran, has helped Syrian President Bashar al-Assad regain much of his country from the array of opposition and jihadi forces that once held the majority of the country. About a third of the country remains in the hands of the Syrian Democratic Forces, a mostly Kurdish group backed by a U.S.-led coalition tasked with defeating the Islamic State militant group (ISIS).
The United States once supported efforts to topple Assad in the wake of the 2011 uprising and subsequent crackdown that led to civil war, but shifted toward battling ISIS in 2014. Russia joined the fight the following year, supporting Syrian forces against ISIS and other non-state actors in a separate campaign that ultimately left only Idlib in rebel hands.
Today, Russia and Turkey work alongside Iran as part of a tripartite process to reach a political solution to the conflict in Syria. Moscow and Ankara have often found themselves at odds, however, not just in Syria but in the conflict in Libya and the South Caucasus as well, where Russia's ally Armenia is supporting ethnic Armenian separatists claiming the area of Nagorno-Karabakh, internationally recognized as part of Azerbaijan, which has launched a campaign supported by Turkey to retake it.
While Russian and Syrian warplanes most frequently targeted Syria's Idlib, the U.S. at times operated there as well as Monday marked the anniversary of the top-secret raid there that resulted in the death of ISIS leader Abu Bakr al-Baghdadi at his compound in the village of Barisha.
The operation, first reported at the time by Newsweek, was followed by a series of high-profile killings of ISIS and Al-Qaeda members including ISIS spokesperson Abu al-Hassan al-Muhajir.
Earlier this month, U.S. Central Command targeted Al-Qaeda in Syria leadership in the vicinity of Idlib.
Pentagon spokesperson Navy Commander Jessica McNulty told Newsweek last month that the U.S. military did not coordinate its campaign with Russia, though the two sides kept in touch to avoid incidents, which have nonetheless increased in Syria.
"The Coalition does not coordinate or share intelligence with Russia in Syria," McNulty said. "From time-to-time we are incidentally apprised of planned Russian strikes on ISIS targets West of the Euphrates River, as part of our routine de-confliction communications."
In conversations with Newsweek, both Russian and Syrian Kurdish officials expressed support for talks between Washington and Moscow, as well as Damascus, which U.S. officials have blacklisted economically and diplomatically due to allegations of war crimes.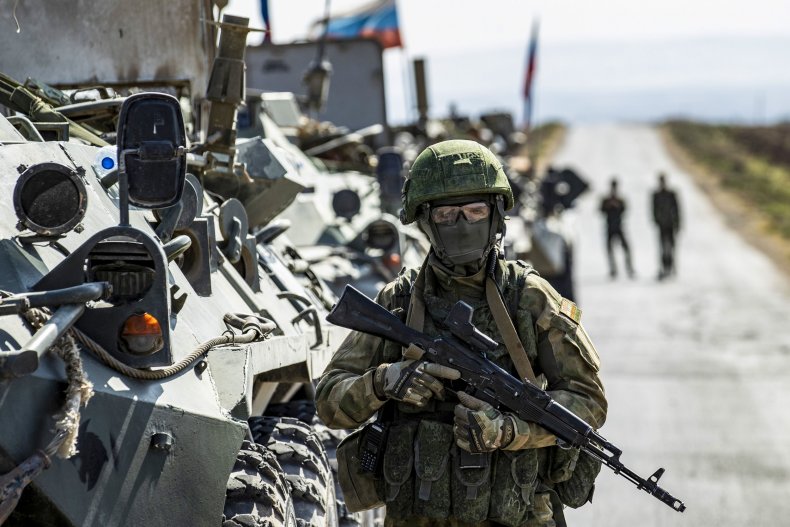 As Newsweek reported last week, however, U.S. and Syrian officials have been in touch, most recently through the mediation of Lebanese General Security director Major General Abbas Ibrahim over the fate of American journalist Austin Tice and Syrian-American psychotherapist Majd Kamalmaz, both of whom disappeared while in Syria.
One Lebanese official and a Syrian source familiar with the situation identified the Syrian demands in exchange for cooperation as being a lifting of some crippling sanctions levied by the U.S. against the country as well as the withdrawal of U.S. troops from a southeast desert garrison at Al-Tanf.
In response to this reporting, Secretary of State Mike Pompeo told a press briefing Wednesday that President Donald Trump's administration was working for the release of U.S. captives abroad but was "not going to change American policy to do that."
Maghawir al-Thawra, the Syrian rebel group partnered with the U.S.-led coalition at Al-Tanf, responded to Newsweek's coverage the following day, saying "we have no plans on leaving anytime soon."
On Friday, U.S.-led coalitions spokesperson Army Colonel Wayne Marotto called Al-Tanf and local partners there a "key part of the mission" to defeating ISIS.
Russia, Iran and Syria have all called for an immediate withdrawal of U.S. troops from Al-Tanf, and the rest of the country. President Donald Trump, who took credit during a rally Sunday for both killing Baghdadi as well as taking out "100% of the ISIS caliphate," has also vowed to a Syria exit, though he has maintained around 500 troops, mostly to maintain control of oil and gas reserves in the country's northeast.
In a statement sent to Newsweek, a State Department spokesperson laid out three U.S. strategic objectives in Syria: "The enduring defeat of ISIS and Al-Qaeda, an irreversible political solution to the Syrian conflict in line with UNSCR 2254, and the removal of all Iranian-supported forces."
As for Russian forces, who control at least two major bases along the west coast, removing them was not a priority.
"Russian military forces were in Syria prior to the beginning of the Syrian Conflict in 2011, and thus we do not advocate for the removal of those forces," the spokesperson said at the time.