Russia Bans Turkey Food Imports, Travel Could be Next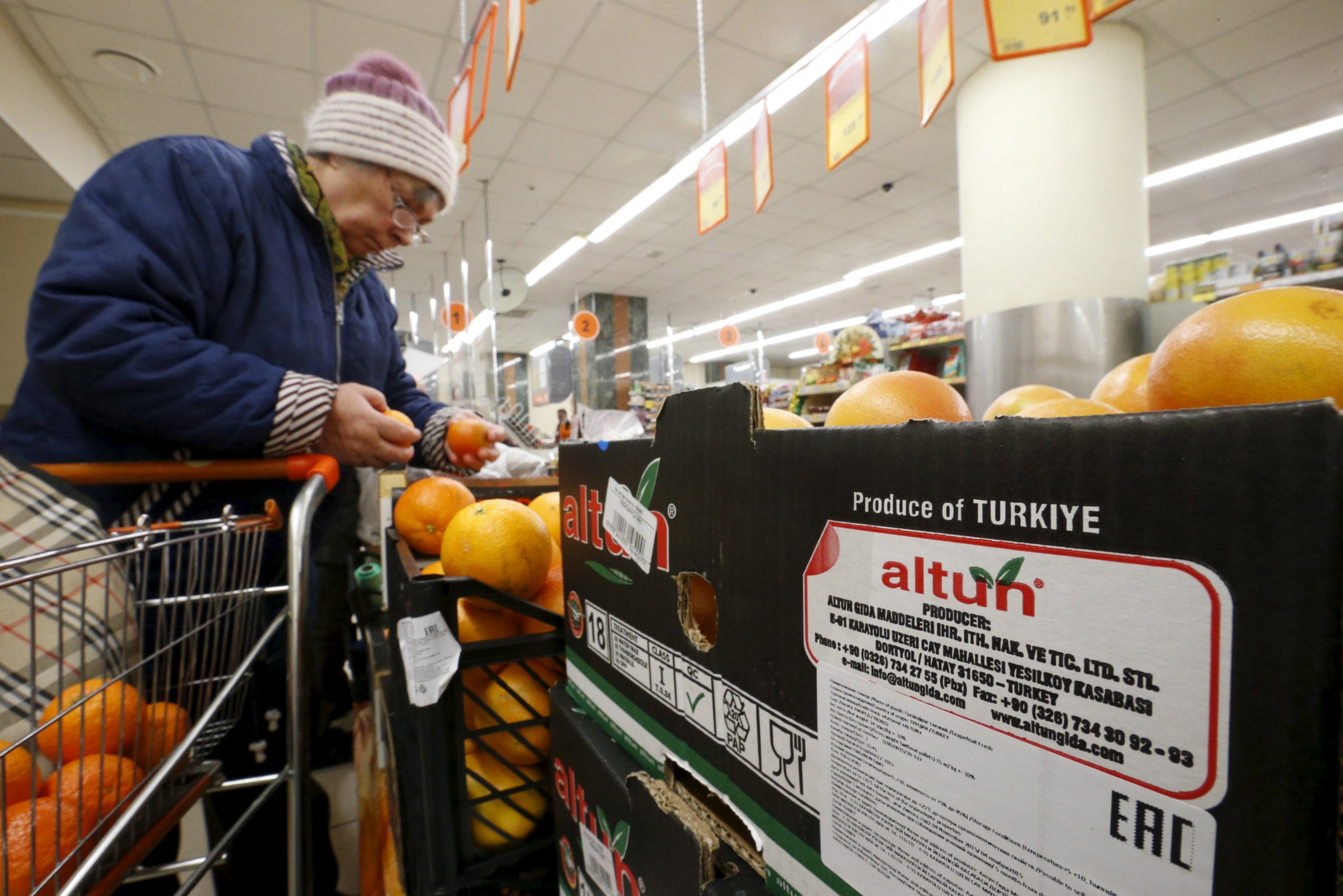 Russia has banned trade imports of Turkish fruit, vegetables, poultry, meat and cheese, as Moscow's row with Ankara over the shooting of a Russian jet near the Syrian border continues. And other industries anticipate further sanctions.
After Russian President Vladimir Putin signed a decree on Saturday that Moscow place limits on Turkish imports, abolish the visa-free regime with Turkey, and stop tourism traffic to the country, the Russian cabinet of ministers published a list of restricted goods on the government's website on Tuesday.
The slap on the wrist has plenty of support in Russia. Even before the government released its list of banned foods, the nationalist Liberal Democratic Party of Russia sent a press release to media outlets urging Russians to boycott Turkish produce.
"Turkey has committed an open act of aggression," it reads. "This country supports terrorists. Therefore in buying anything Turkish we are, willingly or not, accessories to supporting terrorism."
But despite Putin's threat of "significant consequences" for Ankara and strong rhetoric from other politicians, the Russian government has been cautious about implementing punitive measures, which left authorities and importers in limbo.
On Monday, before the embargo was signed, the head of Turkey's international truckers union, Fahid Shener, told Russian state news agency RIA Novosti that traffic of Turkish lorries has been stopped at the border for five days.
Since Turkey shot down the Russian jet on November 24, Moscow has given border authorities the right to perform more stringent searches on Turkish cargo, but Shener claims the ambivalence of the move had resulted in a "de facto embargo".
Now that the food embargo is official, other industries are waiting for Moscow's next move in its attempts to punish Turkey.
Anticipating an impending travel ban, Russia's Association of Tourism Operators (ATOR) announced in a press conference on Tuesday that all Russian travel companies are no longer offering deals to go to Turkey.
"No tour operator is selling trips to Turkey," ATOR managing director Maya Lomidze told state news agency Itar-Tass.
But until a travel ban is announced in Turkey, Lomidze said Russian companies will still honor bookings that have already been made and will transport around 6,000 holidaymakers to and from Turkey. The majority of the trips are booked for the start of January, and Russian travel to Turkey during winter is "virtually non-existent," Lomidze admitted.
The boycott has also spread to education, with around 50 Russian universities announcing on Monday that they will break academic agreements they have with Turkish establishments.
On Monday, the Russo-Turkish learning center in Moscow's Library of Foreign Literature announced it is closing its doors, with Ottoman lessons and academic materials for the study of Turkish culture no longer available. The statement released by the former staff says they have not been given a reason for the center's closure.
The Russian Ministry of Education followed with an announcement, published by state news agency RIA Novosti, that these moves would not impact the Turkish students seeking to study in Russia, including the 1,030 currently enrolled in Russia's 123 universities.
Russia's Minister of Trade, Denis Manturov, has also already ruled out extending the ban to the import of Turkish clothes, so as not to harm Russia's own interests, radio broadcaster RSN reports.
On Tuesday, Kremlin spokesman Dmitry Peskov refused to speculate on whether Russia would reopen military communication channels with Turkey, which it closed following the downing of the jet, state news agency Itar-Tass reported.