Putin Ally Warns Russia Prepared to Take War to Polish Border
Former Russian President Dmitry Medvedev said on Friday that Russia is prepared to take the war in Ukraine as far as its border with Poland.
Medvedev, who is now deputy chairman of Russia's Security Council, made the remarks in a statement on his Telegram channel on the one-year anniversary of the country's invasion of neighboring Ukraine.
Russia must "push back the borders that threaten our country as far as possible, even if these are the borders of Poland," he wrote. In his lengthy post, Medvedev said he believed Russia will be victorious in the war.
"It's been a year since the special operation has been going on," Medvedev said. "Victory will be achieved. We all want this to happen as soon as possible. And that day will come."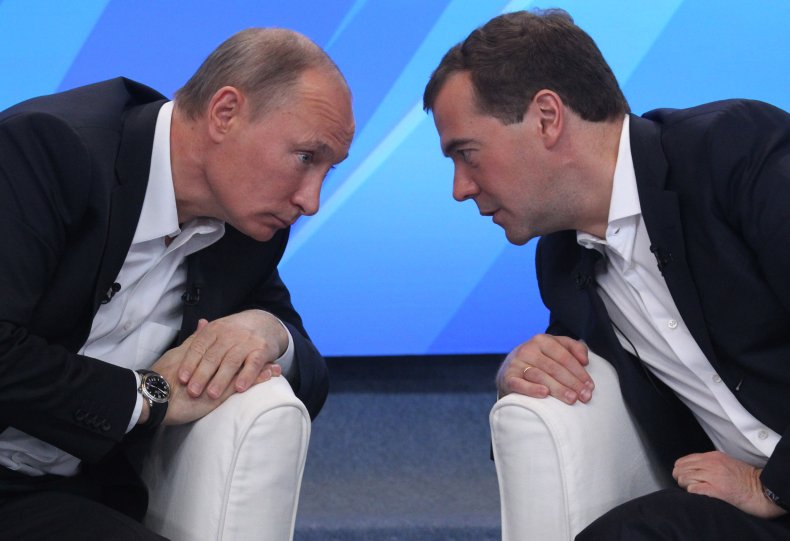 Medvedev also accused Western countries of having no interest in putting an end to the war, which began when Russian President Vladimir Putin launched a full-scale invasion of Ukraine on February 24, 2022.
"The motives of our country's main enemies are obvious: To weaken Russia as much as possible, to bleed us for a long time. Therefore, they are not interested in ending the conflict. But sooner or later, according to historical laws, they will do it. And then, there will be some kind of agreement," he said.
Ukrainian President Volodymyr Zelensky published a video on the anniversary of the start of the war on his Telegram channel, describing the past 12 months as "a year of pain, a year of hope, a year of tears, a year of unity, a year that continues."
"On February 24, millions of us made a choice: not a white flag, but a blue and yellow flag. Not an escape, but a meeting. Meeting the enemy. Resistance and struggle," Zelensky said. "This is the year of our indestructibility. We know that this will be the year of our victory!"
First Lady of Ukraine, Olena Zelenska called the past year "a year stolen from our lives and a year of stolen lives."
She also described the past 12 months as "a year of resistance, a year of stability, the year of protection, rescue, mutual assistance," and "the year of humanity."
Poland's Defense Minister Mariusz Blaszczak said on Thursday that his country, a NATO member, is bolstering security at its border with Belarus and Russia's Kaliningrad region as "part of our defense and deterrence strategy."
Newsweek reached out to the foreign ministries of Russia and Poland for comment.
Do you have a tip on a world news story that Newsweek should be covering? Do you have a question about the Russia-Ukraine war? Let us know via worldnews@newsweek.com.