Russians Are Beginning to Question Aims of Putin's War
Nearly a year after Vladimir Putin's full-scale invasion of neighboring Ukraine started, Russians are beginning to question the aims of what the leader still calls a "special military operation."
That's according to Margarita Simonyan, editor-in-chief of the state-sponsored RT. She was broadcast on state TV responding to Russians complaining that they don't understand Putin's real objectives in his war against Ukraine.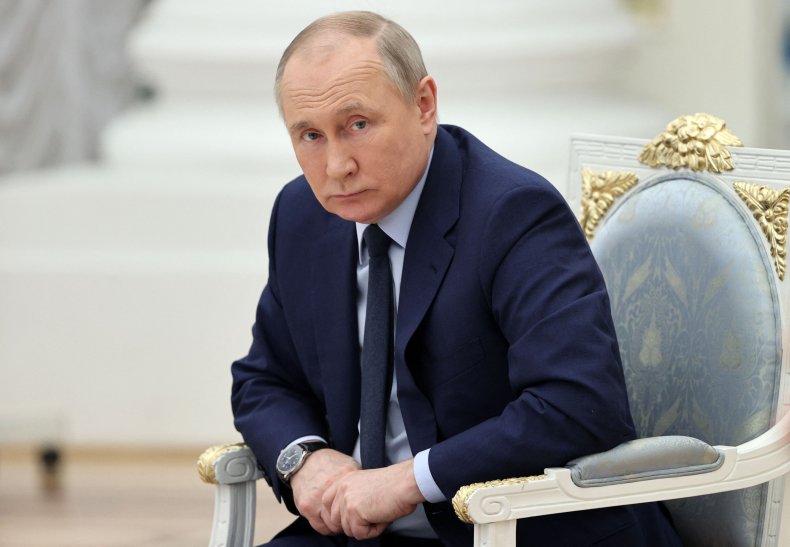 Simonyan, 42, is described by the U.S. State Department as one of Putin's main faces of propaganda and disinformation, both internationally and inside Russia. "Despite the many hats she wears, her main function is Vladimir Putin's loyal propagandist," the department said in a news release on August 31.
A clip of her remarks was published on Twitter by BBC journalist Francis Scarr late Tuesday.
"I don't know whether to laugh or cry. RT boss Simonyan responds to Russians complaining that they don't understand the invasion's real aims," he tweeted as a caption. "She claims Putin deliberately chose the vague aims of 'demilitarisation' and 'denazification' so Russia had flexibility as things unfolded."
Simonyan began her sit-down statement by explaining that friends, experts, Russian soldiers, acquaintances and "simply from those who write to me and want to become acquainted," are complaining to her "every day." They don't understand "what are our objectives" in the conflict.
Putin, on February 24, 2022, said he had sent his forces into Ukraine to "demilitarize" and "denazify" the country. Those veracity of those goals were rejected by Kyiv and the international community.
And a few weeks into the war, Russian Foreign Minister Sergey Lavrov said the Kremlin's goal was to achieve the "full liberation of the Donetsk and Luhansk republics," which make up Ukraine's eastern Donbas region.
"What are our objectives? Well, let me try to explain," said Simonyan. "That phrasing which is kind of complicated and vague: denazification and demilitarization. It's not complicated and vague for no reason.
"It's deliberately complicated and vague, because the objectives—as you remember when the president made his address—three objectives were declared. Of those objectives, only one was clear, substantive and unquestionable. The liberation of [the] Donbas—of the [self-proclaimed] DPR and LPR," she added.
Simonyan said Russia has now "gone further because our new regions—Zaporizhzhia and Kherson—cannot be given up under any circumstances and must be liberated of course." She was referring to two of four partially-occupied Ukrainian territories Putin illegally proclaimed to have annexed in September 2022 following "sham" referendums.
"But the other objectives—denazification and demilitarization—I think they're phrased liked that deliberately! And those who complain that these objectives aren't clear and ask 'What does it mean? Are we taking Kyiv or not? Are we going to Berlin, or maybe to Lisbon? It would be nice for our objectives to be articulated explicitly.' We shouldn't be explicit about our objectives! Nobody is ever explicit about them," Simonyan continued.
"Objectives change depending on capability. There's a minimum objective," the propagandist added. "For us, the minimum objective is liberating and defending our four regions. And there are objectives which may be subject to change depending on capability."
The complaints come as Russia has failed to make any major gains on the battlefield since the summer of 2022.
The current focus of the war is on Bakhmut, an industrial city in Ukraine's eastern Donetsk region, where both sides have clashed for half a year. The Wagner Group, a paramilitary outfit financed by Putin's close ally Yevgeny Prigozhin, had been leading Russian troops in the region. However, his fighters are slowly being replaced in the Bakhmut offensive.
Ukraine has said that it is bracing for an anticipated fresh onslaught from Russia in the run-up to February 24, which would mark the one-year anniversary of the conflict.
"The occupiers want to do something symbolic in February, to try to make up for their failures last year," Ukrainian President Volodymyr Zelensky said on Sunday evening. "We can see this rising pressure along multiple parts of the front."
Newsweek contacted Russia's foreign ministry for comment.
Do you have a tip on a world news story that Newsweek should be covering? Do you have a question about the Russia-Ukraine war? Let us know via worldnews@newsweek.com.