Russia: World No Longer Trusts U.S. to Lead, It's Time Others Step in to Stop 'Blackmail and Pressure'
Russia's top diplomat has argued that the world is losing faith in the United States as a global leader and that the international community has sought a more diverse approach to global decisionmaking.
At an annual address to Moscow's diplomatic academy, Russian Foreign Minister Sergey Lavrov hailed on Friday a new geopolitical era marked by "multipolarity," stating that "the emergence of new centers of power to maintain stability in the world requires the search for a balance of interests and compromises." He said there was a shift in the center of global economic power to East from West, where a "liberal order" marked by globalization was "losing its attractiveness and is no more viewed as a perfect model for all."
"Unfortunately, our Western partners led by the United States do not want to agree on common approaches to solving problems," Lavrov continued, accusing Washington and its allies of trying to "preserve their centuries-old domination in world affairs despite objective trends in forming a polycentric world order." He argued that these efforts were "contrary to the fact that now, purely economically and financially, the United States can no longer—singlehandedly or with its closest allies—resolve all issues in the global economy and world affairs.
"In order to artificially retain their dominance, to regain indisputable positions, they employ various methods of pressure and blackmail to coerce economically and through the use of information," said Lavrov.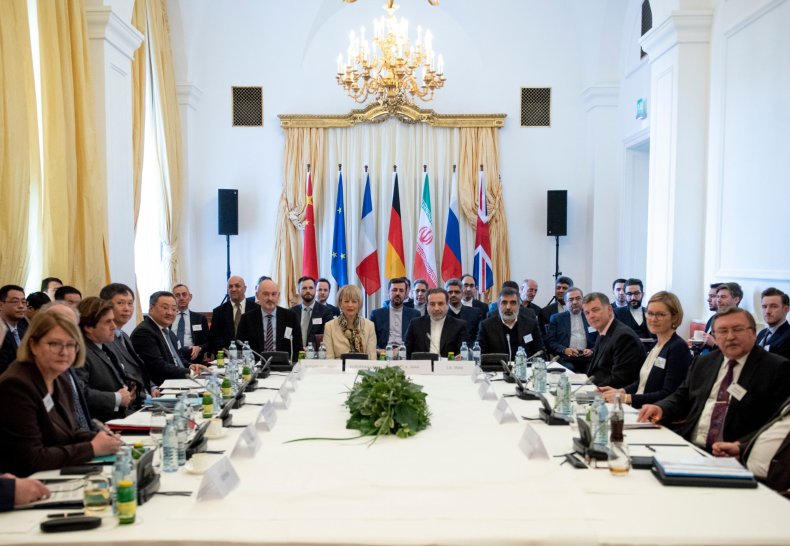 Washington and Moscow, rival superpowers during the decadeslong Cold War, have somewhat resumed their bout for global influence in the 21st century. Russian President Vladimir Putin has set to restore and revamp his country's military and political posture, which were deeply damaged in the collapse of the Soviet Union, leaving the U.S. entirely unmatched.
Despite President Donald Trump's promises of détente, the U.S. has doubled down on sanctions and other measures designed to push back against the Kremlin since the Republican leader entered the White House. Trump and Putin, once seen as potential political allies, have continued to feud over conflicts in Ukraine and Syria, andat times have both found themselves largely isolated internationally.
The Trump administration has repeatedly threatened sanctions against severalnations, including allies, fornot adhering to its policies targeting stated foes such as Iran, North Korea, Syria and Venezuela.
While Moscow has complained about what it saw as Washington's hegemony around the world, the Trump administration has named Russia an adversary in critical strategy documents, most recently in the 2019 Missile Defense Review. As Russia worked toward building new nuclear-capable hypersonic and cruise missiles, the U.S. scrambled to build new defenses capable of intercepting them, even from space.
In the latest drama, thetwo countries pulled out of the1987 Intermediate-range Nuclear Forces (INF) treaty banning land-launched missiles ranging from 310 to 3,420 miles after the U.S. accused Russia of violating the agreement with the development of the Novator 9M729 missile. Moscow counterclaimed that Washington was breaking the treaty by installing missile defenses that could allegedly also be used to attack from Eastern Europe. Now the two are struggling to find common ground in renewing the New Strategic Arms Reduction Treaty (START) that would limit their nuclear arsenals.
"The U.S. and Russian delegations continued the discussion of practical issues related to the implementation of the Treaty," the State Department said Friday, after 10 days of talks.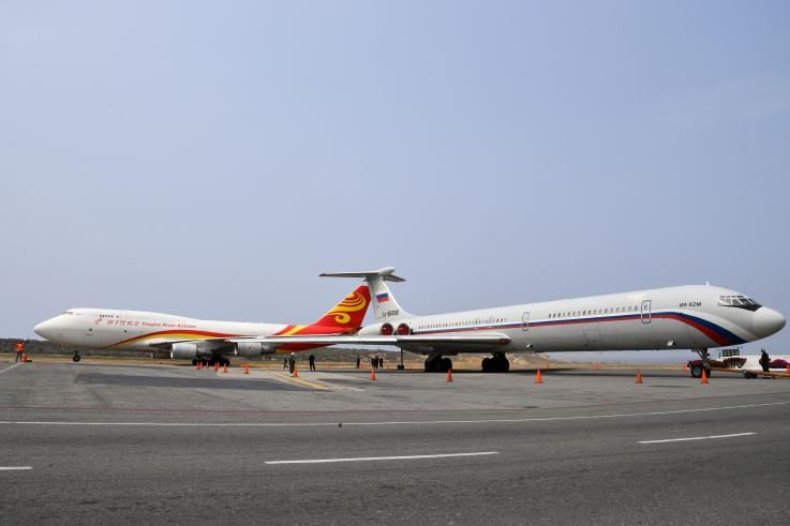 As arms-control measures erode between the U.S. and Russia, the world's top two military powers have also found themselves embroiled in a new dispute in a region where Washington had an extensive history of confronting those seemingly aligned with its communist Cold War foe. In Venezuela, the U.S. and its regional allies recognized opposition leader Juan Guaidó's political challenge in January to President Nicolás Maduro, a partner of Moscow, fueling a political crisis in a country already beset by a devastating economic collapse.
Moscow has opened a military helicopter training center and sent personnel to the socialist-led Latin American state, reportedly to assist in the maintenance of the Russia-built S-300 surface-to-air missile defense system. China and Iran—with whom Russia has expanded relations in the face of perceived U.S. hostilities—also sent aircraft, allegedly to help with humanitarian aid and the resumption ofdirect flights, respectively.
In response to Newsweek's recent coverage of these events, White House national security adviser John Bolton invoked the 19th-century Monroe Doctrine—first utilized to expel European colonialist powers from Latin America and again in the 20th century to justify intervention against leftist forces across the region. Bolton maintained that the U.S. sought "a peaceful transition of power to Juan Guaidó," but emphasized that "President Trump is very serious when he says all options are on the table."