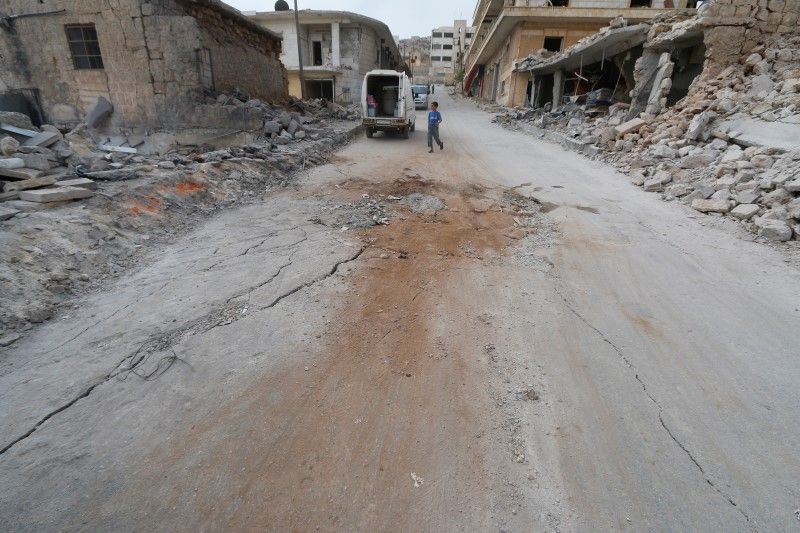 Eight children and their teacher were killed by a Russian airstrike that hit a school in the northern Syrian province of Aleppo on Monday, according to a leading human rights monitor.
The U.K.-based Syrian Observatory for Human Rights said that more than 20 people were also injured in the strike, all of whom were teachers and students at a school in the town of Anjara, located around nine miles north of the city of Aleppo. The death toll is expected to rise as the search for survivors in the rubble of the school building continues, Al Jazeera reports.
Heavy clashes between government forces and opposition groups took place on Sunday; according to the monitor, three children were among those killed by rebel-launched rocket fire in the fighting.
While the Russian government has not directly responded to the Observatory's latest claims, the Russian Defense Ministry released a statement on Monday that said its airstrikes have hit 1,097 targets in the first 10 days of 2016 in a number of provinces including Aleppo, Damascus and Raqqa, a stronghold of the Islamic State (ISIS) militant group.
Russia, which began airstrikes in September to support the government of Syrian President Bashar al-Assad in the fight against ISIS, has maintained that it hits only "terrorist" locations and has repeatedly denied targeting civilians.
A senior U.S. official told Reuters on Sunday that only one-third of Russia's airstrikes have targeted ISIS.
Russian airstrikes in 2016 have hit "infrastructure, oil production facilities" and "concentrations of militants' military hardware and manpower in order to reduce the combat potential of terrorist groupings," the defense ministry said. Last month, human rights group Amnesty International said Russian airstrikes killed 200 Syrian civilians in two months last year.
The reported deaths at the school come on the same day as a United Nations aid convoy is entering the besieged Syria town of Madaya. Distressing photos purporting to show starving residents of the town, including several children, have been widely shared on social media and in international news reports, prompting aid groups and nonprofits to call on the Syrian government to open access to the town.
According to reports, Madaya residents have resorted to eating leaves, cats and dogs as no food has entered the town since October.