Original Maker of AK-47 Among 14 Russian Weapon Tycoons Left Unsanctioned
Sanctions against Russia for its role in the invasion of Ukraine are apparently not as broad as originally estimated.
The United States Department of Treasury's Office of Foreign Assets Control and the State Department in tandem announced on Tuesday over 100 collective new sanctions on Russia's "war machine." Reports of a lack of punishments and sanctions by Western allies have caused some to question the overarching strategy in Eastern Europe and whether sanctions are making enough of an impact to persuade a change in tone regarding current military strategy.
In an examination of companies, executives and investors in Russia's defense sector, Reuters reported that approximately three dozen leaders of Russian weapons firms and at least 14 defense companies have not been sanctioned by the U.S., the European Union (EU) or the United Kingdom.
That includes sanctions on Russian arms makers and tycoons being "applied inconsistently" by NATO allies, with some nations' governments choosing to penalize Russia while others have foregone it.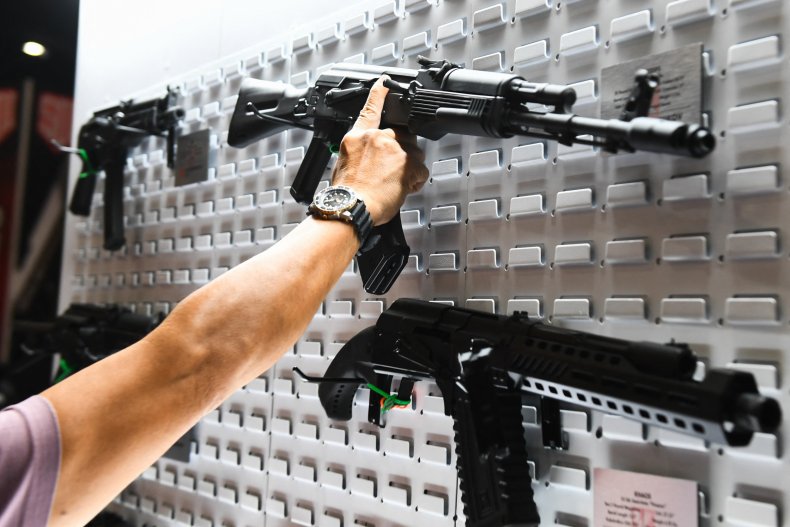 Among those not sanctioned by the three aforementioned entities include Alan Lushnikov, the largest shareholder of Kalashnikov Concern JSC and the original manufacturer of the AK-47 assault rifle. He reportedly owns a 75 percent stake in the firm, which was sanctioned previously in 2014 when Russia annexed the Crimean Peninsula.
The company produces about 95 percent of Russia's machine guns, sniper rifles, pistols and other handheld firearms, as well as about 98 percent of its handheld military machine guns. The EU and U.K. sanctioned Kalashnikov Concern earlier this year.
Another defense company sanctioned by the U.S., EU and U.K. is Moscow-based Almaz-Antey, which specializes in missiles and anti-aircraft systems and is run by CEO Yan Novikov—who Reuters reports has not been punished as a result of the sanctions.
Russian state-owned news agency TASS reported on April 25 that Almaz-Antey "was systemically preparing for sanctions of Western states," with Novikov "confident" his company would survive and overcome.
In addition to sanctions on 79 Russian defense-related companies, the Department of Treasury announced sanctions against 29 individuals that "strike at the heart of Russia's ability to develop and deploy weapons and technology used for [Russian President] Vladimir Putin's brutal war of aggression against Ukraine."
The U.S. and Group of Seven (G7) allies Canada, the U.K. and Japan have partnered to prohibit gold importation from Russia, as gold is Russia's largest non-energy export.
"Broad multilateral commitments and actions by G7 members this week further cut off the Russian Federation's access to technology that is critical to their military," said Treasury Secretary Janet Yellen in a statement. "Targeting Russia's defense industry will degrade Putin's capabilities and further impede his war against Ukraine, which has already been plagued by poor morale, broken supply chains, and logistical failures."
The State Department sanctioned 45 entities and 29 individuals, including Russia's largest defense conglomerate, State Corporation Rostec, and Halyna Danylchenko—referred to by the department as "the illegitimate Russia-installed 'mayor'" of the Ukrainian city of Melitopol who was allegedly installed by Russia following the kidnapping of the democratically elected mayor of Melitopol.
"Today's actions, in coordination with those of our partners, further cut off Russia's access to critical technology for its defense sector," U.S. Secretary of State Antony Blinken said Tuesday in a statement. "Targeting enablers of President Putin's war impedes Russia's present and future war effort, which has already been plagued by poor morale, broken supply chains, and logistical failures."
He said the U.S. sanctions this week "further align with measures" taken by Australia, Canada, the EU, Japan, New Zealand, Switzerland and the U.K.
Earlier this month, it was reported that Putin made more money from oil exports during the first 100 days of his war in Ukraine than he spent. Russian state TV commentators have pointed to potential global famine as one way for the country to have its sanctions lifted.
Newsweek reached out to Kalashnikov for comment.