Russia Increases Defense Spending by 20% as it Struggles to Replace Weapons
Western sanctions are hurting Russia's ability to fight the Ukraine war, despite Moscow increasing its defense spending by a fifth, Britain's Ministry of Defense (MOD) said.
U.K defense officials referred to the prediction by Russia's Military-Industrial Commission (VPK) that Moscow would boost defense spending this year by up to 700 billion rubles ($12 billion) compared with 2021 when it spent around $65 billion.
The commission's first deputy chairman, Andrey Elchaninov, told Interfax last week that Russia's military-industrial complex had stepped up production of weapons but that sanctions imposed by the West meant Moscow had to go elsewhere for certain components.
This was in line with an assessment by U.K defense officials that Russia is allowing the country's defense industrial base "to be slowly mobilized to meet demands placed on it by the war in Ukraine."
"However, the industry could struggle to meet many of these requirements, partially due to the effects of sanctions and lack of expertise," the defense ministry said.
They added that the production of high-quality optics and advanced electronics will "likely remain troubled and could undermine its efforts to replace equipment lost in Ukraine." Newsweek has reached out to the Russian defense ministry for comment.
This comes as Ukraine has reiterated its appeal to the international community to replenish dwindling weapons supplies. Ukrainian presidential adviser Mykhailo Podolyak said on Monday that "to end the war we need heavy weapons parity."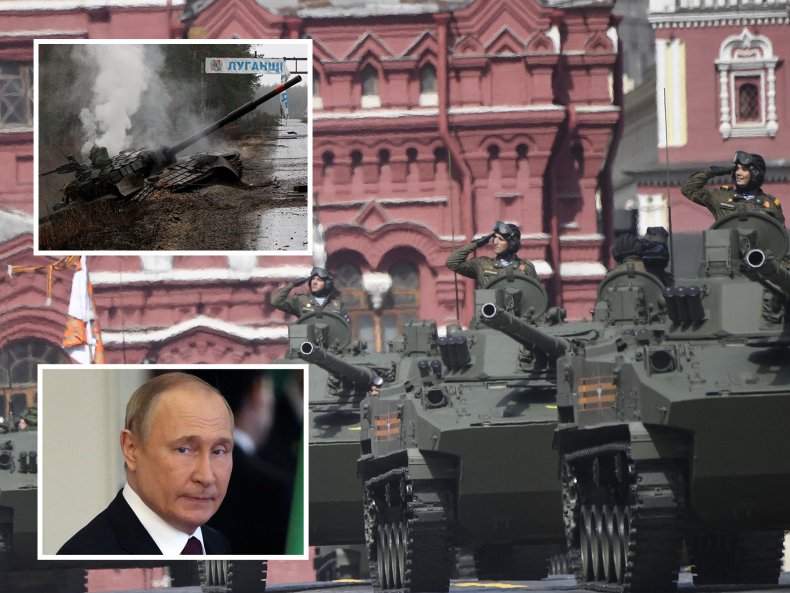 Podolyak tweeted on Monday that Kyiv required 1,000 155 mm howitzers, 300 MLRS (M270 Multiple Launch Rocket Systems), 500 tanks, 2,000 armored vehicles and 1,000 drones.
Military analyst Michael Kofman told the War on the Rocks podcast this week that Ukrainian forces have "huge problems with the availability of ammunition."
"In an artillery war, whoever runs out of ammunition first they are going to have big problems," said Kofman.
He said that while a lot of Western equipment has been promised to Ukraine, "there are also significant growing pains with assimilating and using it," which included maintaining equipment and keeping it in the field.
He also said that the long-term military balance favoring Ukraine, "is highly conditional on the assumption that they receive sustained Western military support" and the ability to switch away from Soviet artillery ammunition "which they're basically out of and most of most of Europe is out of as well."
"It's probably the most dangerous period of the war for Ukraine," he said.
On Tuesday, the British Ministry of Defense also gave an assessment of what was happening on the battlefield, saying that Russia's operational main effort remains the assault against the Severodonetsk pocket in the Donbas.
Luhansk governor Serhiy Haidai said on his Telegram social media channel that all three bridges leading to the eastern Donbas city had been destroyed, making the evacuation of civilians and delivery of aid to the city impossible.
Russian troops are continuing to attack Ukrainian positions north of Kharkiv and holding defensive positions in southern regions of Kherson and Zaporizhzhia. The British defense ministry said that Russia's western group of forces "have likely made small advances in the Kharkiv sector for the first time in several weeks."