Russian Church Warns Pope Francis After Comments on Powerful Bishop
The Russian Orthodox Church issued a warning to Pope Francis on Wednesday following comments he made imploring the Russian Bishop to stop being "Putin's altar boy."
In an interview with the Italian newspaper Corriere Della Sera, Francis discussed a conversation he had with the head of the Russian Orthodox Church, Patriarch Kirill, in an attempt to mitigate the conflict in Ukraine. He recalled telling the Bishop, "A Patriarch can't lower himself to become Putin's altar boy."
On Wednesday, the Russian Orthodox Church responded, saying that Francis' comments discouraged conversation between the two churches.
"Pope Francis chose an incorrect tone to convey the content of this conversation," the Moscow Patriarchate said according to Reuters. "Such statements are unlikely to contribute to the establishment of a constructive dialogue between the Roman Catholic and Russian Orthodox Churches, which is especially necessary at the present time."
Francis stated in his interview that both he and Kirill decided to cancel a meeting they planned in Jerusalem in June. He also requested a meeting with Russian President Vladimir Putin to discuss Ukraine, but the Kremlin reportedly denied the appeal.
Patriarch Kirill is a close ally of Putin, and the Moscow Patriarchy reportedly quoted Kirill telling Francis that media in the West has failed to report the Ukraine conflict accurately, echoing the Kremlin's complaints since the start of the invasion.
Because of Kirill's support for the invasion of Ukraine, the European Commission announced on Wednesday that he is to be included in its next wave of sanctions against Russia, according to a report from Politico. The outlet reportedly viewed documents in which Kirill has been called out for being "one of the most prominent supporters of the Russian military aggression against Ukraine."
However, Reuters reported that Kirill, despite the support for Putin from the Russian Orthodox Church, has expressed grief over the conflict in Ukraine.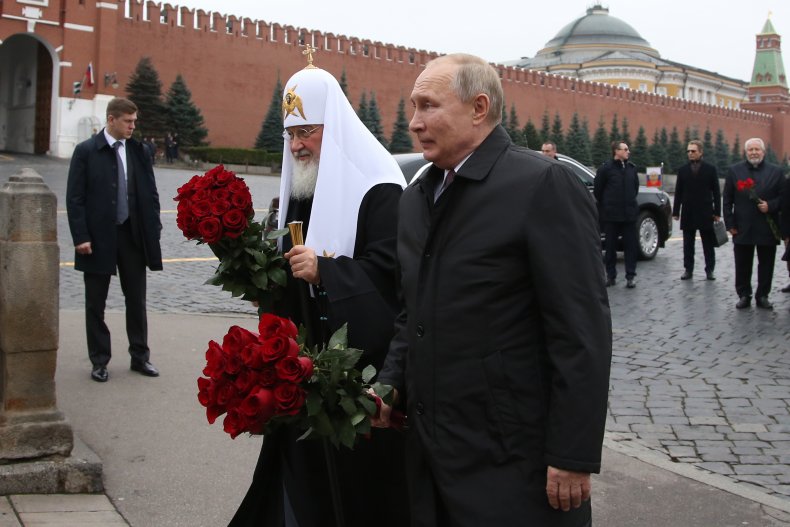 "Of course, this situation is associated with great pain for me. My flock is on both sides of the confrontation, they are mostly Orthodox people," the Patriarchy quoted Kirill saying, according to Reuters. "How can we foster the pacification of those fighting with the single goal of achieving the consolidation of peace and justice?"
The Orthodox Church has roughly 30 million believers in Ukraine, who are divided between Ukrainian and Russian Orthodox Churches and two others.
Despite the Orthodox presence, Ukraine previously called upon the Pope to help mitigate the conflict before the invasion began in February, and Andriy Yurash, Ukraine's ambassador to the Holy See, had said that Ukraine was open to a Vatican mediation as the tensions between Russia on the border were first escalating.
Newsweek reached out to the Russian Patriarchy for additional comment.