Mysterious Death of COVID Vaccine Creator Sparks Conspiracy Theories
The death of a Russian virologist who helped develop the country's COVID vaccine has sparked conspiracy theories online about the nature of his demise.
Andrey Botikov, one of 18 scientists who developed the Sputnik V vaccine at the Gamaleya National Research Center, was strangled in his Rogova Street home on March 2, Russian news outlet Regnum reported, citing official sources.
While official accounts point towards a domestic altercation, the 47-year-old's death comes amid a string of members of the Russian elite being found dead in mysterious circumstances over the past year, including scientists and businessmen.
The Investigative Committee of Russia (ICR) announced on Friday that it had opened a murder investigation, believing that a 29-year-old man strangled the scientist with a belt during a disagreement before fleeing the scene.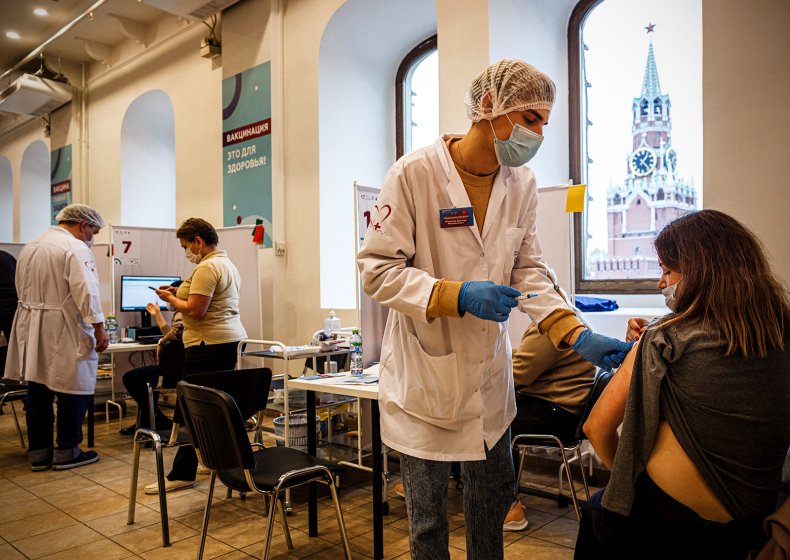 The ICR's Moscow division didn't name Botikov in a statement, but said investigators had identified and located the assailant "in the shortest possible time."
"During the interrogation, he admitted his guilt, he was charged," it added. "Previously, the defendant was prosecuted for committing a serious crime."
The ICR didn't respond to a request by Newsweek about the identification of the victim. It hasn't provided a public update since March 3.
While many reacting to the story on social media suggested that his death may have been premeditated, others jumped on the story to claim he had died as a result of his own vaccine, or because he was planning to speak out about it.
"Was he about to reveal the truth?" Matt Wallace, a crypto influencer, wrote in a tweet that has since been viewed 2.4 million times and received nearly 10,000 retweets.
Meanwhile, WSPN Speculation News claimed Botikov "was shot up with over 40 doses [of the COVID vaccine] in his apartment in northwest Moscow, he is dead but reports say he died covid free!"
"Reportedly he had one too many up his..." wrote Per Ekstrom, above an image of the Sputnik V vaccine.
"Totally normal that Andrey Botikov, the guy who created the first COVID vaax [sic], was found strangled to death," Insurrectionist Barbie, a pejorative term for women with conservative views, tweeted. "Especially in light of everything that is coming out about both the vaax [sic] and the origins of the virus. Nothing to see here."
Last week, FBI director Christopher Wray said that the agency believed it "most likely" that COVID emerged into the human population from a mishap in a Chinese lab. It followed a report that the U.S. Department of Energy had adopted this belief in light of new intelligence.
Botikov worked as a virologist at the Gamaleya National Research Center since 2014, and was part of the team responsible for the nation's vaccine—which Russia claimed had an efficacy at clinical trials of 91 percent, far higher than other vaccines.
However, Russia has faced vaccine hesitancy domestically. Just over 60 percent of Russians have received at least one dose, according to the latest figures by Johns Hopkins University.
Its sales on the international market have been damaged by the rushed vaccine trials and slowness with sharing scientific results with the international community, researchers at the Carnegie Endowment for International Peace have said.
Botikov's apparent death comes just over two weeks after that of Major General Vladimir Makarov, a high-ranking Russian military official who state investigators said took his own life after being relieved of duty.
In late November, the Russian Embassy in Paris confirmed the death of Vyacheslav Taran, a Russian billionaire and founder of Forex Club, in a helicopter crash near his home in southeastern France.
The former head of the Moscow Aviation Institute, Anatoly Gerashchenko, died last year after falling down "several flights of stairs."