Russian Defense Ministry 'Ready' to Implement Putin-Trump Security Agreements
The Russian military has announced that it is "ready" to implement "international security" agreements reached by U.S. President Donald Trump and Russian President Vladimir Putin in a Helsinki summit on Monday.
"The Russian Defense Ministry is ready for practical implementation of the agreements in the sphere of international security," ministry spokesperson Igor Konashenkov said Tuesday, according to Russian news agency Tass. He added that Russia is "ready to enliven contact with the U.S. colleagues, between our General Staffs and via other communication channels."
Konashenkov specifically referenced the Strategic Arms Reduction Treaty (START), cooperation in Syria and "other issues" regarding military security.
Get your unlimited Newsweek trial >
START I was first signed in July 1991 between the former Soviet Union and the U.S. It entered into force in 1994, aiming to regulate both powers strategic offensive arms through limitations and reduction.
When it comes to the Syrian conflict, Trump and Putin appeared aligned in their press conference, signaling a stark reversal of U.S. policy that has long called for the removal of Syrian President Bashar al-Assad.
As for the "other issues," many in Washington have raised alarm bells about the president's readiness to cozy up to Moscow. Following his closed-door meeting with Putin, Trump suggested that he trusts the words of the Russian president over his own intelligence services. Dismissing the fact that 17 federal and military intelligence agencies have concluded that Russia meddled in the 2016 presidential election, Trump said Putin had assured him this was not true.
"I don't see any reason why it would be [true]," said Trump, whose campaign committee remains under investigation by special counsel Robert Mueller for possible collusion with the Russian government. The president also called his own country "foolish," suggesting the U.S. was responsible for poor relations with Russia.
Get your unlimited Newsweek trial >
The president's conference with Putin drew a string of rebukes from Democrats and Republicans alike, many of whom saw Trump's actions as "disgraceful." In Russia however, the media and politicians were quick to hail the meeting as a massive success.
"In my view the meeting was as rewarding as it could have been," Russian Senator Alexey Pushkov told state network Rossiya 1. "The gain for us is huge," he added, boasting that the U.S. "expected large concessions from Putin" but received nothing.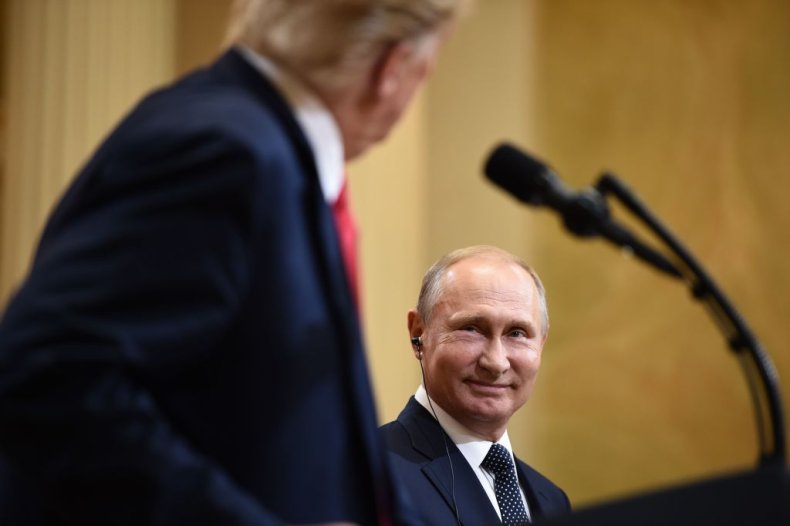 "Vladimir Putin felt like the master of the situation," the Russian parliament's official newspaper, Parlamentskaya Gazeta wrote, adding that Trump has been "forced to admit" that Washington is to blame for poor relations with Moscow.
Viktor Bondarev, head of the Russian Federation Council's defense and security committee, said that Putin had raised "the standing of Russia in the international arena to such an extent that … [the U.S. and the European Union] are still forced to look for ways to find common ground with us," The Moscow Times reported.
The reaction from Trump's own party contrasted sharply with that of the Russians. Senate Foreign Relations Chairman Bob Corker from Tennessee summed up the sentiments, saying the president made the U.S. "look like a pushover."
Paul Ryan, the Republican Speaker of the House, also said Trump needs to "appreciate that Russia is not our ally."
Russian Defense Ministry 'Ready' to Implement Putin-Trump Security Agreements | World