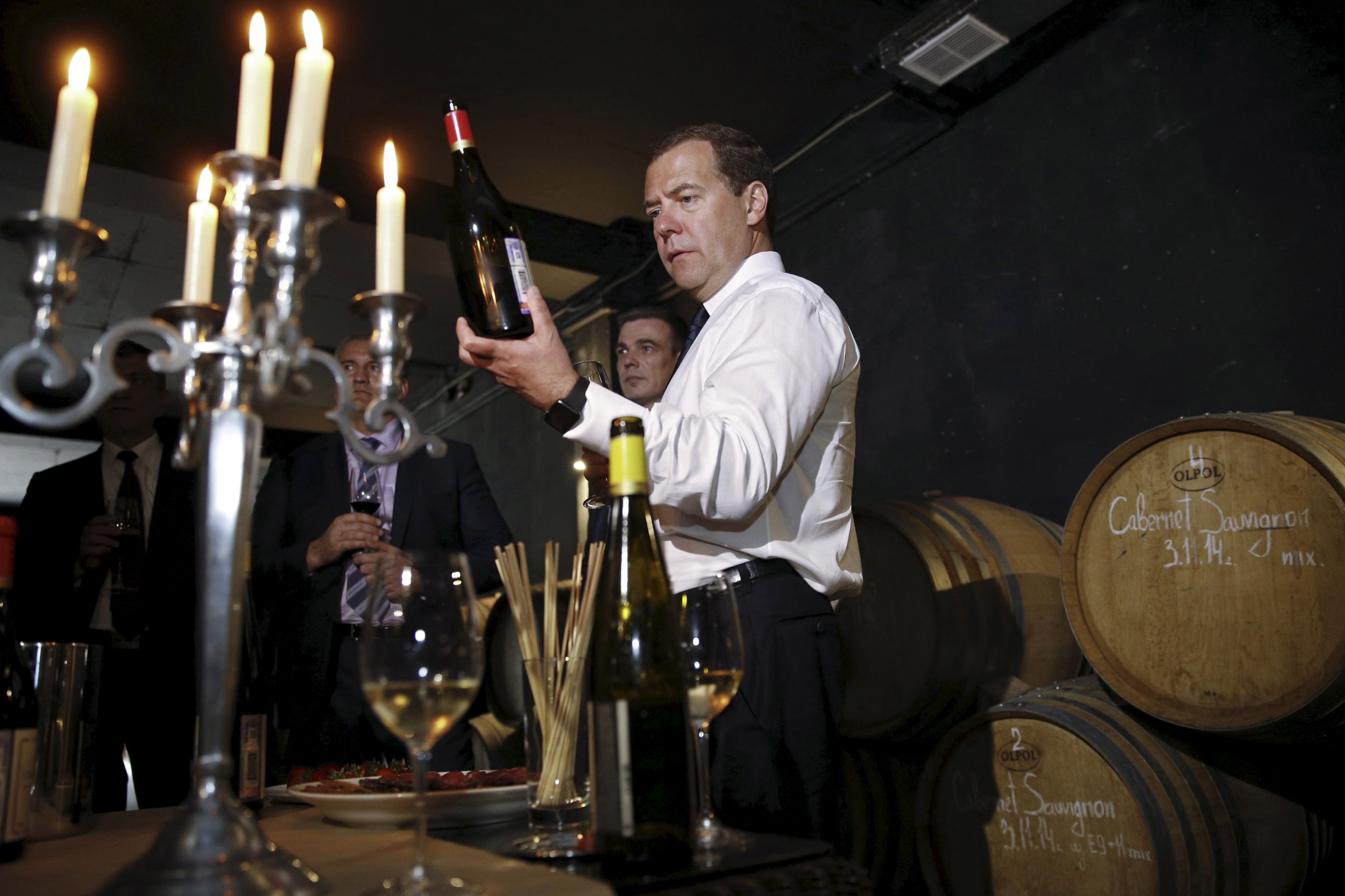 The production of low-quality wine alternatives is booming in Russia, as citizens look for cheaper alternatives amidst the ongoing economic crisis, says Russian alcohol market experts.
According to Russian law, a drink that contains anything apart from fermented grapes cannot be called wine. But there's a budget alternative called the "wine drink," which can include artificially added sugars, sweeteners, alcohol, coloring and flavoring. Wine drink is no synthetic, bootlegged booze—it's sold legitimately in shops.
Russia's independent Center for the Study of the Federal and Regional Alcohol Market estimates that since the start of the year production of wine drinks is up by 51 percent.
"It's easier to make this alcoholic drink as it is considerably cheaper, which is important at the moment," Vadim Drobiz, the center's director, told Russian radio broadcaster RSN. "However, we should add that [annual] production of wine drinks is not enormous—18 million liters—while the volume of wine production is 400 million liters."
Drobiz believes the spike in production is due to an all-round demand for budget products across Russia. The country's economic downturn is brought on by low oil prices and a volatile ruble, and it is unlikely to exit its recession this year, according to the International Monetary Fund.
As cheaper wine substitutes become more popular, the registered production of top-shelf liquor has been dropping across the board since the start of 2016. Champagne and sparkling wines are down by 23 percent in Russia, wine is down by 12 percent and cognac is down by 4 percent.
Vodka production has plummeted by 15 percent over the last three months, after Russia's most famous alcoholic beverage hit a 10-year-export low, last year.
Drobiz believes the large drop of good quality alcohol in 2016 is not necessarily reflective of the state of the market, however, as the start of the year also saw a new law come into force on registering alcohol production. The Russian government now demands alcohol production be counted by each bottle individually as opposed to only total volume produced.
Still, the financial crisis does appear to be having an effect, as evidenced by the fact that imports of foreign alcohol are also down, with whisky imports dropping the most, by 30 percent. Foreign cognac imports fell by 15 percent over the course of 2015, sparkling wine fell by 12 percent and wine fell by six percent.
The import figures for wine ingredients, however, which are also used in "wine drinks," have doubled over the same period.
That is not to say Russians have entirely turned their backs on wine, however, as neighboring Georgia reported a boom in its wine exports, with Russia importing over 2.5 million bottles of Georgian wine in the first two months of this year alone.
Russians appear to have renewed the enthusiasm for Georgian wine that made it a mainstay on Soviet dinner tables before Moscow slapped a ban on the drink amid political tension with Tbilisi in 2006. The ban was lifted in 2013.