Russian Drone Worth $7M Obliterated in Ukraine Strike
Ukraine destroyed a Russian-controlled drone reportedly valued at about $7 million in an airstrike on Friday, according to a formation of Ukraine's ground forces.
The formation, Operational Command South, said in a Facebook post that the unmanned aircraft, called a "Forpost," was "looking for a target" in Ukraine's Mykolaiv region. The drone "was aptly 'discharged from performing tasks for purpose' by our anti-aircraft missile unit," the post said, according to an English translation. Forpost drones are estimated to be worth about $7 million, according to a report from The New Voice of Ukraine.
Newsweek was not able to independently confirm the airstrike or the value of the drone. The defense ministries of Russia and Ukraine were contacted for confirmation and comment.
The reported destruction of the valuable Russian-controlled drone comes on the heels of a larger-scale loss for Russian President Vladimir Putin as Ukraine's army released a video Thursday on a successful effort to recapture Snake Island, a strategic Black Sea outpost, from Russia. Though Moscow said that its forces were withdrawn from the outpost as a "gesture of goodwill," Ukraine combatted the notion that Russian forces left willingly rather than because of an overnight assault that drove them out.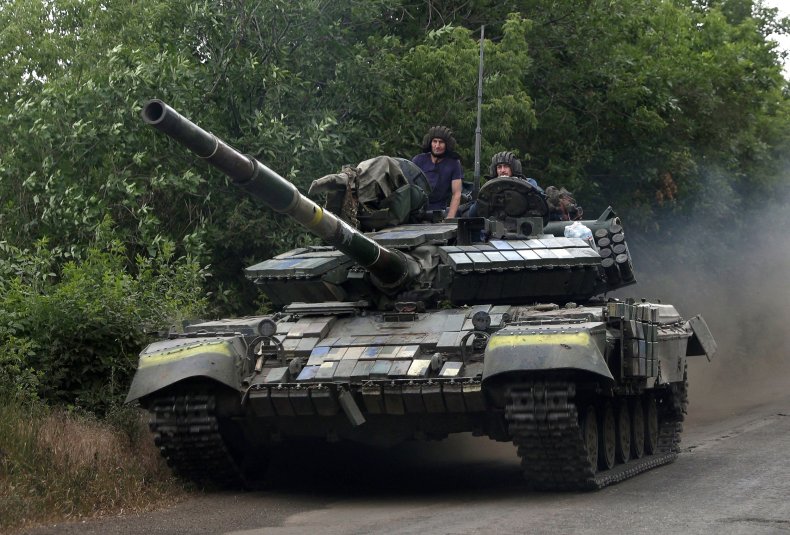 "Unable to withstand the fire of Ukraine's artillery, missile and air strikes, Russian army left Snake Island," said Valery Zaluzhny, the commander-in-chief of the armed forces of Ukraine.
Russia scored its own high-profile victory last week when the mayor of Severodonetsk, which is located in eastern Ukraine and has been the stage for heavy fighting in the months-long war, announced that the city had fallen under full Russian occupation.
Though Ukraine has ramped up pushes for weapons from Western countries in recent weeks, a Russian bill submitted to the State Duma by the Kremlin on Thursday indicates that Putin's army may also be hurting for supplies.
An explanatory note that was included with the bill explained that particularly amid the ongoing conflict in Ukraine, there is "a short-term increased need for the repair of weapons and military equipment."
The alleged destruction of the valuable Forpost drone may be one of the latest examples underscoring this "need."
In the Facebook post, Operational Command South said that fighters struck two enemy ammunition warehouses in Ukraine's southern Kherson region.
"In total, more than 120 fire missions were completed by the defense forces units," the post said. "The results of hits and enemy losses are being specified."
It also warned that the threat of missile strikes across Ukraine's southern region "remains at a high level."
"Do not neglect your own safety, pay attention to air alarm signals, take information carefully, thoroughly check its sources," the post said.