Russian Factories Refuse to Fix Equipment Broken in War, Ukraine Says
Ukrainian defense officials recently claimed that Russian factories are refusing to repair equipment that has been broken or damaged during the ongoing war between the two nations.
On July 3, the Defense Intelligence of Ukraine, a sect of the nation's Defense Ministry, issued a press release saying, "The conflict between the military leadership of the Russian Federation and the directors of defense factories is increasingly making it impossible to send new combat armored vehicles to the combat zone."
The release continued, "At the same time, directors of repair companies instructed employees not to accept equipment for repair. They motivate this by the lack of components and insufficient amounts of funds received from the military for already completed work."
The claims made by Ukraine comes as war continues to rage, after Russia invaded the neighboring nation in February.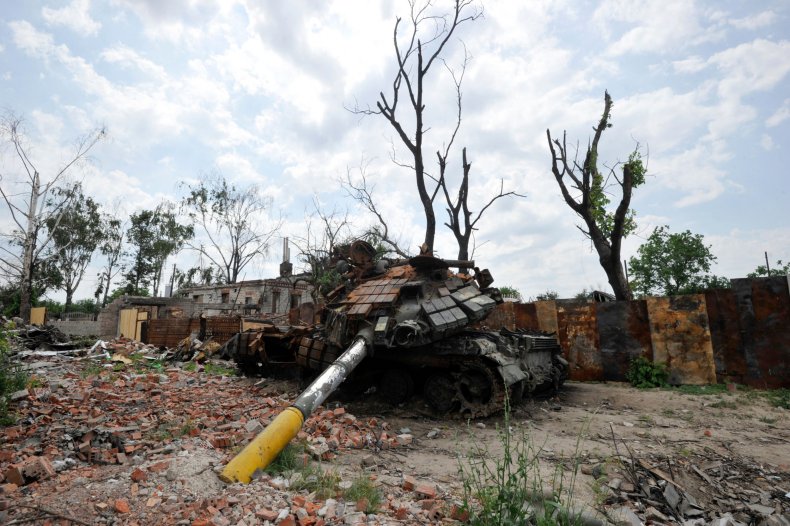 According to the press release issued by the Defense Intelligence of Ukraine, "defenders of Ukraine neutralized more than 40 percent of combat-ready tanks, infantry fighting vehicles and armored personnel carriers of the occupation units from the Southern Military District of the Russian Federation alone."
The press release also claimed that in some instances, damaged or broken Russian equipment has been disassembled and spare parts have been "sold or exchanged for alcohol."
"The command tried to save the situation with the help of specially created repair teams, which were supposed to restore equipment near the combat zones. However, corruption and greed for profit among the military leadership of the Russian Federation brought this attempt to nothing," the press release added.
Newsweek is unable to independently verify the claims made by the Defense Intelligence of Ukraine.
Earlier this month, Ukraine's Armed Forces claimed in a Facebook post that amid the ongoing war, Russia has lost at least 1,589 tanks, over 3,500 armored vehicles and more than 35,000 personnel members.
In March, Ukraine's General Staff Armed Forces issued a similar announcement, saying, "Occupying troops operating in Ukraine are in dire need of repairing and rebuilding damaged weapons and military equipment."
"According to the available information, due to the lack of receipts of foreign-made components, the work of the enterprises of the Uralzavod Corporation and the Chelyabinsk Tractor Plant has been suspended. These companies specialize in the manufacture and repair of tanks and other armored vehicles for the armed forces of the Russian federation," the post added.
Newsweek reached out to the Russian Foreign Ministry for comment.
As the U.S. and other Western nations have continued to provide Ukraine with military assistance, Russia recently drafted a bill that stated the country is facing a "a short-term increased need for the repair of weapons and military equipment."