Yet Another Russian Military Jet Crashes
A Russian Su-25 jet has crashed in Russian territory bordering north-west Ukraine, killing the pilot, according to Russian media reports.
Vyacheslav Gladkov, the governor of Russia's Belgorod Oblast, said a Russian military plane had crashed in the Valuyki area, which is around 10 miles north of the Russia-Ukraine border.
"An investigative team and the Ministry of Emergencies are now working at the scene," he wrote on Telegram. "The situation is under control."
Russian news agency Tass initially reported that the plane had crashed "on the outskirts of a village," and that the "pilot managed to eject," citing Russian defense officials.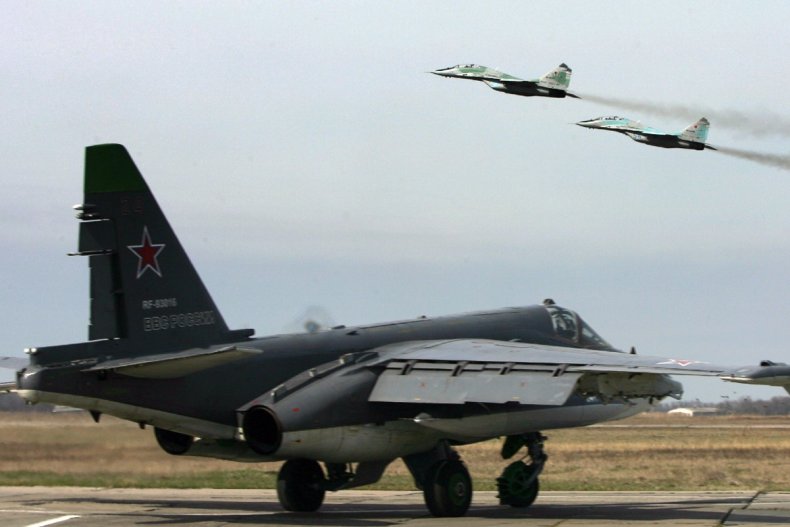 An updated report then confirmed it was a Russian Su-25 ground attack plane that had crashed while attempting to return to its airfield.
The pilot had been killed, according to Russia's defense ministry, with a "technical fault" blamed for the crash.
"A Su-25 plane of the Russian Aerospace Forces crashed while returning to its airfield in the Belgorod Region after accomplishing a combat mission. The pilot died," the ministry said in a statement. "According to preliminary data, a technical fault is a likely cause of the crash."
The crash site was an isolated and uninhabited area, the ministry said, with no other damage reported.
Newsweek has reached out to Russia's defense ministry for further information.
A series of crashes involving military aircraft have been reported in Russia in recent months. In June 2022, another Su-25 crashed during a training exercise in Russia's Rostov region, killing its pilot. Russian authorities also attributed the crash to a "technical failure."
On the day that Russian forces launched Moscow's full-scale invasion on February 24, 2022, another Su-25 crashed during a flight linked to Russia's war in Ukraine.
Russia's defense minister chalked this crash up to a "piloting mistake," but specified the pilot "successfully ejected" and was not killed in the incident.
But it's not just Su-25s that have been crashing. In early December, a Russian MiG-31 interceptor aircraft came down during a routine flight in the eastern Primorsky region. A "technical fault" was listed as the cause of the crash.
In October, an Su-34 aircraft crashed into an apartment complex in the southern Russian city of Yeysk. At least 15 people were killed.
Russian state media reported that two birds had been sucked into the aircraft's engines as it took off after the crash was initially blamed on a technical malfunction.
Just days later, an Su-30 jet crashed into a two-story residential building in the Siberian city of Irkutsk, killing both crew members.
In June, an Ilyushin Il-76 military cargo plane crashed near Ryazan, in western Russia.
"The crew detected an engine malfunction and decided to perform an off-runway landing" before crashing, the Russian defense ministry said.
Russia's air force has not invested the necessary time in properly training its personnel, nor in ensuring its aircraft are well maintained, according to former commodore of Britain's Royal Air Force, Andrew Curtis.
Russia's air force pilots "do not spend a great deal of time in the air," Curtis told Newsweek, adding that their training often does not match the type of mission they may be required to carry out.
"It's not a surprise that they are losing aircraft, probably as a result of mechanical issues, and possibly as well as a result of pilot error," he said.
"Those things point to an air force that is struggling to maintain its competency, because it's not committing sufficient resources to its training program, and making sure that its sustainability is at a suitable level."
This may also extend to ground-crew training and maintaining spare parts or equipment, he argued, and "mistakes on the ground end up resulting in mistakes in the air as well."