Russian Fighter Jet Crashes on Takeoff, Video Shows
Footage shared on social media showed the moment a Russian jet crashed soon after takeoff from an airport in Crimea, with one local report saying that a pilot had not ejected in time.
Multiple social media accounts shared images and videos of explosions and a fire at the Belbek airfield in Sevastopol on Saturday, reportedly caused by a Mikoyan Mig-31 jet coming down.
Photos showed beachgoers on the peninsula Russia annexed from Ukraine in 2014 looking at the dark smoke billowing up from the coast with the detonation of shells visible in some of them.
"While landing, the military plane skidded off the runway, rolled down a mountain and burst into flames," the Baza Telegram channel said. "Ammunition detonated on board and an explosion occurred. The pilot managed to eject."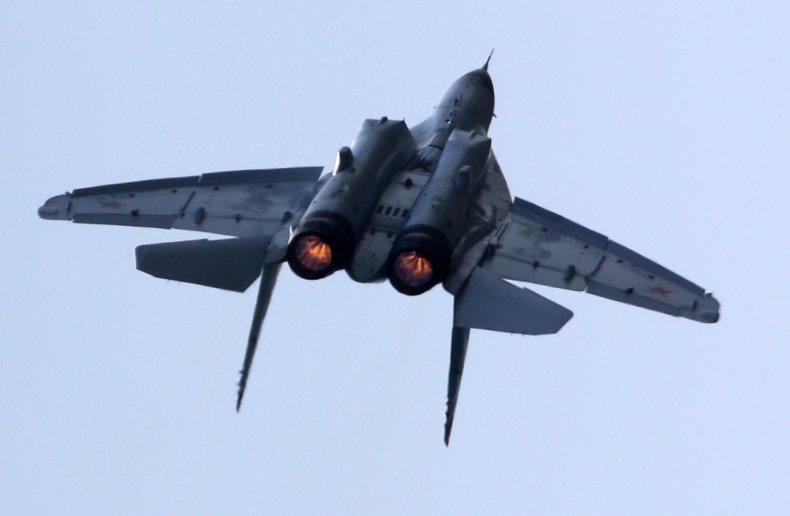 Ukrainian blogger Serhii Sternenko tweeted images of the aftermath of the aborted flight, with the message, "more great photos from the burning air base of the Russians in the still occupied Crimea."
The governor of the Russian-controlled Sevastopol region, Mikhail Razvozhayev wrote on Telegram on Saturday: "Extraordinary situation at the airfield Belbek. According to rescuers, the plane skidded off the runway during landing and caught fire. The fire brigade is currently on the scene. Please keep calm."
Clips of the incident were posted on the Telegram account of a Sevastopol news outlet quoting Razvozhayev as saying that the pilot safely evacuated.
However, the regional internet forum, Sevastapol.info said that there were two on board and that while the navigator managed to eject in time the main pilot, who came from Khotilovo in Russia's Tver region, did not and had died.
"The airfield is not damaged, the strip is in working order, Belbek continues combat work," the forum said.
A screengrab of the post was tweeted by Twitter user Necro Mancer, who writes about the war in Ukraine, with the message that the pilot, who was very experienced, had died.
Newsweek reached out to the Russian defense ministry for comment.
In August, local citizens reportedly heard the sounds of explosions in Crimea's city of Kerch and near the same military airfield. Razvozhayev had claimed then that a drone had been shot down by an air defense system in the vicinity of the airfield.
Ukraine claimed responsibility for the explosions in the annexed area, with a Ukrainian official telling The New York Times: "This was an air base from which planes regularly took off for attacks against our forces in the southern theater," and that the explosion was caused by "a device exclusively of Ukrainian manufacture."
Newsweek was not able to independently verify the report that Ukraine was behind the blasts.