Russian Lawmaker Urges 'Full Mobilization' for War in Ukraine
A member of Russia's State Duma Security Committee has suggested that the country should completely mobilize against Ukraine.
Mikhail Sheremet made the proposal during an interview with URA.RU, according to a report by the Russian publication News 24 All Daily.
"Without full mobilization, transfer to a military footing, including the economy, we will not achieve the proper results, " he said, according to a Google translation.
"I am talking about the fact that today the society should be consolidated as much as possible and purposeful for victory."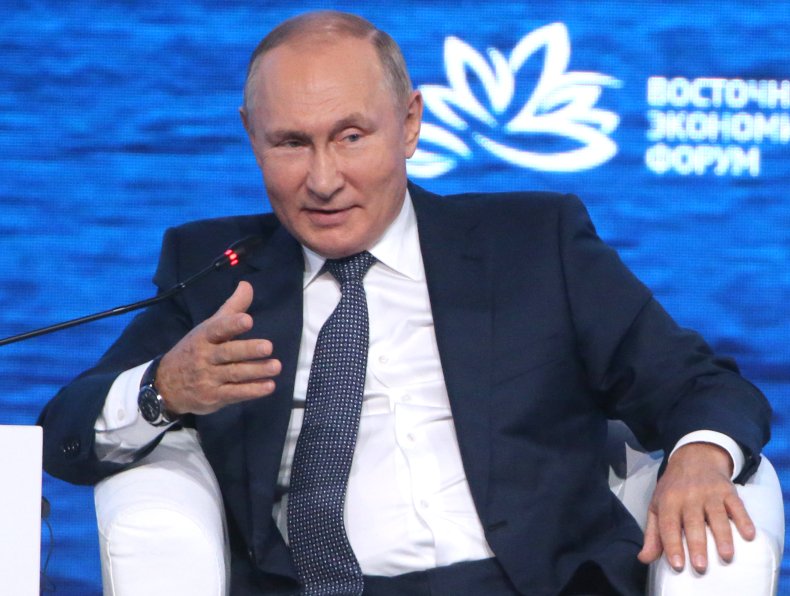 Russia has faced military struggles in recent weeks as Ukraine conducted counteroffensives. There have also been reports of a significant retreat by Russian forces across Ukraine.
In a post on Telegram on Sunday, the commander of Ukraine's military, General Valeriy Zaluzhnyi, said his troops had regained 3,000 square kilometers (1,158 square miles) of territory from the Russians since the beginning of September, and that in the Kharkiv region, they had pushed to within 50 kilometers—or roughly 30 miles—of the nation's border with Russia.
This has sparked debate on how Russia should respond to the situation in Ukraine and even Russian State TV hosts have shown they don't hold a unified view on the matter.
In a clip that has been viewed more than 6.3 million times after being posted on Twitter by the Daily Beast's Julia Davis, multiple TV pundits argue the matter.
In the video, State Duma Deputy Sergey Mironov quoted Russian President Vladimir Putin and said that "Russia hadn't even started yet" in regards to the war in Ukraine. He also insisted that there could be no peace talks between the two countries as he accused Ukrainian president Volodymyr Zelensky of ruling with a Nazi regime.
In a somewhat unusual turn of events, a former member of Russia's parliament, Boris Nadezhdin, said it was impossible for Russia to defeat Ukraine.
As he interrupted Mironov, Nadezhdin said he wanted peace talks. He added that Russia should either fully mobilize against Ukraine or pull out of the nation completely.
"We're now at the point when we have to understand it's absolutely impossible to defeat Ukraine using those resources and colonial war methods with which Russia is trying to wage war, using contract soldiers, mercenaries, no mobilization.
"A strong army is opposing the Russian Army, fully supported by the most powerful countries, in the economic and technological sense, including European countries."
Newsweek has contacted the Russian Ministry of Foreign Affairs for comment.