Russian Media Hails Biden v. Trump Political Tensions: 'Ghost of Civil War'
Russian-state television hailed the "excellent" political tensions between President Joe Biden and former President Donald Trump following Biden's Thursday speech blasting "MAGA Republicans".
The president spoke in Philadelphia about the "battle for the soul of the nation," condemning what he views as anti-Democratic pressure from Trump and his allies. During his speech, Biden accused Republicans of trying to take the United States "backwards to an America where there is no right to choose, no right to privacy, no right to contraception, no right to marry who you love."
The speech, a shift in tone for Biden who once said Republicans would have a post-Trump "epiphany," underscores heightened political tensions between Democrats and Republicans. Russia quickly highlighted these tensions during a broadcast this week.
While covering the speech, Russian-state media said that Biden "lost the battle for the soul of the nation" and is "looking for enemies of the people amongst the people," according to a video of a Russian newscast translated and posted to Twitter by journalist Julia Davis. Throughout the broadcast, Russian-state media blasted Biden and Democrats for the speech—while defending Trump and his supporters.
"Divide and conquer seems to be the only recipe that remains in the arsenal of the Democrats, who have failed in all respects," said Russian broadcaster Valentin Bogdanov, who described tensions as "the ghost of Civil War."
Evgeny Popov, a Russian-state television host viewed as a key Kremlin propagandist, described the partisan divide in the U.S. as "excellent." He also made his prediction for how Biden's rhetorical "battle" will escalate.
"The speech was announced in advance. It was titled 'the battle for the soul of Americans.' Based on the crimson tones during Biden's speech, this will be a bloody battle," he said.
Russian-state television often functions as Kremlin propaganda, as Russian President Vladimir Putin cracked down on free press at the start of the invasion of Ukraine, which he ordered on February 24. Biden has been highly critical of the invasion as well as Putin's leadership, saying in March that he "cannot remain in power" before walking the statement back.
Biden's leadership has been a stark contrast from Trump, who on several occasions praised Putin and was seen as having friendlier relations with Moscow. Trump faced criticism in February for describing the Russian leader moving troops into Ukraine as "genius."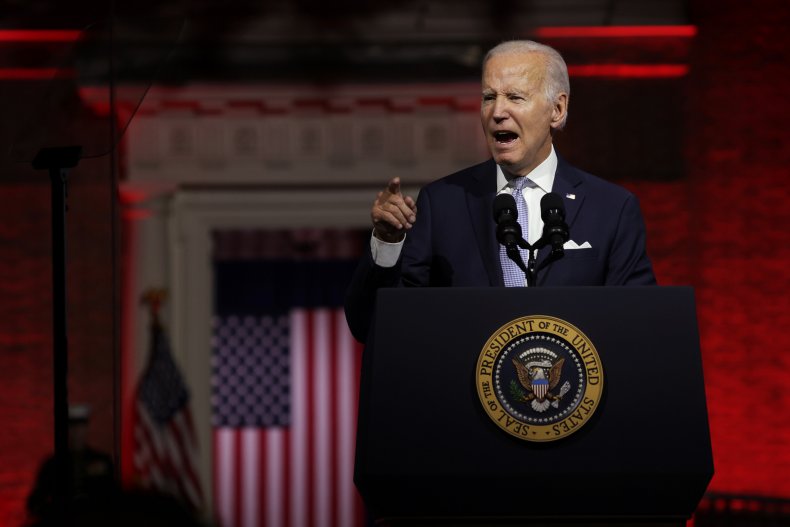 Russian State TV Promotes U.S. Divisions
Russian-state television, in recent months, has run several pieces praising Trump, attacking Biden and highlighting partisan differences in the U.S. In March, Popov said that Biden should be "ousted" for Trump, who he considers to be a "partner" for Moscow. In July, host Vladimir Solovyov described Trump as a "beaut."
"Biden is fundamentally different from Trump, Trump even said 'NATO is not needed,'" he said. "Trump hates Ukraine," because it was "trying to do everything for Trump not to get elected."
Solovyov also predicted there would be a civil war in the U.S. triggered by the FBI's raid on Trump's Mar-a-Lago residence early last month.
"This is totally unprecedented. I don't remember anything like this in American history. If Trump calls on his supporters to come out—and half the states are led by Trump's allies—there'll be hell to pay," he said.
Newsweek reached out to the Russian foreign affairs ministry for comment.