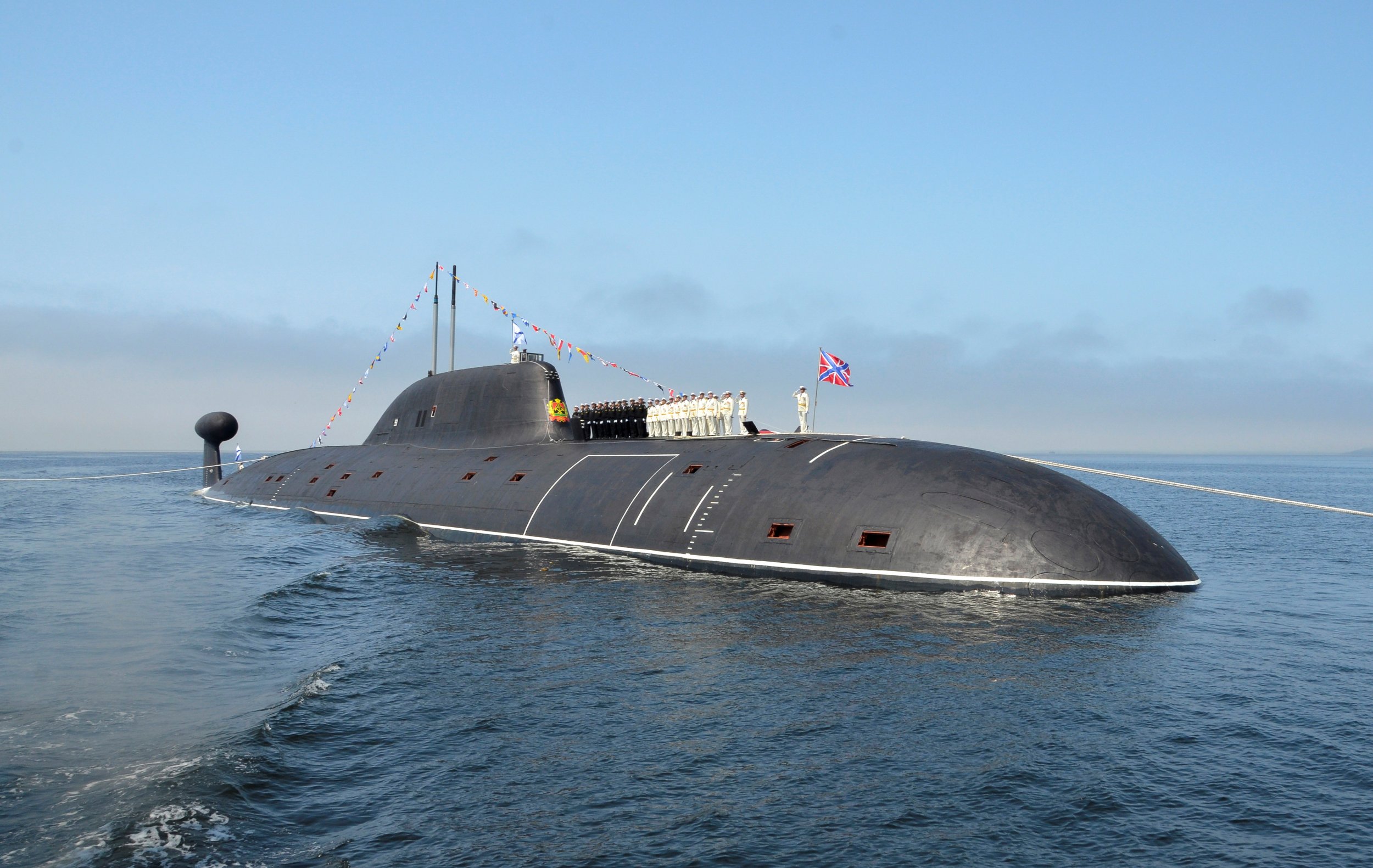 Russia has launched its most powerful, advanced nuclear attack submarine yet at time when Moscow has claimed to have restored its Cold War-era dominance of the sea.
The Project 885 (08850) Yasen-class fourth-generation multipurpose Kazan nuclear submarine had been under construction since 2009 at the Sevmash shipyards in the Russia White Sea port city of Severodvinsk, according to Russia's state-owned TASS News Agency. Russia's navy elite reportedly popped champagne bottles at the submarine's launch Friday and celebrated not just the release of a new ship but the return of an era.
"Last year, we operated at a level not seen in the post-Soviet era in terms of hours spent underway," Adm. Vladimir Korolev, the head of Russia's navy, said Friday, according to Defense News. "The Russian submarine fleet last year spent more than 3,000 days at sea. This is an excellent figure."
The high-tech vessel was designed to carry up to eight Kalibr cruise missiles capable of delivering a 990-pound ballistic or nuclear warhead up to 1,500 miles to targets on land, 410 miles to targets at sea and around 30 miles to submarines. It also could carry an equal number of supersonic Onix anti-ship cruise missiles able to reach targets over 370 miles away as well and up to 300 torpedoes. As Kazan entered the Arctic waters, Korolev said the vessel and its future commander Capt. Alexander Beketov would be part of an advanced Russian submarine fleet to be deployed around the world. The force would present a formidable foe to the U.S. and allied NATO member states.
"It's probably the most capable nuclear-powered submarine out there fielded by a potential adversary," Michael Kofman, a Russian military affairs specialist at the Arlington-based Center for Naval Analyses told international affairs magazine The National Interest earlier this month.
Kazan and other nuclear submarines under development were part of a nearly decade-long $650 billion initiative announced in 2010 and intended to modernize Russia's conventional and nuclear weapons force by 2020, London's The Times reported Monday. Russia has the world's largest nuclear weapons arsenal.
A number of European nations have accused Moscow of violating their sovereignty through territorial breaches and the proliferation of disinformation, while Russia has accused the U.S. and Western nations of warmongering through NATO's military buildup along Russian borders and military exercises in the region.