Russian Official Calls Zelensky's 'Unfeasible' Peace Conditions 'Idiocy'
A top Russian official threw cold water on revived peace talks with Ukraine, sharply dismissing Ukrainian President Volodymyr Zelensky's demand that Russia withdraw all troops from Ukraine's borders.
Dmitry Medvedev, deputy chairman of the Russian Security Council, on Thursday called Zelensky's demand "to the point of idiocy and unfeasible in principle." Medvedev's remarks, which were delivered in a lengthy Telegram post, come a day after Zelensky reiterated he would not cede any territory to Russia in order to wind down the three-month-old conflict.
Russian President Vladimir Putin said last month he wouldn't agree to a peace deal unless Ukraine agreed to "solve the issues of Crimea and Donbas," creating what's so far been an insurmountable sticking point with Zelensky.
Earlier in the conflict, Zelensky refused to recognize Russia's 2014 annexation of the Crimea region on Ukraine's Black Sea coast. Following the annexation, Russia turned its attention to Ukraine's eastern Donbas region where Russian-backed separatists have declared independent republics. Russia has concentrated its efforts in the region, which has large ethnic Russian populations, after failing to capture Ukrainian capital Kyiv.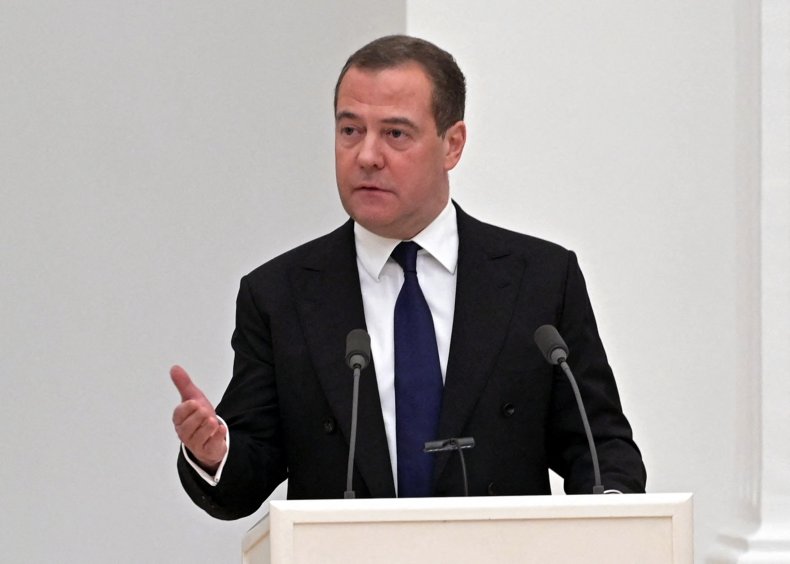 Zelensky earlier this month said the war will end when Ukraine regains control of all of its territories currently under Russian control.
"Anticipating his inevitable defeat, Ukrainian President Zelensky found a convenient way out of the impasse," Medvedev said in his post. "No country, no problem. His actions and statements prove that now he is ready to put almost everything on the altar of his political ambitions."
Medvedev, who served as president of Russia from 2008 to 2012 as well as its prime minister from 2021 to 2020, criticized for Zelensky for ignoring the "will" of the inhabitants of the two contested regions.
Russia annexed Crimea following a widely criticized referendum that has not been internationally recognized. The breakaway regions in eastern Ukraine have only been recognized by Russia and a handful of other countries. Russia has reportedly held a similar referendum in eastern Ukraine, reports the BBC.
Medvedev also brought attention to former U.S. Secretary of State Henry Kissinger's call at the World Economic Forum in Davos, Switzerland, on Tuesday for Ukraine to end the war by ceding territory to Russia.
"By the way, for many years the venerable old man was not noticed in sympathy for Russia, but he always thought rationally," wrote Medvedev.
However, Zelensky on Wednesday again underscored his demand that Ukraine stay intact in a speech blasting Kissinger's suggestion. The Ukrainian leader suggested Kissinger's remarks would be more at home in Nazi Germany.
"It seems that Mr. Kissinger's calendar is not 2022, but 1938, and he thought he was talking to an audience not in Davos, but in Munich of that time," said Zelensky.
Newsweek has reached out to the Ukrainian government for comment.