Putin's Red Line for Ukraine Puts Peace Deal at Risk
Russian President Vladimir Putin on Tuesday said Russia would not agree to a peace deal with Ukraine unless the country agreed to "solve the issues of Crimea and Donbas" on a level in which Ukraine would lose parts of the territories.
Putin made the comments during a meeting at the Kremlin with United Nations Secretary-General António Guterres to discuss reopening peace negotiations. However, Putin's demand on Crimea and Donbas is precisely what Ukrainian President Volodymyr Zelensky recently said would end any proposed deal.
Peace negotiations halted after Ukraine accused Russia of committing war crimes by massacring civilians in communities near the capital city of Kyiv. Last week, the Financial Times reported a Kremlin spokesperson said a document containing demands that Russia wanted met before ceasing its attacks was delivered to Ukraine, but Zelensky has said he did not receive any such document.
On Saturday, Zelensky was asked during a press conference how he would respond during peace negotiations if Russia pushed for potential independence referendums in the eastern territories currently controlled by Russian military forces. Zelensky responded that if such conditions about the territories were demanded, he would end the talks.
"If our people in Mariupol are killed, if pseudo-referendums are announced in the new pseudo-republics, Ukraine will withdraw from any negotiation process," Zelensky said, according to The Kyiv Independent.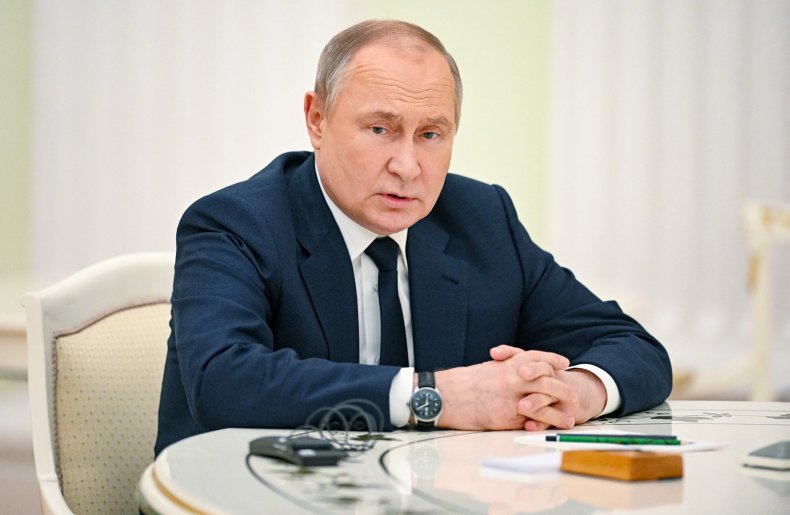 Along with talk of reviving peace talks, Guterres and Putin also discussed proposals for humanitarian assistance and the evacuation of civilians from conflict zones. A statement released from the U.N. indicated that Putin agreed to allow the U.N. and the Red Cross to work toward getting civilians evacuated from the Azovstal plant in Mariupol, where Ukrainians are holding out from Russian forces.
Images and videos of Tuesday's meeting show the long table Putin used when meeting other leaders before the February 24 invasion of Ukraine, and the two leaders sat distantly apart.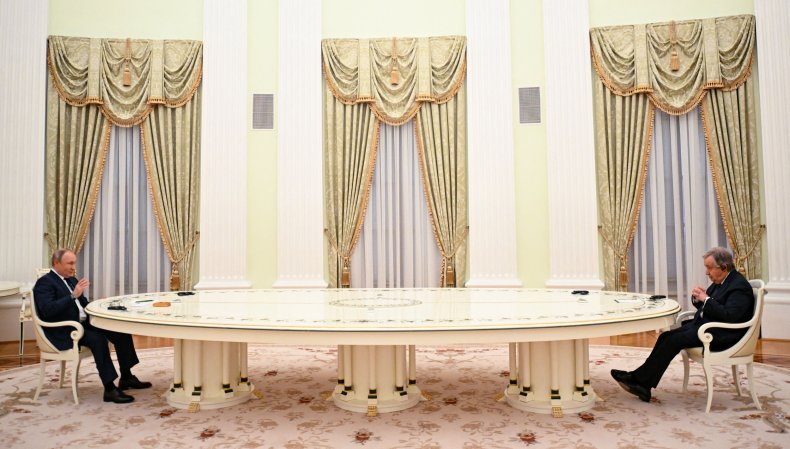 According to Axios and the Russia news agency TASS, Putin brought up Kosovo declaring itself independent of Serbia in 2008. He asked Guterres whether that event would be similar to Donbas declaring itself independent from Ukraine and Moscow recognizing the action, which resulted in Guterres saying the U.N. does not recognize Kosovo's independence.
Zelensky repeated multiple times throughout his Saturday press conference that he is ready to hold peace talks face-to-face with Putin. Although he said he didn't want to meet with the Russian leader, Zelensky noted that "the war can be stopped by the person who started it."
"I want to stop the war and end it. There is a diplomatic path and a military one. Any healthy person chooses the diplomatic path because he knows that even if it is difficult, it can prevent the loss of millions of people," Zelensky said.
Newsweek reached out to Ukraine's Foreign Ministry and the Russian Foreign Ministry for comment.