Russian Officials Deny They Urged Vladimir Putin to Stop War
Two Russian officials who purportedly signed an appeal addressed to Russian President Putin demanding an end to his war in Ukraine have denied doing so, shortly after their colleague was called a traitor and escorted from a high-level meeting.
Lawmakers Natalya Kochugova, and Aleksandr Sustov were, according to Leonid Vasyukevich, a fellow member of Russia's Communist Party, two of the four officials to have signed an appeal to Putin, urging him to stop the months-long war in Ukraine and to withdraw his troops from the country.
Vasyukevich told a session of the Legislative Assembly of Russia's Primorsky Krai in the far east that the group is demanding an end to the war.
"We understand that if our country does not stop this military operation, there will be more orphans," Vasyukevich said, in a rare critique of what Putin describes as a "special military operation."
Reading a statement that he said he, his colleague Gennady Shulga, as well as Kochugova and Sustov had signed, Vasyukevich continued, "During the military operation, young people who could bring great benefit to our country die and become disabled."
"We demand the immediate withdrawal of the troops of the Russian Federation," he added.
The incident caused commotion, with the region's governor, Oleg Kozhemyako, calling Vasyukevich a "traitor."
Vasyukevich and Shulga were both escorted from the meeting, and denied the right to vote at the session, reported independent Russian language news outlet MediaZona.
According to news outlet RadioFreeEurope/ RadioLiberty, Sustov denied signing the appeal to Putin, calling for an end to the war.
He told RFE/RL that he had "my personal thoughts about the special military operation [in Ukraine,] but I did not sign the statement."
Russia's state-run Interfax agency reported that Kochugova also denied signing the appeal.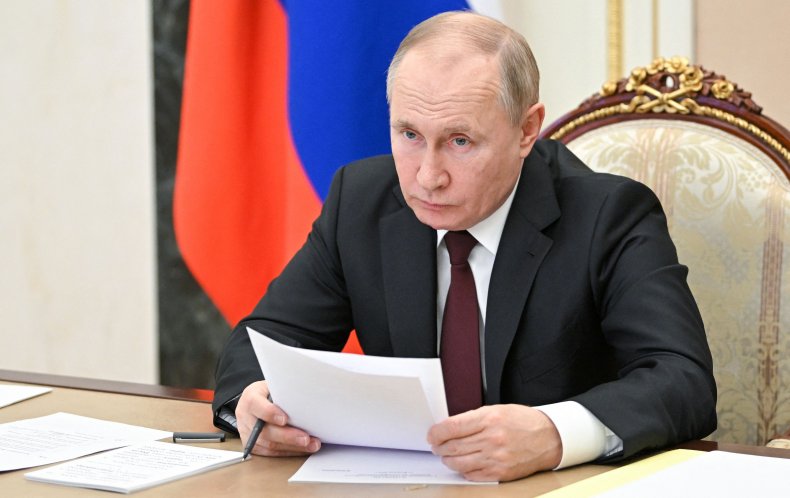 It comes amid a larger crackdown on free speech in Russia, which intensified after Putin launched a full-scale war against Ukraine on February 24.
Russia's parliament in March passed legislation imposing a prison sentence of up to 15 years for intentionally spreading "fake" news about Russia's military. The Kremlin has used the law to crack down on individuals and independent news organizations who veer from Putin's narrative of the war.
Anatoly Dolgachev, the head of Russia's Communist Party faction, told the session on Friday that he would take "tough action" against Vasyukevich and Shulga.
This "absolute demarche is not coordinated with the faction," he said, adding that their statements "discredit the honor" of the party.
Newsweek reached out to Russia's Ministry of Foreign Affairs and the Legislative Assembly of the Primorsky region for comment.