U.S. federal agents and the Spanish Civil Guard on Monday seized a mega-yacht in Spain owned by Russian oligarch Viktor Vekselberg, who is closely associated with Russian President Vladimir Putin.
The yacht, named Tango, is a 254-foot vessel valued at an estimated $120 million. The vessel was located at the Marina Real in the port of Palma de Mallorca and was carrying a Cook Islands flag, according to the Associated Press.
Tango's seizure is just one of several yacht seizures affecting Russian billionaires as part of sanctions imposed by the West for Russia's invasion of Ukraine. Other Russian yachts have been seized by Spanish authorities. Since the start of the Ukraine conflict, Western nations have retaliated by freezing the personal assets of wealthy Russians and taking possession of their personal property.
"Today's action makes clear that corrupt Russian oligarchs cannot evade sanctions to live a life of luxury as innocent Ukrainians are suffering," said Deputy Attorney General Lisa Monaco in a Department of Justice (DOJ) statement.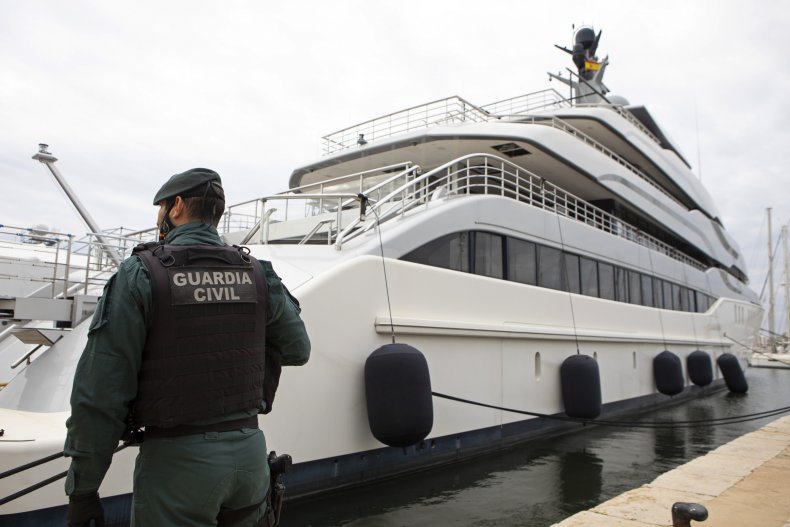 Authorities said Vekselberg bought Tango in 2011 and has used shell companies to avoid bank oversight of U.S. transactions. He was first sanctioned in 2018 and then this year after Russia's assault on Ukraine. He is under investigation for alleged bank fraud and money laundering and violation of sanction statutes, the DOJ said in a statement.
The vessel sailed under the Cook Islands flag and was owned by a company registered in the British Virgin Islands, but it was managed by different associations in Panama. Authorities took computers and documents from the yacht to confirm the owner's real identity, the Associated Press reported.
Spain's Civil Guard said Vekselberg was also under investigation for allegedly falsifying documents to hide who owned Tango, adding that there was a "complicated financial and societal web to conceal its truthful ownership," the AP reported.
The seizure was coordinated through the Justice Department's specialized task force, called KleptoCapture, which is dedicated to enforcing sanctions. The operation was conducted in coordination with the Spanish Civil Guard, the U.S. Homeland Security Department and the FBI.
"Today marks our taskforce's first seizure of an asset belonging to a sanctioned individual with close ties to the Russian regime. It will not be the last," said Attorney General Merrick Garland. "Together, with our international partners, we will do everything possible to hold accountable any individual whose criminal acts enable the Russian government to continue its unjust war."
On March 15, Spanish authorities seized a yacht named the Valerie belonging to Russian oligarch Sergei Chemezov. The vessel is 279 feet long and valued at over $140 million. Spain also seized a 440-foot-long yacht named Crescent, believed to belong to Igor Sechin, another oligarch.
Vekselberg is head of the Renova Group, a Moscow-based conglomerate that encompasses metals, mining, technology and other assets, according to U.S. Treasury Department documents. He made his wealth by investing in oil industries and aluminum. The Renova Group holds the largest stake in Russia's biggest aluminum producer, United Co. Rusal, according to the AP.
Newsweek reached out to Spain's Civil Guard for comment but did not hear back before publication.
Update 4/04/22, 11:25 a.m. ET: This story was updated with additional information and background.