Russian Planes Signaled With Ukrainian Flags at Tel Aviv Airport: Video
A video has gone viral of an Israeli airport worker signaling a Ukrainian flag towards a Russian airplane on the ground near what appears to be a terminal.
The video, posted on Reddit's r/Damnthatsinteresting forum, has been upvoted over 30,000 times and features a male worker on the ground at a Tel Aviv airport signaling towards a plane by waving the blue-and-yellow-colored flag. The Russian flag can clearly be seen on the plane's exterior.
The imagery prompted many Redditors to wonder why Russian planes are still allowed to land at that airport in the first place.
"All over the world, every country is showing their most Passive-Aggressive side: 'We won't send troops or direct support, but look at the nice blue and yellow sticker we're sporting!'" one Redditor commented.
Newsweek was unable to establish who had recorded the video and posted it to the site, or whether the airport employee is Israeli.
The website Airport Technology, referencing a Reuters report, said that Russia has prohibited airlines from 36 countries, including 27 European Union nations, in response to sanctions imposed following Russia's invasion of Ukraine. The announcement was made by the Russian Federal Air Transport Agency Rosaviatsiya.
The countries include Albania, Anguilla, Austria, Belgium, Bulgaria, British Virgin Islands, Canada, Croatia, Cyprus, Czech Republic, Denmark, Estonia, Finland, France, Germany, Gibraltar, Greece, Hungary, Ireland, Iceland, Italy, Jersey, Latvia, Lithuania, Luxembourg, Malta, the Netherlands, Norway, Poland, Portugal, Romania, Slovakia, Slovenia, Spain, Sweden and the United Kingdom.
Meanwhile, Europe, Canada and the UK have shut their airspace for Russian airlines.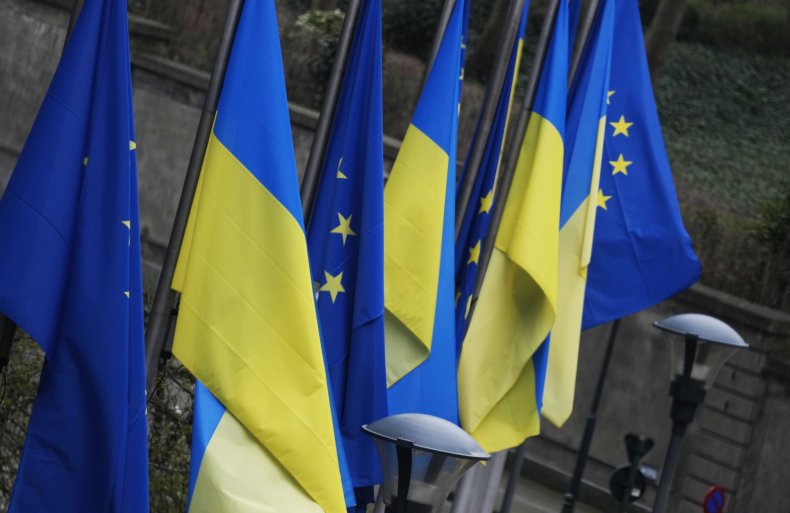 On Wednesday, Israel joined 140 other nations in condemning Russia's invasion of sovereign Ukraine, calling for the withdrawal of forces, The Times of Israel reported.
Israel sent its Deputy UN Ambassador Noa Furman to address the emergency session on Tuesday, rather than Ambassador Gilad Erdan, "in an apparent effort to downplay the Israeli stance and avoid a diplomatic spat with Russia," The Times of Israel reported.
The Times of Israel reported Furman reportedly called Russia's actions "a serious violation of the international order." The publication added that Israel "has sought to avoid aligning too closely with either" Russia or Ukraine due to maintaining "relatively warm relations" with both nations. It also mentioned Russia's control of Syrian airspace, which Israel uses to target Iranian proxies.
Another story published by The Times of Israel stated that former Israeli Prime Minister Benjamin Netanyahu called on a "more guarded approach" from Israel to what is happening in Ukraine, and instead, focusing on Iran and the nuclear deal.
"In days like these, it's advisable to take positions with the utmost caution," Netanyahu said Monday. "Unfortunately, in the last few days we've heard too many unnecessary expressions and too many false predictions."
Israel Foreign Minister Yair Lapid has condemned the Russian invasion.
According to The Jerusalem Post, Russian President Vladimir Putin reportedly purchased an apartment in Israel for his former teacher who immigrated to the country in the 1970s.
Haaretz reported Wednesday that U.S. officials "are growing increasingly impatient" with Israel playing both sides of the conflict, allegedly "arguing that anything less than full support for the beleaguered nation falls short."
In a tweet last week, U.S. civil rights activist Shaun King compared Ukrainians defending their homeland from Russian invaders to Palestinians fighting against Israel.
For live updates on the invasion of Ukraine, visit our live blog.