Russian Politician Says It's Time to 'Admit' Real Reason for Ukraine War
Russian State Duma member Andrey Gurulyov called on the Kremlin to "admit" the real reason for the Ukraine invasion during a recent appearance on Russian state TV.
After launching the war last February, Russian President Vladimir Putin has offered a number of reasons for invading Ukraine. He has argued he is only trying to "liberate" Donbas, a separatist region in southeastern Ukraine with linguistic ties to Russia. He has also said he aimed to remove Nazis from the Ukrainian government, despite Ukrainian President Volodymyr Zelensky himself being Jewish.
Most world leaders have condemned the "special military operation," arguing it lacks real justification beyond Putin's ideal goal of retaking Ukraine's territory, but the Kremlin has maintained its stated goals nearly one year after entering Ukraine.
Gurulyov argued Putin should finally own up to why he launched the Ukraine invasion during the Russian state TV appearance. The Kremlin has cracked down on free press amid the war, meaning the television news show largely serves as Putin's propaganda. His remarks were translated and posted to Twitter by journalist Julia Davis, who regularly tracks Russian state TV.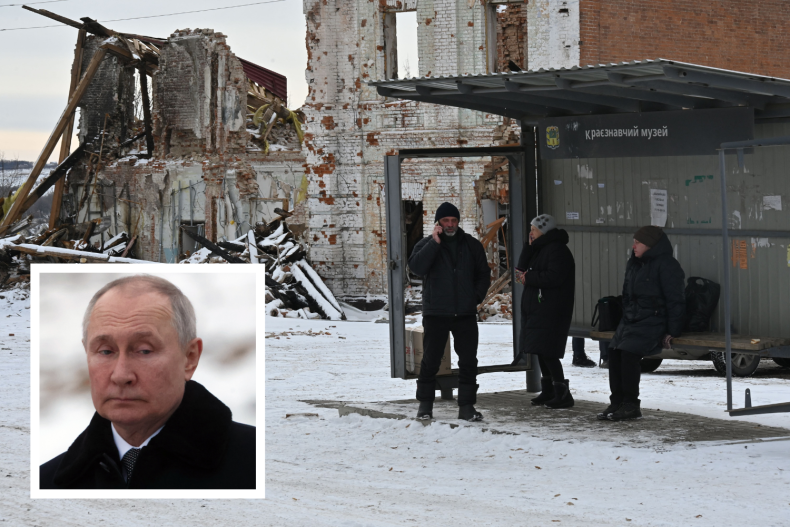 "We should shut down the topic of Ukraine for good and admit that denazification and demilitarization will shut down Ukraine as a project once and for all," he said. "It once existed, but it is no more."
He continued to assert that "there is no Ukraine" and that the country is actually a territory of Russia. He described retaking control of Ukraine as "the most important thing to accomplish today."
For decades Ukraine was part of the Soviet Union but declared its independence in 1991. Ukraine, alongside other former Soviet states, has since been recognized as an independent nation, with the USSR dissolving just months later.
In the years since, however, Russia has claimed parts of Ukraine as its own. In 2014, Putin ordered a military invasion of Crimea, a region along the Black Sea that ended Russia annexing the peninsula, though Ukraine still views it as its own and has expressed interest in retaking control of it before the war ends.
During the more recent invasion, Putin also claimed to have annexed several southeastern regions of Ukraine, including the Donbas, following elections widely dismissed by shams by the West. Most nations still recognize these territories as belonging to Ukraine.
Despite only claiming interest in the Donbas, Russian troops were initially sent into other parts of Ukraine, including areas near the capital city of Kyiv, whose suburbs were subject to alleged human rights abuses by Putin's troops.
Newsweek reached out to Russia's Ministry of Foreign Affairs for comment.