Russian President Says His Generals Saved Syria as He Hugs Bashar al-Assad
Russian President Vladimir Putin proudly introduced his top military brass to Syrian President Bashar al-Assad as "the people that played a decisive role in Syria's salvation."
Putin received Assad in the city of Sochi, Russia, on Monday night, saying he wanted to touch base with the Middle East leader before meeting with other powers involved in the Syrian conflict. He gave high praise to Russia's Ministry of Defense and military, which have been backing Assad's regime on the battlefield since 2015.
"He told me today over the course of our negotiations that thanks to the Russian military, Syria has been saved as a state," Putin said while pointing to Assad, according to the Kremlin's transcript of the pair's meeting with senior Russian defense officials. "Problems with terrorism continue in the world, as well as in the Middle East, and that included Syria. But the main task is already close to completion," Putin declared.
Read more: Russians like that Putin is a "real man," but they are beginning to think he does not get "ordinary people"
Assad's repressive rule has alienated Western governments from supporting him in his country's civil war. Meanwhile, Russia has portrayed him as the sole legitimate ruler of Syria and a military ally, dismissing as illegitimate other interventions against militants in the country, including by the U.S.-led military coalition.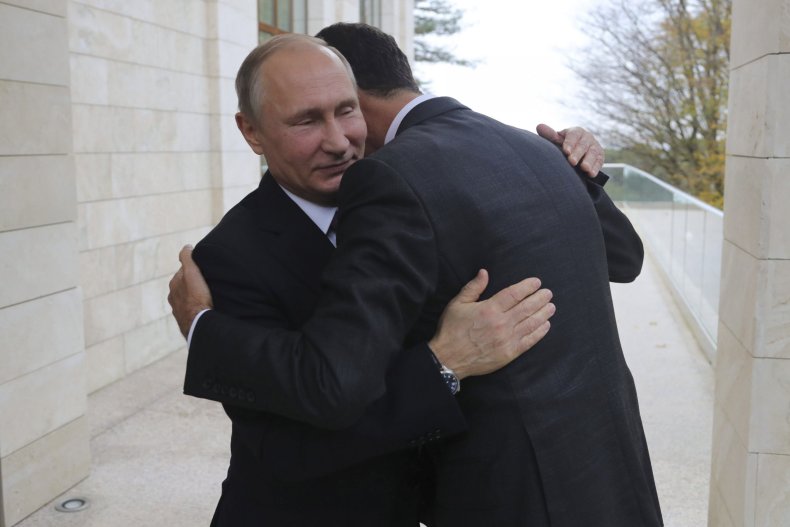 Turning to his top defense officials, Putin, flanked by Assad, thanked them and underlined that their operation was likely nearing the end. "I wanted to say that without the efforts of the armed forces, without your efforts, without the efforts of your charges, without their heroism, nothing would have happened, and we would not have created any chance for promoting the political [peace] process," Putin said.
The two leaders embraced in a hug and, according to Russian state media's Kremlin pool of reporters, the Syrian leader presented Putin with a painting by an émigré artist who had returned to the Arab republic.
Russia's campaign in Syria has not caused much celebration internationally, as it kicked off by targeting groups rebelling against Assad, despite claims that it was going after "terrorists," such as the Islamic State militant group (ISIS), which has carried out attacks across Europe. Despite accusations it has caused a high number of civilian casualties and even bombed internationally supported medics in Syria, Moscow has consistently denied reports of collateral damage over the course of more than two years of bombing. A senior war crimes prosecution official at the United Nations said this summer that there was now probably sufficient evidence against Assad to convict him.
Putin said that after his meeting with Assad, he would reach out to his U.S. counterpart, President Donald Trump, in a phone call on Tuesday. The Russian leader, who has sought to portray Moscow as a driving player in the Syrian conflict's resolution, will also host the leaders of Turkey and Iran on Wednesday to discuss the Syrian civil war that began with a revolutionary spark against the regime, but could now end with Assad emboldened.